Golden Heart Award
Barbara Reed 57N 79N
---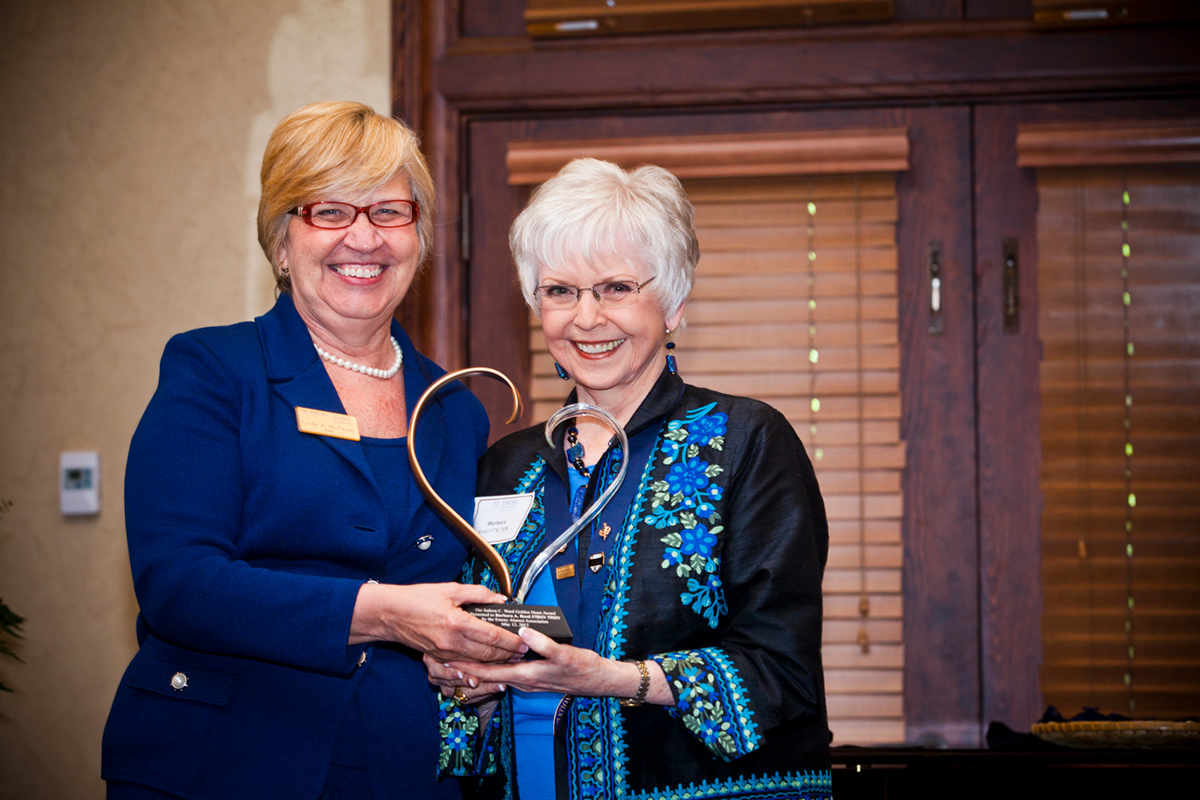 "There are so many people who do so much at Emory. To think that I was even considered for an award is just amazing to me," says Barbara Reed 57N 79N, the 2013 recipient of the Judson C. Ward "Jake's" Golden Heart Award by the Emory Alumni Association.
Reed accepted her award at the May 12 Corpus Cordis Aureum induction ceremony during Commencement Weekend.
"Emory made me very proud to be a nurse," Reed said in a videotaped interview. She recalled her outlook upon graduation. "Emory had convinced me that I had the skills to make decisions for the best in patient care, so I knew I had the best education there was. Now, it was up to me."
Reed excelled in nursing as the first clinical nurse specialist in pain management at Emory University Hospital in Atlanta, developing standards, policies, and procedures related to the management of acute, chronic, and cancer pain at the institution. A two-time president of the Emory Nurses' Alumni Association with membership contributions for more than forty years, Reed has been a clinical researcher and adjunct clinical faculty member in nursing for the Nell Hodgson Woodruff School of Nursing. Professionally, she has spent her career specializing in geriatrics and pain management.
Reed is active in the Emory and Atlanta communities as well as in state and national nursing organizations. She has been a leader on the Emory Alumni Board and the Emory Alumni Association Initiatives Committee. Reed has been honored for her consistent giving to the university and her recognition of others' service and expertise in the nursing profession.
No stranger to campus, Reed and her husband, Robert Reed 57C, are loyal alumni who take pride in their Emory roots. "The whole campus is important in our lives," she says. "I get excited every time I go over there and see what they're doing." With each visit to her alma mater, "I feel like I'm going home."
The Jake's Golden Heart award was established in May 2010 in honor of its namesake and first recipient. Judson "Jake" Ward 33C 36G demonstrated values of service, generosity of spirit, and loyalty to the university. Recipients of his namesake award must be eligible members of Corpus Cordis Aureum, comprising alumni who graduated fifty or more years ago from any of Emory's schools.
Email the Editor
Share This Story