Proton Power
New $200 million Emory center will target tumors
---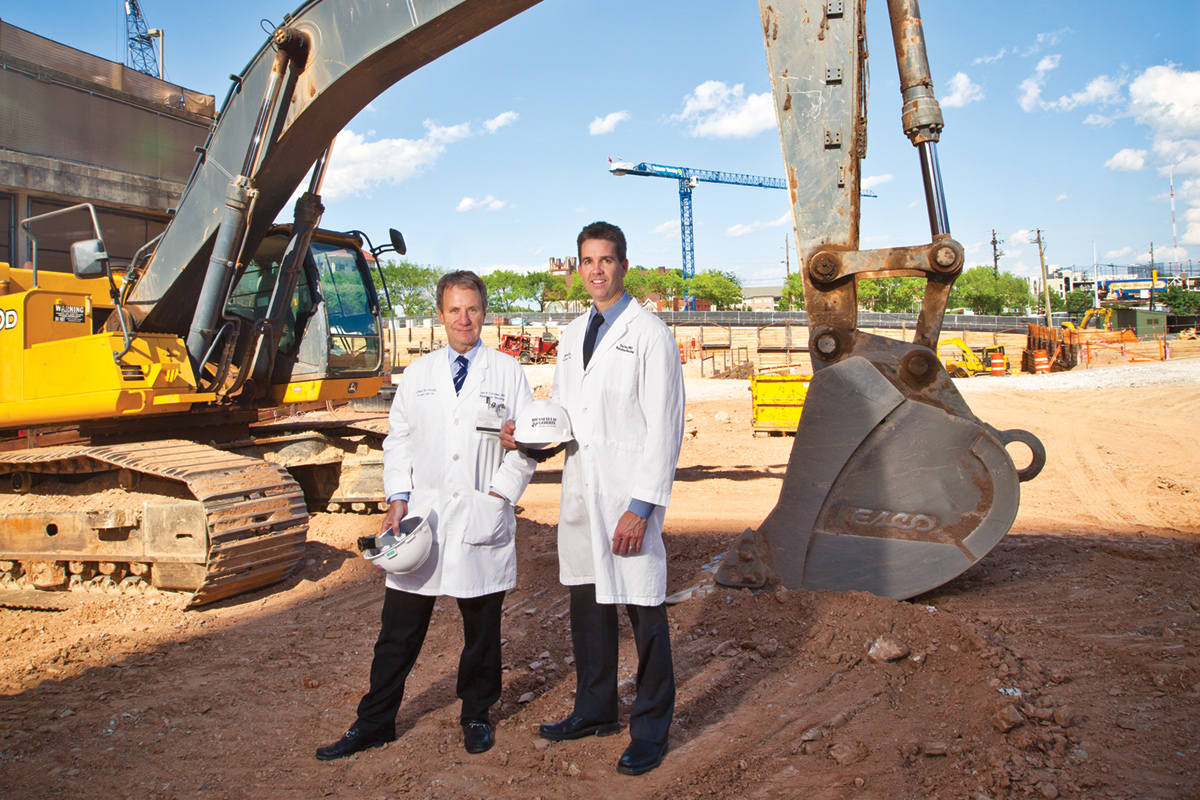 When ground was broken for Georgia's first proton therapy facility at the corner of Peachtree Street and North Avenue in May, the space cleared was massive—broad and deep, and well over one hundred thousand square feet. When complete, the Emory Proton Therapy Center will fill a city block.
Just down the road from Emory University Hospital Midtown, the center will house a superconducting cyclotron that weighs about as much as a jetliner and accelerates protons to two-thirds the speed of light; electromagnets that curve, focus, and direct the proton beams to the treatment room; and gantries that are thirty feet in diameter, three stories high, and rotate 360 degrees around patients, using magnets to aim the proton beam at tumors.
"For certain cancers, proton therapy offers a more precise and aggressive approach to destroying cancerous and noncancerous tumors, as compared to conventional x-ray radiation," says Walter Curran, executive director of the Winship Cancer Institute. "Proton therapy involves the use of a controlled beam of protons to target tumors with precision unavailable in other radiation therapies."
The $200 million proton therapy center—only the second of its kind in the Southeast—limits damage to surrounding healthy tissue and minimizes side effects. About half of all patients who need radiation therapy are suitable candidates for proton therapy.
Proton therapy is frequently used to treat children with cancer (since their fast-growing cells make them especially vulnerable to traditional radiation), as well as adults who have small, well-defined tumors in organs such as the prostate, brain, head, neck, bladder, lungs, or spine. "There are tumors at the base of the skull where it's very important to deliver high doses of radiation," says Emory radiation oncologist Ian Crocker. "With x-rays, important normal structures like the brain stem and spinal cord can sometimes get those same high doses of radiation. We have a much better capacity to limit the dose of radiation with protons."
The closest proton therapy facility to Georgia is the University of Florida Proton Therapy Institute in Jacksonville. Currently there are nine proton therapy centers in the US, including centers at Massachusetts General Hospital, MD Anderson Cancer Center in Houston, and the University of Pennsylvania.
The Emory Proton Therapy Center is being built in partnership with San Diego–based Advanced Particle Therapy. It is expected to open in 2016, to serve about 2,200 patients annually, and to also function as a research lab.
"Cancer attacks those we love indiscriminately, savagely, and oftentimes with little or no warning," Atlanta Mayor Kasim Reed said at the center's groundbreaking. "Today, we fight back with a new cutting-edge center."
Email the Editor
Share This Story