Odd Man In
Seeing, and believing, the potential in African American men
---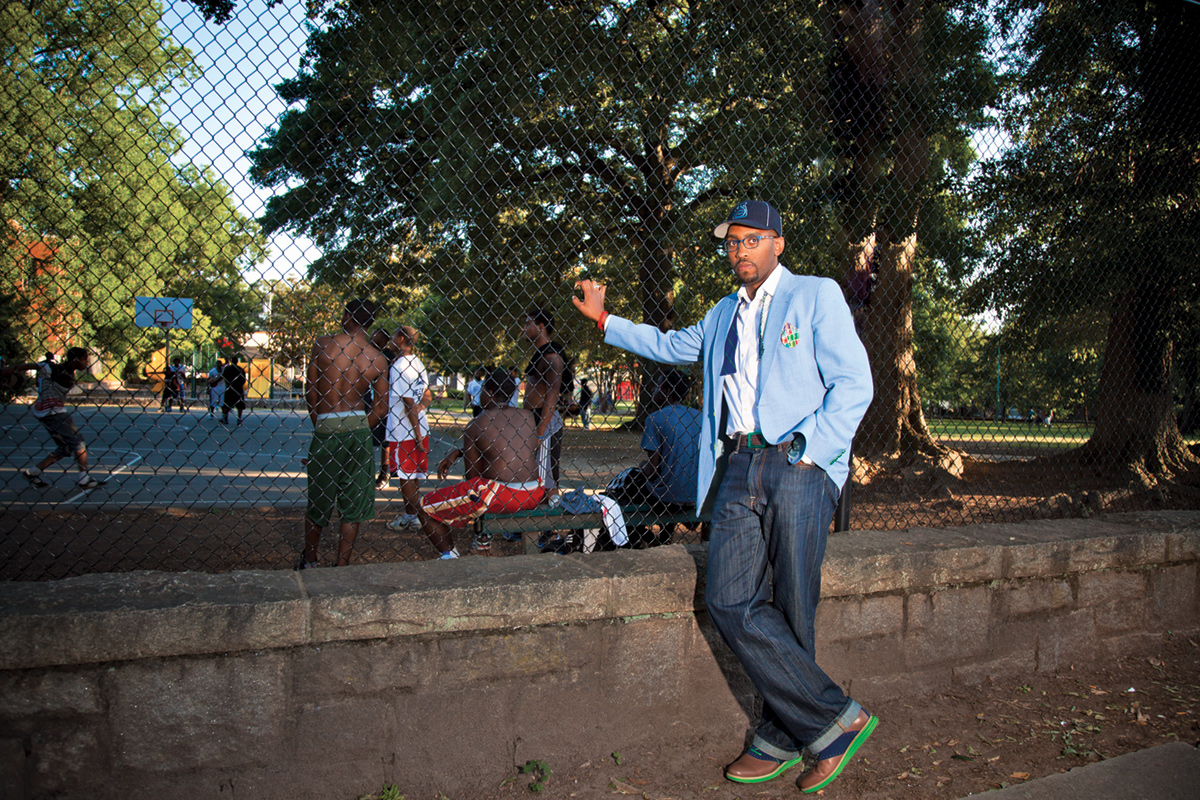 "What happens to a dream deferred? . . . does it explode? —Langston Hughes, "Harlem"
He is a gentle man who often sports a ball cap and bow tie, but Gregory C. Ellison II 99C has written a challenging, perhaps uncomfortable book. 
Cut Dead but Still Alive: Caring for African American Young Men was conceived for a reason that no one would argue with: to save lives. Ellison, assistant professor of pastoral care and counseling at Candler School of Theology, is concerned with the welfare of young African American men, specifically the ways that they can be rendered mute and invisible.
According to Ellison—whose name notably echoes Invisible Man author Ralph Ellison—he once stood in the circle of young men who feel silenced and unseen. For instance, he attended Atlanta's Frederick Douglass High School and recalls the school's struggle with drugs and violence. When most high schools bought computers with their money from the Georgia lottery, his bought security cameras and metal detectors. He didn't even know that Emory existed until he was in the eleventh grade; it was, he says, "almost like a magical place."
Ellison graduated from Emory in 1999 and earned his MDiv and PhD at Princeton. Here, he was a Benjamin E. Mays Scholar, the first African American male inducted into the Emory Sports Hall of Fame, and the Emory College Commencement speaker.
His caregivers—professionally successful parents who joined the civil rights movement and mentors such as Johnnetta Cole and Congressman Emanuel Cleaver II—made the difference. As Ellison says in the book's introduction, "A community of reliable others planted, cultivated, and nurtured seeds of hope within me and encouraged me to be my authentic self. It is because of their collective prayers, encouraging words, constructive criticism, and midnight musings that I am in a position to offer these words of gratitude."
Ellison's book takes its memorable title from a nineteenth-century idiom employed in William James's The Principles of Psychology. James writes: "If no one turned around when we entered, answered when we spoke, or minded what we did, but if every person we met 'cut us dead' . . . , a kind of rage and impotent despair would before long well up in us, from which the cruelest bodily torture would be a relief."
The middle chapters of Cut Dead but Still Alive chronicle the lives of five young African American men: two were from Uth Turn, a juvenile reentry program for young men leaving correctional facilities and where Ellison spent thirteen months working; the other three were stand-out students who also felt invisible.
Having been both marginalized young man and now caregiver, Ellison is aware of the realities inside each circle. And although societal limitations for some African American men can be sobering, the risks for caregivers are no less real. In Ellison's words, caregivers "make themselves susceptible to . . . rage."
After a recent presentation in an academic setting, Ellison described the complete silence that ensued when he stopped speaking. Finally, a colleague asked, "How can you write so fearlessly?" He answered, "I respect my mortality and don't have time to waste a single word."
None of the lives in this book fit into neat scholarly categories. But no matter how tough the cases, Ellison considers his acquaintance with these men a privilege. As he said, "It was an honor for them to share their most authentic truth with me," and he expects the same gratitude from readers.
Cut Dead unleashes its own form of dynamite—which, as Ellison notes, can be destructive but can also "create new pathways by carving out the side of a mountain." According to Wayne Meisel, writing in the Huffington Post's religion blog, "Cut Dead isn't a book that came out to meet a tenure requirement. It is a call to action and a blueprint for a response." Even better, its arc extends meaningfully beyond African American men to anyone who has felt marginalized.
Following the release of the book, Ellison and a team of thirty-two consultants will launch a five-city, community-empowerment tour titled "Fearless Dialogues." They will meet with local leaders in Indianapolis, Kansas City (MO), Atlanta, Trenton, and Los Angeles to develop and implement strategic plans that will improve the lives of young people in communities long perceived as eyesores and unworthy of notice. Bernard Lafayette Jr., distinguished senior scholar in residence at Candler and a former Freedom Rider, has called Ellison's plan "the civil rights movement of the twenty-first century." Log onto the Fearless Dialogues website to learn more—and to feel your own hope rise.
Cut Dead changes readers. As Ellison warns his audience, "Once you see, you cannot not see." Nor can you deny the potential for change.
Email the Editor
Share This Story