'A Hotbed of Great Science'
NIH Director, Congressman visit Emory
---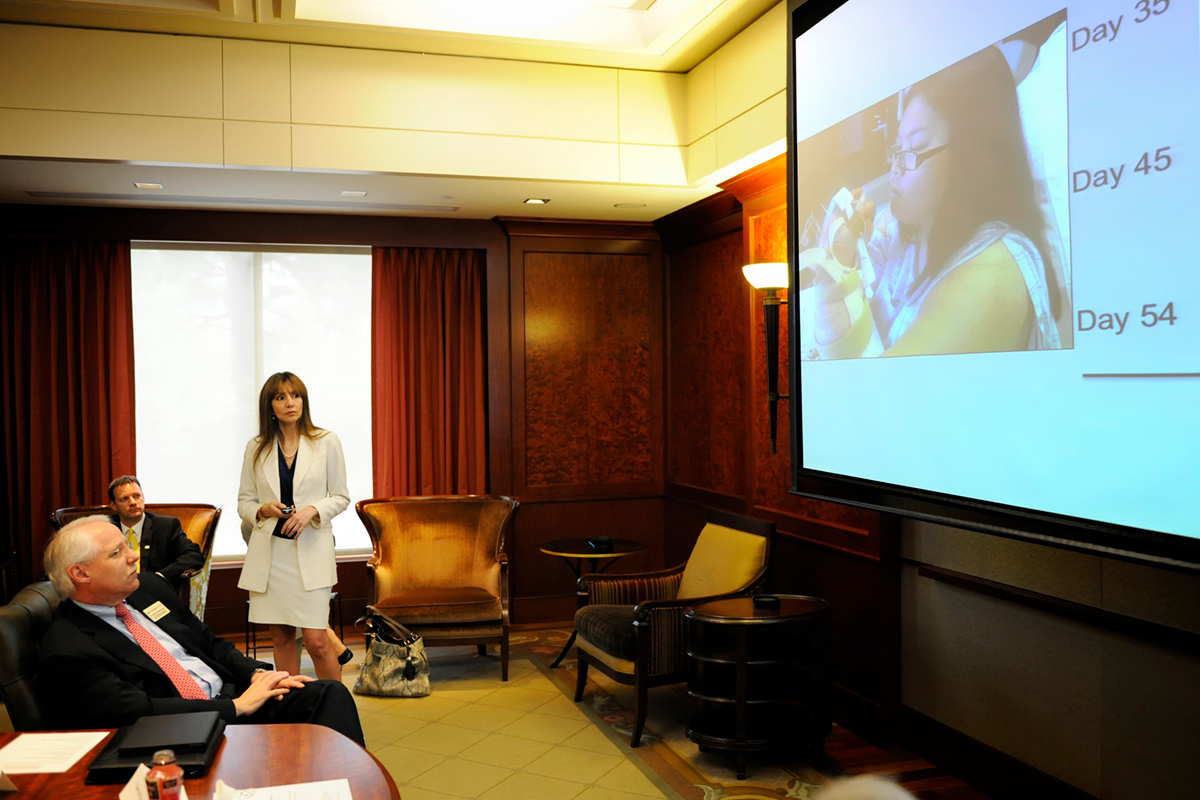 Emory surgeon Linda Cendales commanded the attention of a high-powered group gathered at Emory—including National Institutes of Health (NIH) Director Francis Collins, Representative Jack Kingston (R-GA), and research leaders from top Georgia universities—when she showed a slide from a pivotal point in Georgia's first hand transplant.
Cendales told the group that after nearly nineteen hours of carefully lining up and connecting bones, tendons, nerves, and vessels through a powerful microscope, the moment of truth occurred when the tourniquet was released and the newly attached hand attained a healthy glow.
Applied research such as this 2011 hand transplant for Florida college student Linda Lu is a priority of NIH funding, and Emory had the rare opportunity to showcase some of the university's groundbreaking discoveries when Collins and Kingston visited in May.
As director of NIH, Collins oversees the work of the largest supporter of biomedical research in the world. Georgia is a "hotbed of great science and wonderful interactive research from basic to clinical," he said. "There are remarkable achievements made here every day, and at NIH, we're counting on that."
Representing Emory with spotlight presentations were Cendales, assistant professor of surgery, and Professor and Chair of the Department of Hematology and Medical Oncology Fadlo Khuri, who spoke on molecular-targeted therapeutic approaches for lung cancer and other tobacco-related head and neck cancers.
"We're here to celebrate research in Georgia, and especially its collaborative spirit," said President James Wagner, welcoming the group of university presidents, government officials, and top researchers to a reception at Lullwater House. Wagner pointed out examples including the Georgia Research Alliance's Eminent Scholars program, the Coulter Department of Biomedical Engineering at Georgia Tech and Emory, the Atlanta Clinical and Translational Science Institute, and the Centers for Disease Control and Prevention (CDC) alliances.
"Government and university partnerships, which began in the 1940s, made America a leader in health sciences and were good for the world," Wagner said. "It's an experiment that succeeded, and one we'd be well advised to continue."
Kingston agreed that "the story about research here in Georgia is a great one, and we need to be telling it over and over again."
Collins, a physician-geneticist who previously led the International Human Genome Project and who received an honorary degree from Emory in 1990, addressed the frustration of maintaining support for research during the sequester; $1.7 billion was taken from NIH's budget, which translates into 703 grants not given and five hundred jobs going away this year. "This is what wakes me up at night," he said. "Which of those 703 grants was going to lead to something that now we're not going to see happen?"
Of NIH's funding, 84 percent goes to institutions all over the US; Georgia received nearly $465 million last year alone, which resulted in 10,300 "high-quality, high-paying" jobs. (Emory received $299 million in NIH grants in 2012, the highest of any university in the state.)
Priorities for the NIH, said Collins, include Alzheimer's research, cancer, diabetes, obesity, and personalized treatment plans.
"It's a noble enterprise we're all a part of," Collins said, "and it really does matter."
Email the Editor
Share This Story