Rattle and Hum
New fMRI machine is turning brain study on its ear
---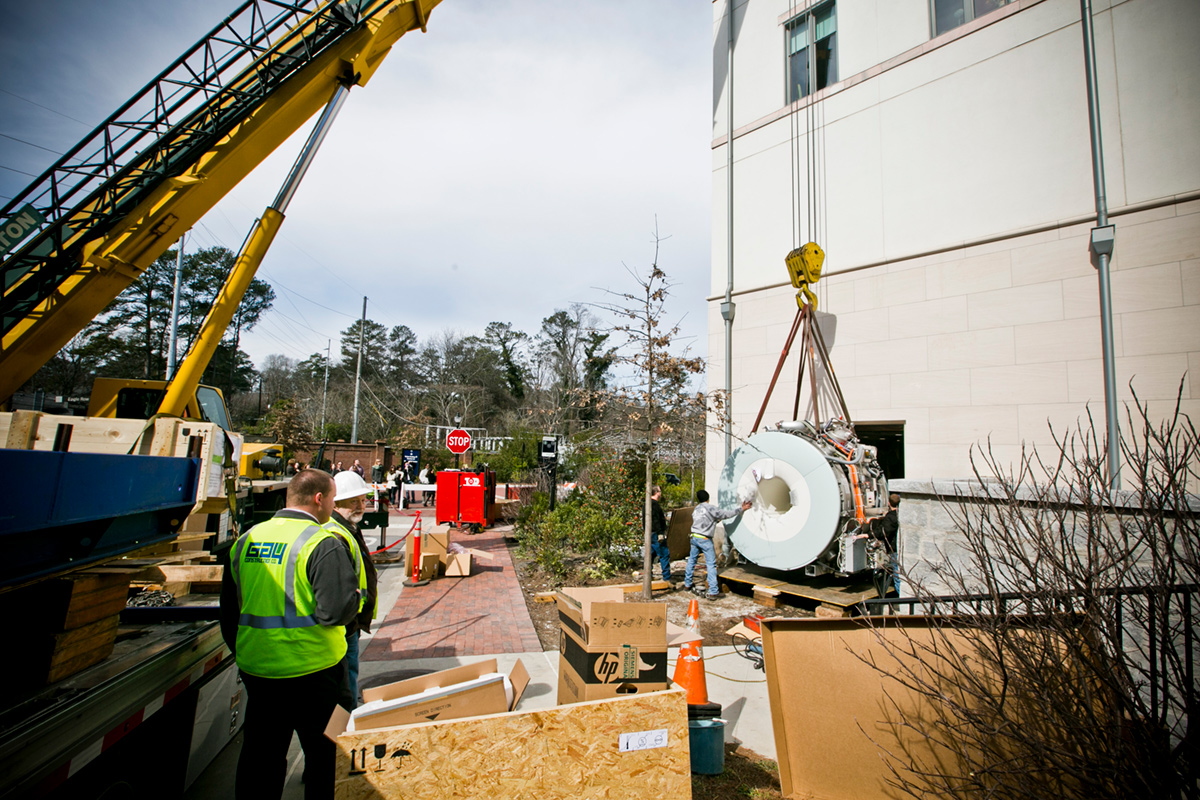 It took two flatbed trucks and a forty-foot crane to deliver the crown jewel to Emory's Psychology and Interdisciplinary Studies Building: A Siemens Trio 3-Tesla functional magnetic resonance imaging (fMRI) machine. The fifteen-ton instrument arrived in February and now resides in a suite of rooms on the ground floor known as the Facility for Education and Research in Neuroscience (FERN). The new space is specially geared to using fMRI to explore the neural mechanisms of our thoughts and behaviors, and for training students and faculty in the technology.
"FERN supports Emory's position at the forefront of research into the human mind," says Gregory Berns, Distinguished Professor of Neuroeconomics and director of FERN.
Patricia Bauer, senior associate dean of research for Emory College and a psychologist focused on how children develop and maintain memories, says students and faculty from every discipline on campus—from anthropology to economics, political science, music, and literature—will now have the ability to examine the brain in relation to their area of interest.
Acquisition of the fMRI was funded by a $1 million grant from the US Office of Naval Research as part of the Department of Defense's Human, Social, Cultural, Behavioral Modeling Program.
"The Department of Defense recognizes the growing importance of behavioral science," says Berns. "Issues of attention, memory, emotion, and how people process social and cultural information can all be part of a soldier's mission today."
"What makes us unique is our goal of making fMRI as hands-on and user-friendly as possible," says Kate Revill, who recently joined Emory as a research scientist and the manager of FERN. "Most fMRI facilities use hired technicians to operate the scanner. FERN will train students and faculty in neuroimaging technology so they can be directly involved in every step of the process."
MRI technology revolutionized behavioral and brain research by providing a way to examine the brain in a living person.
"Early MRI research focused on the volume and shape of various brain regions, and revealed dramatic changes in brain structure across the human life span, including adolescence," says Elaine Walker, an Emory psychologist who studies schizophrenia.
Functional MRI took the technology farther by capturing changes in blood flow in the brain. "This allows researchers to identify the areas of the brain that are most active, for example, when people are thinking about emotions versus solving complex math problems," Walker says. 
Email the Editor
Share This Story