---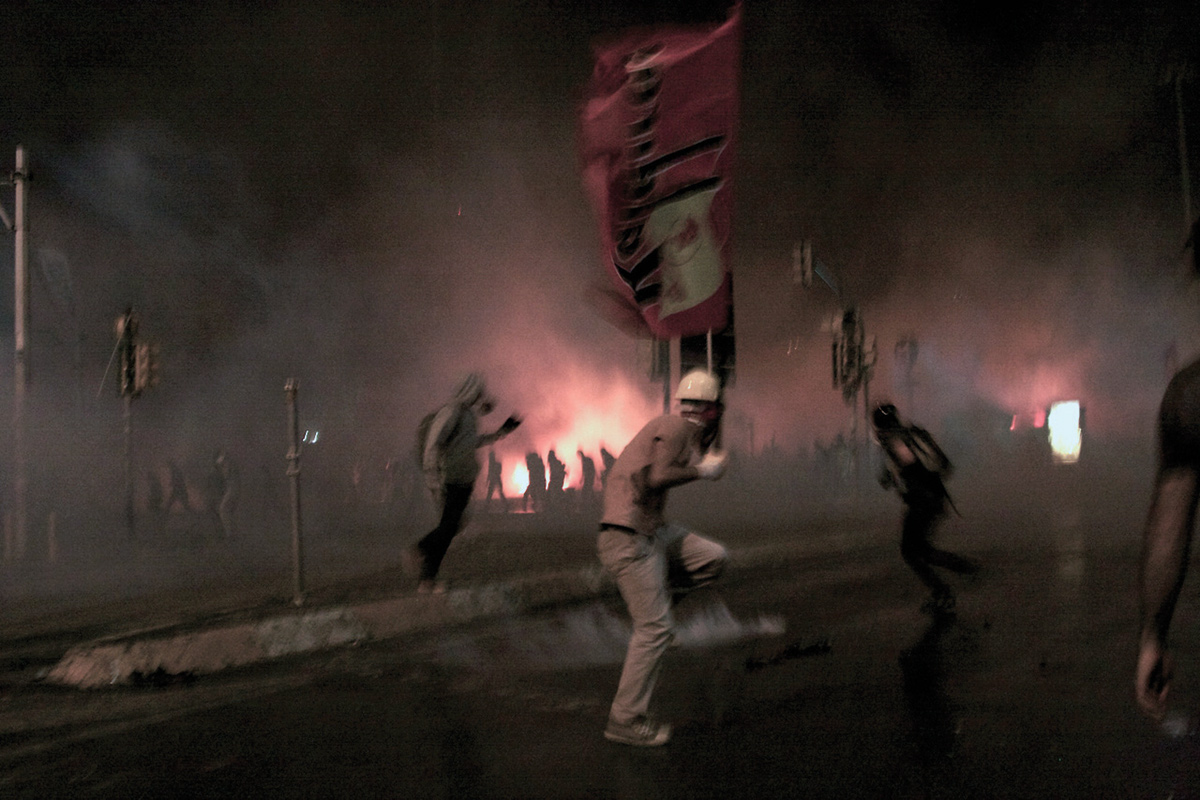 So it's the Fourth of July, again, and that means a lot of things—including, apparently, finishing up the summer issue of Emory Magazine—although what it doesn't mean this year is fireworks, because at least here in Atlanta, it's pouring rain.
Here's something else it does mean: only ten more days until the premiere of season two of The Newsroom, an HBO series set at a fictional cable news network and one of my family's favorite shows. We've been rewatching season one with my sixteen-year-old son, who is now fully able to appreciate the fast-paced, super-smart dialogue and the poignant portrayal of real-world events in the United States and around the globe.
Recently we saw the episode boldly titled "Amen," which turns out to be the name of a young man in Cairo, Egypt, who is blogging during the violent antigovernment protests of 2011. After their own reporter is attacked by the surging crowd in Tahrir Square, the "News Night" team recruits the dedicated and intelligent Amen to report on the protests, at great personal risk. Sure enough, the Egyptian military captures Amen and demands $250,000 for his release, which the show's star, news anchor Will McAvoy (played by Jeff Daniels), pays from his personal bank account when "corporate" refuses. The episode culminates with a tear-jerking homage to the 1993 football movie Rudy, in which the entire newsroom staff lines up outside Will's office and, one by one, contributes what money they can for Amen's release.
The show reminded me of a decidedly nonfictional post I shared last month on Facebook by my friend and colleague Patrick Adams 08MPH, a journalist (and Emory Magazine contributor) now based in Istanbul, Turkey. When similarly fierce antigovernment demonstrations broke out there in early June, Pat was on the front lines in Taksim Square with his camera. In an email, he described the danger he felt while snapping pictures such as the one that appears above. "The police were shooting the canisters of tear gas directly at people. I nearly got hit with one on the first day . . . it whizzed by my head and hit a sign." Another of his dramatic photos was featured in a New York Times slideshow on "Istanbul's shifting identity."
There are countless historic examples of personal risk and sacrifice undertaken for the most essential of shared aims, starting with our own American Revolutionary War, waged for independence and celebrated each July 4; the series of tumultuous conflicts in Egypt, Turkey, Syria, and other troubled regions are more recent examples. In this issue, we also visit Cuba, a nation shaped by slave revolts and revolution, and we explore the struggles of the US civil rights movement through the multidimensional archives of the Southern Christian Leadership Conference, now housed at Emory's Manuscript, Archives, and Rare Book Library.
These are cases in which principles of human liberty are at stake, and lives are imperiled because the cause is determined to be worth the ultimate risk. But then there are other, seemingly less critical reasons why people knowingly put themselves in harm's way. Some do so to offer care and help to those in need; others do so because of a compulsion to tell stories, to capture images, to increase understanding and awareness of conditions unlike our own. Journalists all over the world—like the real-life versions of Amen and the intrepid Pat Adams—regularly put their lives on the line simply for the sake of sharing information, not because of a personal agenda but because of a personal conviction that conveying knowledge and truth about human events is a noble cause.
Similarly, Nick Gibson 13PA did not have to attempt to climb Mt. Everest, one of the most extreme and dangerous physical challenges in the world, but he had his reasons. The son of two US Air Force veterans and a member of the Air Force Reserve, the Emory physician assistant student climbed in large part to raise awareness of veterans' needs—especially in the civilian health care system where their particular maladies are easily misunderstood or overlooked. The Everest climb was the last of the Seven Summits Challenge, a series of climbs that was conceived by a US Air Force team to raise visibility and funds for wounded veterans and their families, and they have received considerable public attention and support for their efforts.
I'm fairly certain that I and the other staff members of Emory Magazine will never climb Mt. Everest or report on a major political revolt from the front lines (although, really, one never knows what Mary Loftus will get up to). But it is a profound honor to bring these and other inspiring stories to light for Emory's alumni community. Consider it our team's version of lining up outside Will McAvoy's office, believing in something bigger than ourselves and eager to contribute what we can.
Email the Editor
Share This Story