Sustainable Efforts: Recycling Bishops Hall
Many materials from Candler's former home will have a second life
---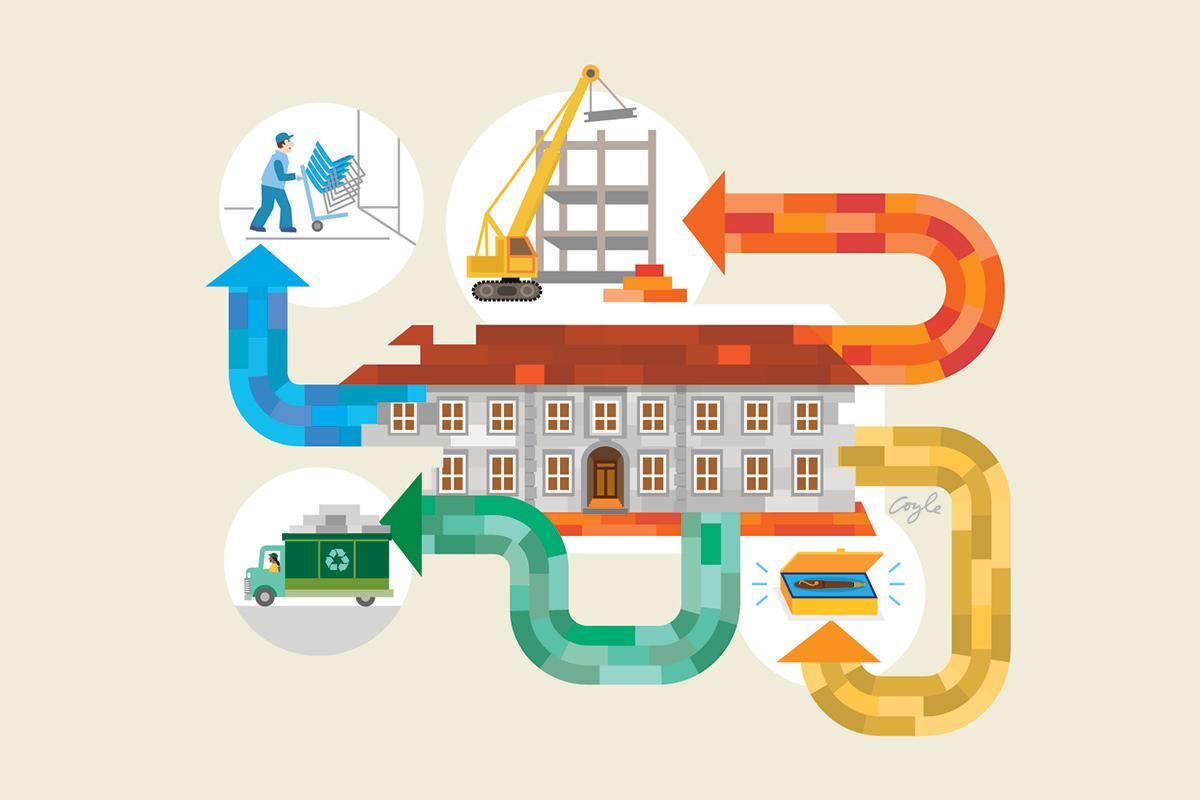 Candler School of Theology called the stately Bishops Hall, built in 1957, home for more than five decades. But the building had outlived its usefulness and was unable to be efficiently modernized.
Since 2008, Candler has occupied the recently named Rita Anne Rollins Building, which is LEED-Silver certified by the US Green Building Council, and which also houses Emory's Center for Ethics.
Bishops Hall, which sat just to the north of Cannon Chapel, was torn down during spring break this year to make way for Candler's second building, made possible by a $15 million gift from the O. Wayne Rollins Foundation.
The new building, expected to open in 2014, will contain Pitts Theology Library and the Wesley Teaching Chapel and will be connected to the Rita Anne Rollins Building with a glass atrium. It will also be built for LEED certification.
Many of the materials from Bishops Hall will have a second life. Red roof tiles are being put aside for the roofing of one of Emory's new residence halls. Debris from the demolition was sorted and loaded in appropriate bins for recycling. And wood from the building was used to craft special gifts.
Josh Majors, with Emory Recycles, led the team that cleared the building. "Most of the unused furniture was given to local charities and the remaining contents of the building were 90 percent recycled," he said.
Pitts reference librarian Matthew Collins made a dozen handcrafted pens out of bannister wood he recovered before the demolition, which he gave to the Office of Development and Alumni Relations. "Woodworking has been a hobby of mine for seven or eight years, and sometimes I make pens out of recovered wood from campus or trees that have blown down in storms," Collins says.
Vice President and Deputy to the President Gary Hauk 91PhD, reference librarian at Pitts library twenty-five years ago, was the recipient of one of the pens.
"I'm glad to have it," he says, "as I spent many hours in Bishops Hall while working on my PhD."
Email the Editor
Share This Story