A Storyteller and Traveler
Emory's eighteenth Rhodes Scholar
---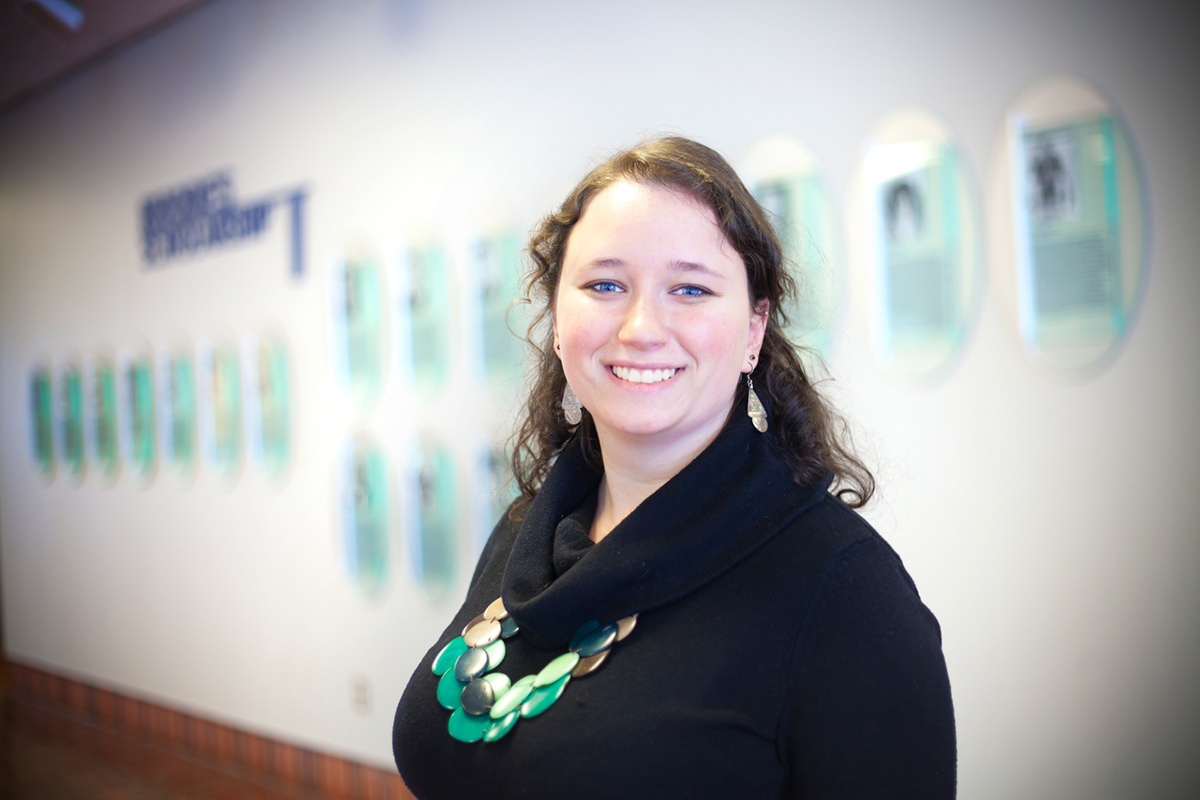 Leah Michalove learned to talk late and did not read until third grade.
 That year, she mastered English and Hebrew, and for the next dozen she kept going. Through languages, she explored how and why people tell their stories, and she believes humanity's most violent disputes—including the Israeli-Palestinian conflict—are rooted in unwavering narratives that must be first understood and respected before they can be resolved.
Immersion in Hebrew helped her empathize with Jews claiming Israel as their own (Zionism); learning Arabic as an Emory student, she better understood the Palestinian claim to Israel. "Language is a way to crawl up inside a culture," she says. "To fix problems, we need to realize that all people need sovereignty and dignity." 
Her own story turns on her curiosity and interdisciplinary path through Emory College of Arts and Sciences, where she immersed
herself in Middle Eastern studies and Arabic (her fourth language after English, Hebrew,
and Japanese); spent a semester doing research in Morocco; ran a theater company; and founded J Street U, a campus organization supporting a two-state solution to the Israeli-Palestinian conflict.
Through the lens of a storyteller and traveler, Michalove engaged with some of the most persistent geopolitical conflicts of our time and challenged the Zionist beliefs held by generations of Michaloves.
"The wars waged on the ground and in the media were often fought not over resources or borders, but over the stories we tell others, and the ones we tell ourselves," Michalove wrote in her Rhodes Scholarship essay. At Oxford, she will pursue a master's of philosophy in social anthropology, a field that "plumbs the depths of those stories—maps them, sorts them, decodes them."
In November, Michalove became one of thirty-two American college students selected as a 2016 Rhodes Scholar. She is the eighteenth student from Emory to be selected for the prestigious scholarship, which provides for two or three years of study at the University of Oxford in England.
A senior in Emory College, Michalove is a Dean's Achievement Scholar majoring in Middle Eastern and South Asian studies, with a minor in anthropology.
"Leah Michalove is the kind of student who not only seizes every opportunity for learning but also leads in every endeavor that engages her energy and talents," says President James Wagner. "So in that sense she represents the finest Emory students and will make a splendid ambassador for the United States and for Emory at the University of Oxford. We are thrilled at her success."
To become one of thirty-two Rhodes Scholars chosen from 869 American candidates, joining Presidents Barack Obama and Bill Clinton, among other Rhodes alumni, Michalove experienced key turning points in her own narrative.
A shy girl, she learned how to question authority. Amy Michalove wanted her timid kindergartner to find her voice, so she enrolled her daughter at Davis Academy in Sandy Springs, where Reform Jewish values encourage diverse opinions and many teachers use the Socratic method. Leah Michalove blossomed into, in her words, a contrary person.
"She wants to observe and question before she accepts," says Davis language arts teacher Susan Fields. "She always challenged an idea
to see how anything could be improved, and in the most interesting way."
Michalove got lots of practice at home as an only child whose mother has a master's degree in anthropology. "Falling into lockstep with the party line is dangerous and does not contribute to repairing the world," Amy Michalove says. "I was raised with having to justify my decisions, and I expected that of her. Some family members are never going to agree with her position on Israel, and that's okay."
The momentum of Arab Spring and Occupy Wall Street inspired her. Those events in 2011 coincided with Michalove's second trip to Israel, where as a high school senior she watched one hundred thousand people protest housing and consumer prices in the center of Tel Aviv. "I didn't decide to be politically active until I got to college, but I knew where I stood," she says. "Let's work toward peace and not just talk about it."
After Brown University rejected her application, Michalove headed to Emory, where her grandfather, Leonard T. Michalove 49B, matriculated at age fifteen. His Emory years were interrupted by voluntary service in World War II; his granddaughter inherited the passion to combat injustice and explored that at Emory through religion, ethnography, art, philosophy, and literature.
"Peace is what Leah is most interested in," says her grandmother, Adele Michalove, eighty-six, who helped raise her. "She tries to change the things that she is not happy with, and when she wants to do something, she is going to do it."  
Where will the Rhodes take Michalove? "My research at Emory was on fashion and political identity in the Middle East. I examined how modern Moroccan women express their identities though fashion and appearance," says Michalove.
After completing a master's degree in social anthropology at Oxford, she intends to pursue a doctorate in anthropology, focusing on the Middle East.—Michelle Hiskey  
Email the Editor
Share This Story