Stalled or on Track?
MARTA light rail line still priority for Emory
---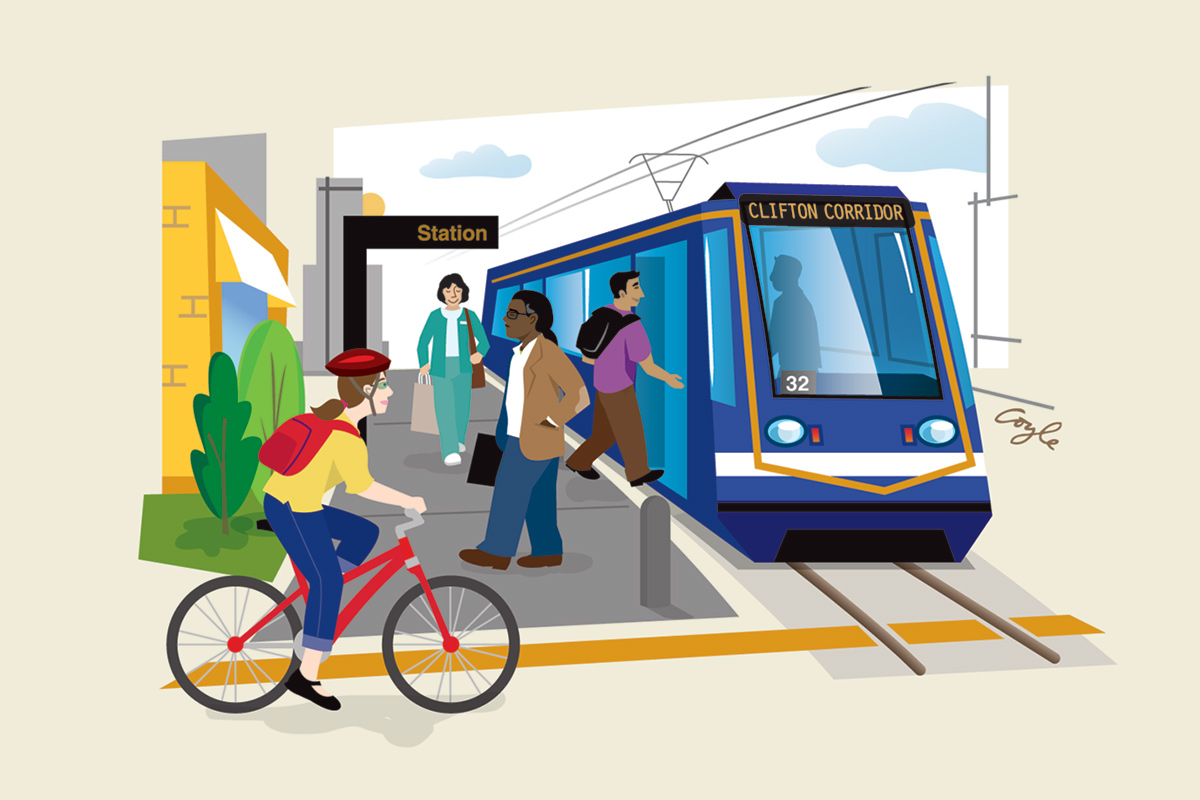 A MARTA light rail line through the heart of Emory has long been a dream of the community, and it seemed closer than ever with the proposed regional transportation referendum vote in July.
President James Wagner came out in strong support of the tax, saying it would unclog area roads, put more workers within reach of campus, help attract and retain academic talent, and generally improve quality of life for those in the Emory community and beyond. Atlanta voters, however, soundly defeated the one-cent sales tax, which would have supported $7.2 billion in road and transit improvements over the next ten years.
But it would be wrong to assume that a light rail project for Emory has lost all momentum, says Betty Willis, senior associate vice president for governmental and community affairs. The Clifton Corridor light rail project, which involves about 3.5 miles of light rail from MARTA's Lindbergh Station to Emory, already has attracted more than $2 million from federal and local funding sources for completion of three out of six phases required for federal funding, including feasibility, alternative analysis, and locally preferred alternative studies. MARTA is moving forward with the next step in the process—the draft environmental impact study. The project remains a priority in the Atlanta Regional Commission (ARC), Willis says, and voter support for the referendum in the intown neighborhoods was strong.
"People recognize the Clifton Corridor as a unique place—with infamous congestion," Willis says. "We've needed a light rail line for decades to maintain the vitality of this huge employment center, and no one has ever argued against that."
The university will continue to work with officials to put together a strategy that advances the light rail line, which would benefit the Centers for Disease Control and Prevention (CDC), Children's Healthcare of Atlanta, and the VA Medical Center as well.
Emory's Office of Sustainability Initiatives, which hosted a town hall with local leaders and educational forums around the referendum, remains "completely committed to working toward more alternative transportation options for Emory staff, faculty, and students," says Emily Cumbie-Drake 10C, sustainability programs coordinator. "Emory has a lot of strength in numbers and reputation throughout the city and the state, and we'll continue to be leaders in our work on sustainability and transportation."
Paul Bryan Cronan 14C, a native Atlantan and Emory junior, says he was disappointed that the referendum did not pass. "After graduation from Emory next year, there is a very high possibility I will leave this city now," he says. "I refuse to live in a place where I waste precious hours of my life sitting in traffic. I believe many of my peers agree. We want a livable city—one that we can invest in, and that will invest in us."
Email the Editor
Share This Story