We've Got the Beat
Exhibition showcases US counterculture
---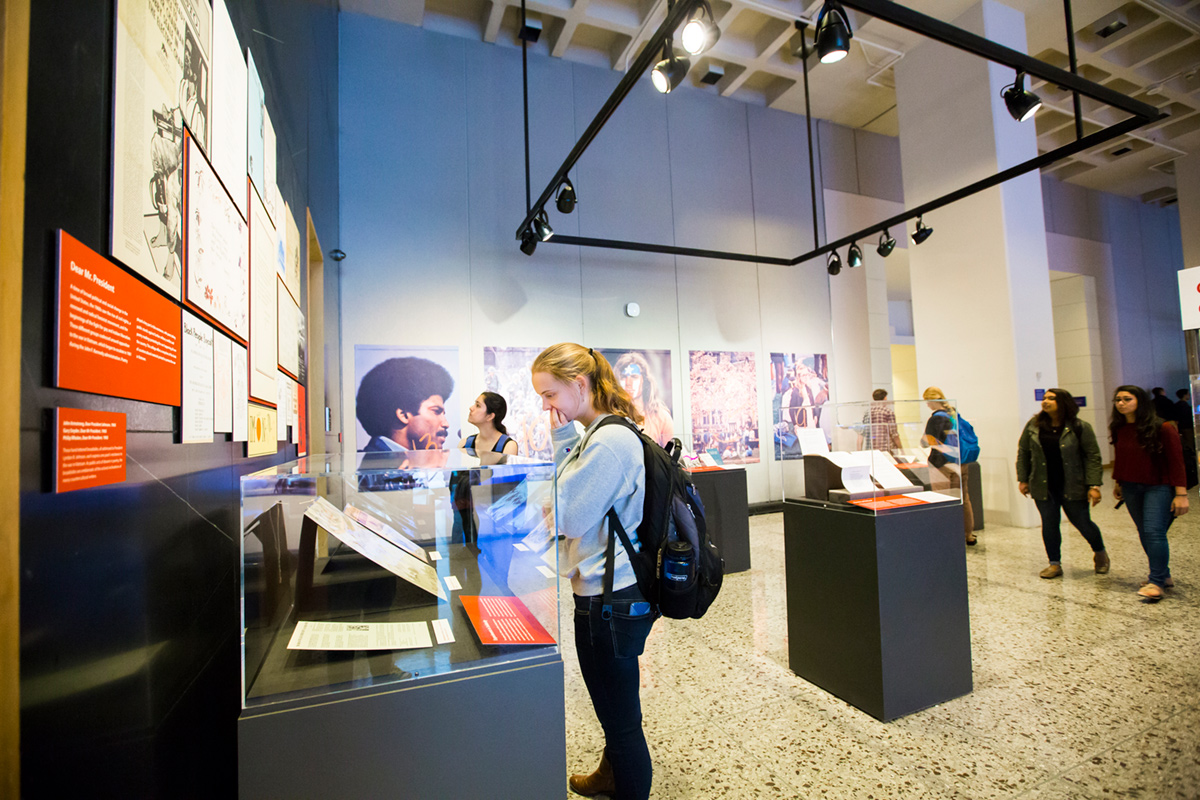 Wander through the Schatten Gallery at the Woodruff Library any time between now andmid-May, and you'll encounter an original Dreamachine, built around 1960 by writer and artist Brion Gysin. Made of a paper tube with cutouts of slits and designs, it spun on a record turntable with a light in the middle, which created a strobe-light effect. When a person sat close to it with their eyes closed, the play of light through the eyelids induced a dreamlike state.
The Beat Generation emerged at the forefront of US counterculture in the years following World War II. The Dream Machine: The Beat Generation & the Counterculture, 1940–1975, drawn from collections in the Stuart A. Rose Manuscript, Archives, and Rare Book Library, showcases the Beat spirit of exploration and experimentation in politics, art, and community building.
"The Rose Library has many important and exceedingly rare materials that are featured in this exhibition," says Rose Library Director Rosemary Magee. "The Beat Generation moves us beyond a literary movement to a significant historical moment, one that still speaks to us."
Materials include photographs, correspondence, first editions of seminal works, and early poem and prose drafts. Some of the materials are from the Rose Library's Raymond Danowski Poetry Library, a significant collection of twentieth-century English-language poetry and literature. The Rose Library also holds several collections of Jack Kerouac materials.
The exhibition was cocurated by English PhD candidates Aaron Goldsman 17PhD and Sarah Harsh 21PhD, who is also a Woodruff Fellow. Poet Kevin Young, former Rose Library curator of literary collections and of the Danowski Poetry Library, provided curatorial oversight; Young, an Emory University Distinguished Professor, is now director of the Schomburg Center for Research in Black Culture in New York.
Though the Beat Generation is usually identified with three writers—Jack Kerouac, Allen Ginsberg, and William S. Burroughs—many others had an impact on the movement, including poet Anne Waldman, who is featured in the exhibition and appeared at the opening.
"It was a diverse group of people in this movement, united despite their differences by a commitment to radical experimentation and resistance to the mainstream," Goldsman says. "There were women writing, there were people of color writing. We really want to tell their stories as well."
One of the show's highlights is a sixty-year-old letter that is credited by Kerouac as the inspiration for his novel On the Road, recently acquired by the Rose Library. Written by Kerouac's friend and fellow Beat icon Neal Cassady and long considered lost before it resurfaced in 2012, the "Joan Anderson letter" (named for a girlfriend of Cassady's mentioned in it) was discovered in 2012 in the archived files of Golden Goose Press.
Email the Editor
Share This Story