2017 Scholars
Alumni board honors exceptional students
---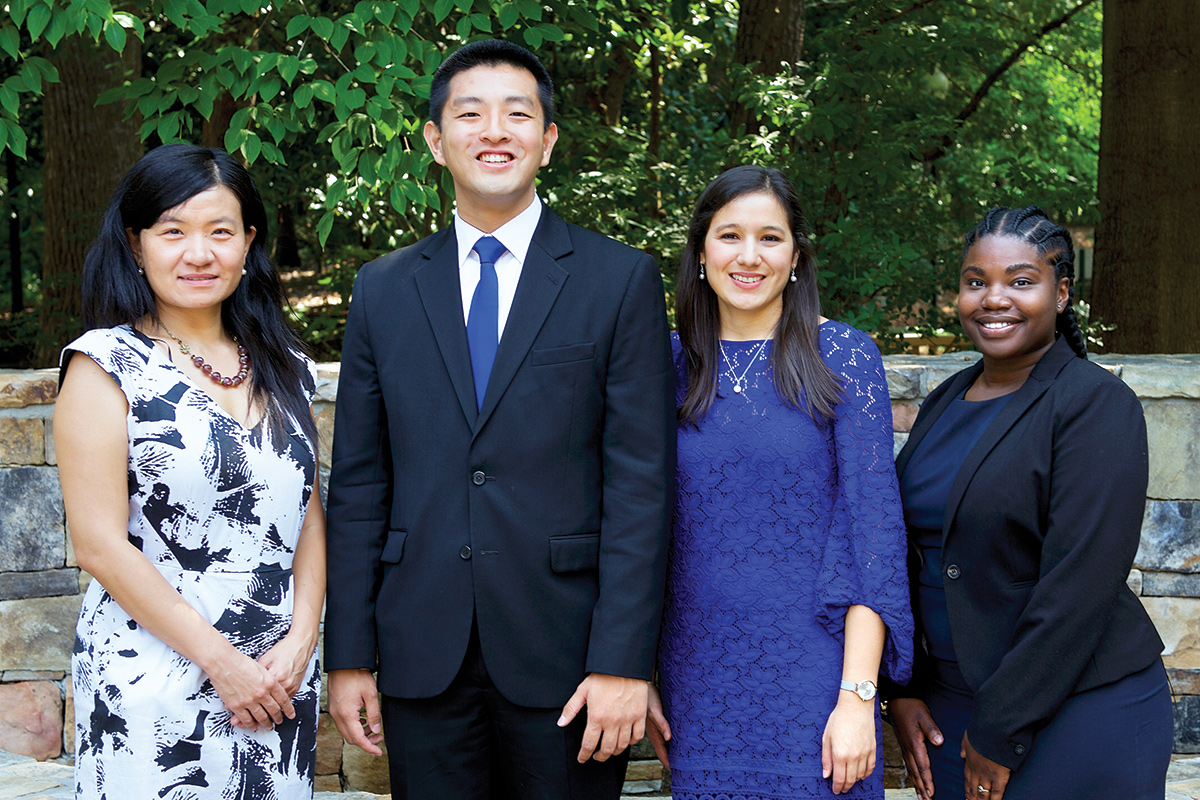 For the past decade, Emory Alumni Board has awarded scholarships to Emory students making a positive impact on their community. This year, the four $10,000 award recipients are a diverse group that includes an undergraduate who has been involved in almost every aspect of Emory life since he stepped foot on campus his first year and a graduate student working to implement race-based curricula and committed to inclusion and diversity work alongside her own studies. Another is back for her second Emory graduate degree and spent the years in between programs as a highly committed alumna in Beijing and Shanghai. The fourth recipient works to forward the goal of ensuring health care is a right for the most vulnerable populations.
Elizabeth Odunaiya 18 MPH
New York native Elizabeth Odunaiya will graduate this spring from the Rollins School of Public Health with a master's degree in public health in behavioral science and health education and a certificate in human rights. During her time here, Odunaiya has been active in student government, furthering student diversity and inclusion efforts, and working to develop race-based curricula at Emory.
May Pang 18L
Chinese native May Pang 09MBA is back for her second Emory graduate degree. A Goizueta alumna who expects to complete her law degree this spring, Pang spent the years in between her 2009 graduation and her return to Atlanta as an active alumna. She served in various leadership capacities in the Shanghai chapter, then was instrumental in launching and leading the Emory alumni chapter in Beijing.
Jeffrey You 18B
From his very first days on campus, New England native Jeffrey You has immersed himself in Emory life. He's served in leadership roles in his fraternity, executive roles with the Student Alumni Board (most recently as current copresident), played violin with the symphony orchestra, and most recently was an orientation leader for the incoming first-year class.
Regina Zuniga de la Cerda 18MPH
A practicing physician in her native Guatemala, Regina Zuniga de la Cerda focused her skills on the reproductive and maternal health of indigenous women in rural settings. This led to an interest in public health, focusing on the right to health care in vulnerable populations. At Emory, she has been engaged in a study of African American women in the postpartum period, studying health care from the woman's perspective.
Email the Editor
Share This Story