Tech Teacher
Making education affordable in Africa
---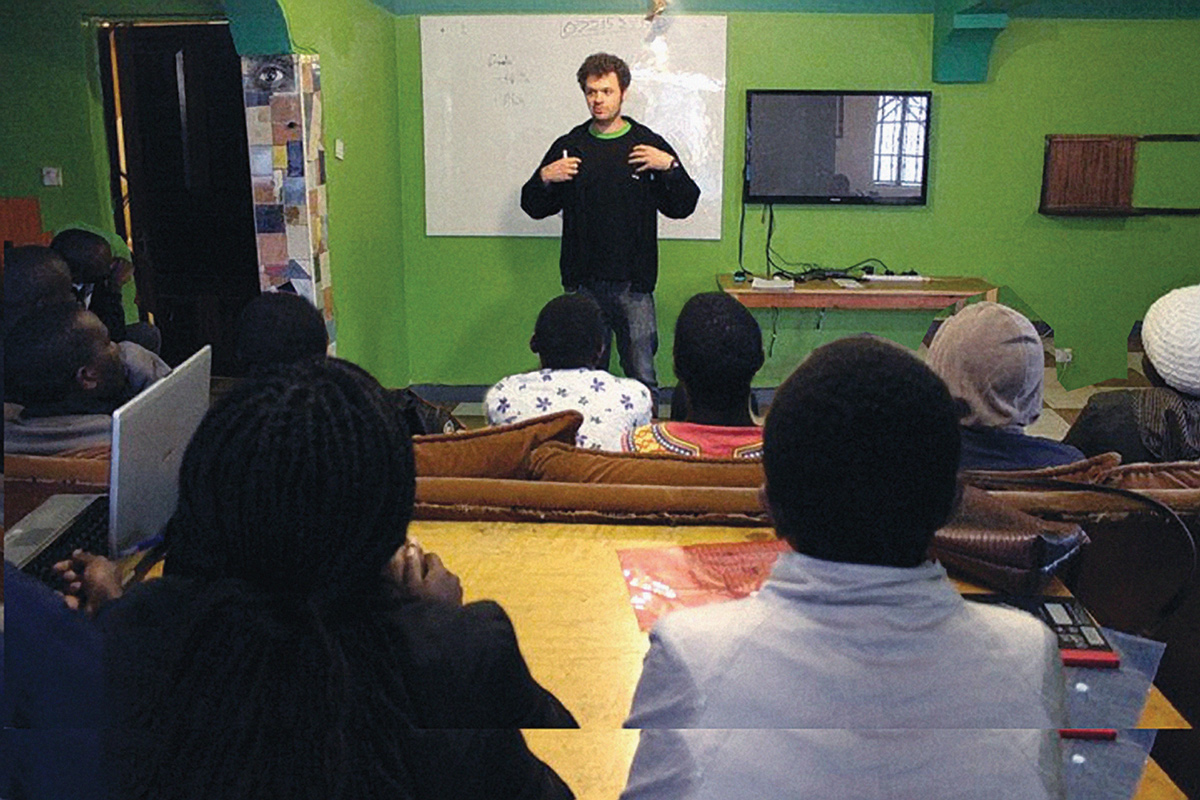 Mick Larson 08C has a long-term vision to create a collection of open source systems that can help young people living in the slums of Nairobi take the journey from technical illiteracy to excelling as technical professionals and entrepreneurs.
But the nonprofit activist and entrepreneur knows literacy and numeracy skills are the first steps on this journey.
Larson is cofounder of the Tunapanda Institute (TI), a nonprofit organization in East Africa that "grows human dignity by teaching technology, design, and business skills that enable people to earn an income and engage in creative self-expression."
In Kenya, as in many places in the world, secondary and tertiary education are out of reach for a large percentage of the population, and in many low-income communities, the internet (especially video learning content) is still unaffordable for most people. TI has set up computer labs and training centers in both urban and rural environments and is simultaneously developing low-cost software and content that can allow people to learn important and employable skills as easily and cheaply as possible.
A pre-med major at Emory, Larson took a year off after graduation to travel instead of going directly into medical school. He found a job as an English teacher in a small Korean town on the outskirts of Seoul and quickly realized that teaching was extremely rewarding and engaging.
"I also developed a serious travel addiction. Over the next several years I taught high school science in Thailand and then found a job at a college in Saudi Arabia. Throughout my travels I started seriously thinking about the challenges that face education on a global scale," Larson says. "There's also so much going on in the world of technology that can be used to create solutions. It's an extremely interesting and important challenge, and I wanted to see if I could help to make a dent."
Larson is focused on expanding the organization's capacity to reach more students. Since TI's founding in early 2015, the number of student applications has increased to the point that the school only has capacity to accept less than 10 percent of applicants.
"It shows that the demand for the type of program we offer is high and very valuable to the local communities," Larson says. "We're in the process of digitizing our curriculum and building a software platform that can help to provide our content to a much wider audience at a much lower cost. It will be exciting to find distribution channels to help as many people as possible get access to what we teach at the school."
Email the Editor
Share This Story