Ahead of His Time
David Bray 01C 06MPH 08PhD deals in problem solving on a global scale
---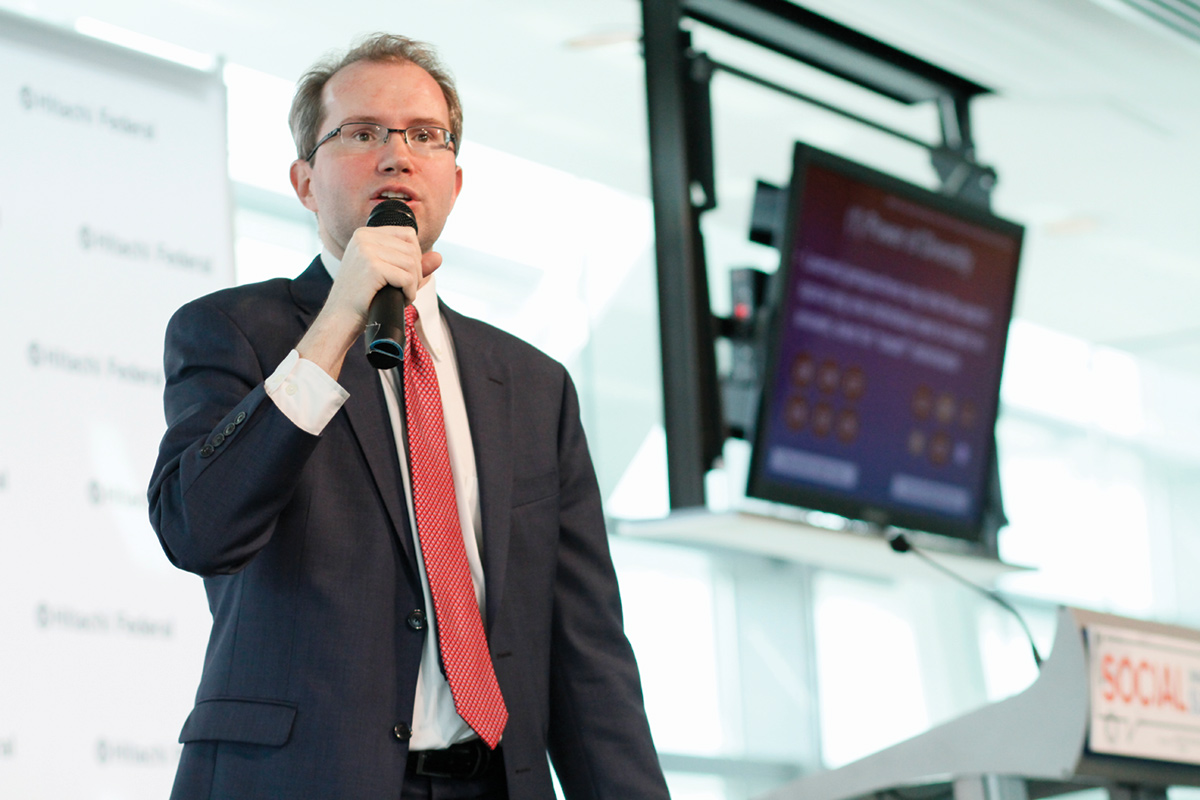 For David Bray 01C 06MPH 08PhD, the call to lead global change came early.
During his first year of high school in Alexandria, Virginia, Bray created a project for the International Science and Engineering Fair that led to a job with the federal government, working on prototype technologies that were years ahead of their time.
"My project was a series of computer simulations. The first could model plate tectonics movement. We could run it backward all the way to Pangaea to demonstrate that the model was accurate, then run it forward to guess what the world would look like in two or three million years," Bray explains. "The next year I modeled oil spills in the Gulf of Mexico and later did a simulation of the Chesapeake Bay."
After winning state and international awards for his projects, a 15-year-old Bray was offered a job doing computer simulations with the Department of Energy at a high-energy electron beam accelerator facility. He went on to do work for the Institute for Defense Analyses, where he helped to develop civilian uses for satellite technology, including space-based forest fire forecasting prototypes; and for the National Institutes of Health and the Centers for Disease Control and Prevention (CDC)—all before finishing high school.
An an undergraduate Emory Scholar, Bray traveled to South Africa for a journalism internship, which led to 18 months of volunteering abroad as a health advocate on HIV/AIDS and as a Habitat for Humanity crew lead in more than a dozen countries. By the time he graduated in 2001, Bray had already joined the CDC's Bioterrorism Preparedness and Response Program, and in August he began a part-time MPH program at Rollins School of Public Health.
After tragedy struck on September 11, 2001, he served as IT chief for the CDC's bioterrorism response team.
"Little did I know that five years after my graduation from Emory, my time at the CDC would convince me to pursue a PhD at Goizueta Business School, focused on how to improve global response to disruptive events," Bray told graduating Emory Scholars in a 2013 speech.
At Goizueta, Bray worked with Professor Benn Konsynski, who served as his dissertation adviser and remains a mentor and friend. Konsynski describes Bray as "always advocating for positive change, transformation, and adaption," adding that he "intentionally picks some of the hardest places to transform because they're also the most meaningful if they changed and adapted for the challenges of the new era."
Bray now serves as senior executive and chief information officer with the US Federal Communications Commission. He also is one of 121 women and men under 40 chosen as a 2016 Young Global Leader by the World Economic Forum, a five-year fellowship given to "bold, action-oriented, and entrepreneurial individuals committed to shaping a better future and improving the state of the world."
For Bray, the fellowship is another opportunity to do what he loves—make a positive difference. "Technology is changing our world exponentially," he says. "That in itself is neither good nor bad; it's how we choose to use it that determines good or bad outcomes. How do the United States and other representative democratic republics improve the business of running nations over the next 10 to 15 years?"
Whatever the solutions, it's likely that Bray will continue to lead the way.
Email the Editor
Share This Story