A Dog's Dilemma
What really motivates humans' best friend?
---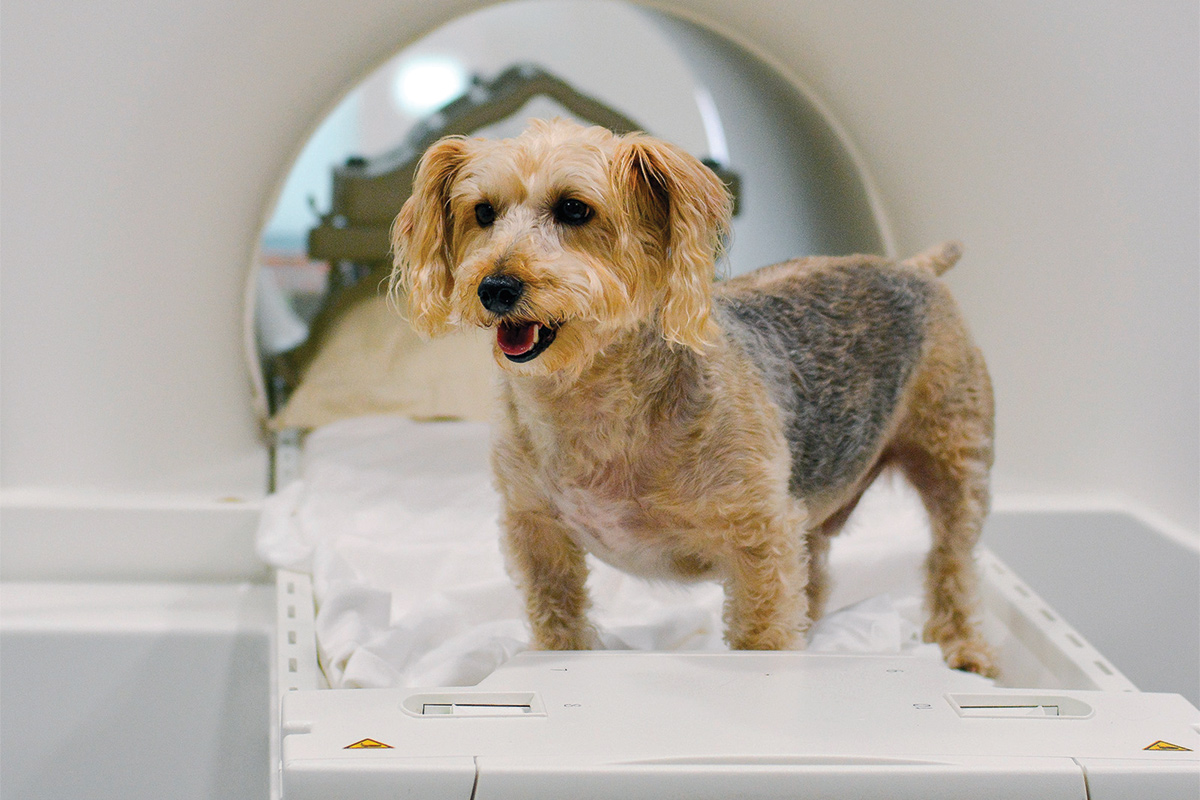 Given the choice, many dogs prefer praise from their owners over food, suggests a study recently published in the journal Social Cognitive and Affective Neuroscience.
The study is one of the first to combine brain-imaging data with behavioral experiments to explore canine reward preferences.
"We are trying to understand the basis of the dog-human bond and whether it's mainly about food, or about the relationship itself," says Gregory Berns, professor of psychology and lead author of the research. "Out of the 13 dogs that completed the study, we found that most of them either preferred praise from their owners over food, or they appeared to like both equally. Only two of the dogs were real chowhounds, showing a strong preference for the food."
Dogs were at the center of the most famous experiments of classical conditioning, conducted by Ivan Pavlov in the early 1900s. Pavlov showed that if dogs are trained to associate a particular stimulus with food, the animals salivate in the mere presence of the stimulus, in anticipation of the food.
"One theory about dogs is that they are primarily Pavlovian machines: They just want food and their owners are simply the means to get it," Berns says. "Another, more current, view of their behavior is that dogs value human contact in and of itself."
Berns heads up the Dog Project in Emory's Department of Psychology, which is researching evolutionary questions surrounding man's best and oldest friend. The project was the first to train dogs to voluntarily enter a functional magnetic resonance imaging (fMRI) scanner and remain motionless during scanning, without restraint or sedation.
In previous research, the Dog Project identified the ventral caudate region of the canine brain as a reward center. It also showed how that region of a dog's brain responds more strongly to the scents of familiar humans than to the scents of other humans, or even to those of familiar dogs.
The most recent study is based on two different experiments—the first using fMRI imaging, the second behavioral—that showed dogs respond more strongly to praise than to food.
"We found that the caudate response of each dog in the first experiment correlated with their choices in the second experiment," Berns says. "Dogs are individuals and their neurological profiles fit the behavioral choices they make. Most of the dogs alternated between food and owner, but the dogs with the strongest neural response to praise chose to go to their owners 80 to 90 percent of the time. It shows the importance of social reward and praise to dogs. It may be analogous to how we humans feel when someone praises us."
Email the Editor
Share This Story