The Art of Adaptation
Cassie Mitchell 04G 09PHD, research professor and Paralympic medalist
---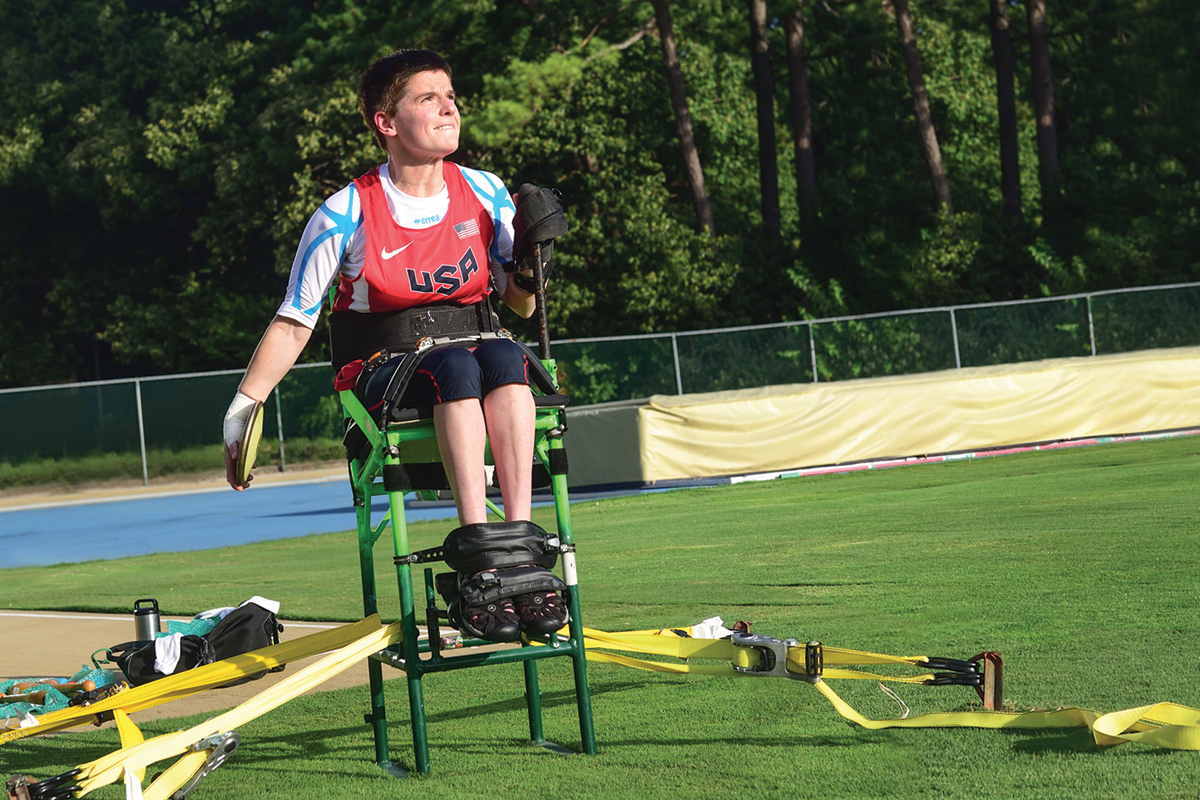 The Act of flinging a weighted plate across a field requires strategy, specialized hardware, and significant physical effort.
But Mitchell 04G 09PhD knows a thing or two about finding a way to conquer her goals.
In response to the obstacles she faces as a quadriplegic with visual impairment, she has become a master in the art of adaptation, both on and off the playing fiel.
As an internationally decorated wheelchair sprinter and field athlete in the T51 class, Mitchell competed in the 2016 Paralympic Games in Rio de Janeiro, winning a silver medal in the Women's F51-52 Discus and a bronze medal in the Women's F51 Club Throw. After originally being named to the USA Paralympic Track and Field Team, Mitchell learned that she also had been added to the USA Paralympic Swim Team, due to a reallocation of Russian slots. According to Mitchell, she was one of only three athletes at the 2016 Paralympic games to compete in two different sports.
This was Mitchell's second trip to the international competition. During the past four years, she's become a world-record holder in the women's shot put, as well as the T51 100-meter, 200-meter, and 400-meter races. She also holds several American records.
In her role as a research professor in biomedical engineering at the Wallace H. Coulter Department of Biomedical Engineering, a partnership between Georgia Tech and Emory, Mitchell has built a career around problem-solving—analytical skills that have also helped her assess the very biomechanics of her movements in competition.
But the perseverance that fuels her? That's always been there—a driving force as essential to Mitchell as breathing.
This spring, with the promise of the qualifying trials looming just a few months off, Mitchell received challenging news. The fluctuating blood counts and mysterious lung issues that had dogged her throughout months of heavy training were actually signs of chronic myeloid leukemia, a form of cancer based in certain blood-forming cells of the bone marrow.
For Mitchell, who has spent a lifetime adapting to health hurdles, the news meant yet one more critical adjustment. Working with Vamsi Kota, assistant professor and hematologist at Emory's Winship Cancer Institute, she elected to balance her ongoing athletic training with her cancer care.
"I told Dr. Kota that it was his job to tell me if I was pushing myself too far," Mitchell says. "I think most doctors would have been like, 'Are you kidding me? You still want to train?' But he got it, he understood what I wanted, and he expedited the treatment."
Years ago, when an autoimmune disorder, Devic's disease, derailed Mitchell's ambitions as an athlete, she rediscovered her love of sport as a wheelchair competitor. She has met this latest setback with the same fierce determination.
"With track and field, I felt that old drive and spirit that I had known before," she says. "I knew I wanted to finish what I started."
Email the Editor
Share This Story