Touring Tandem
From Savannah to Seattle, alumni duo is pedaling for pediatric cancer research
---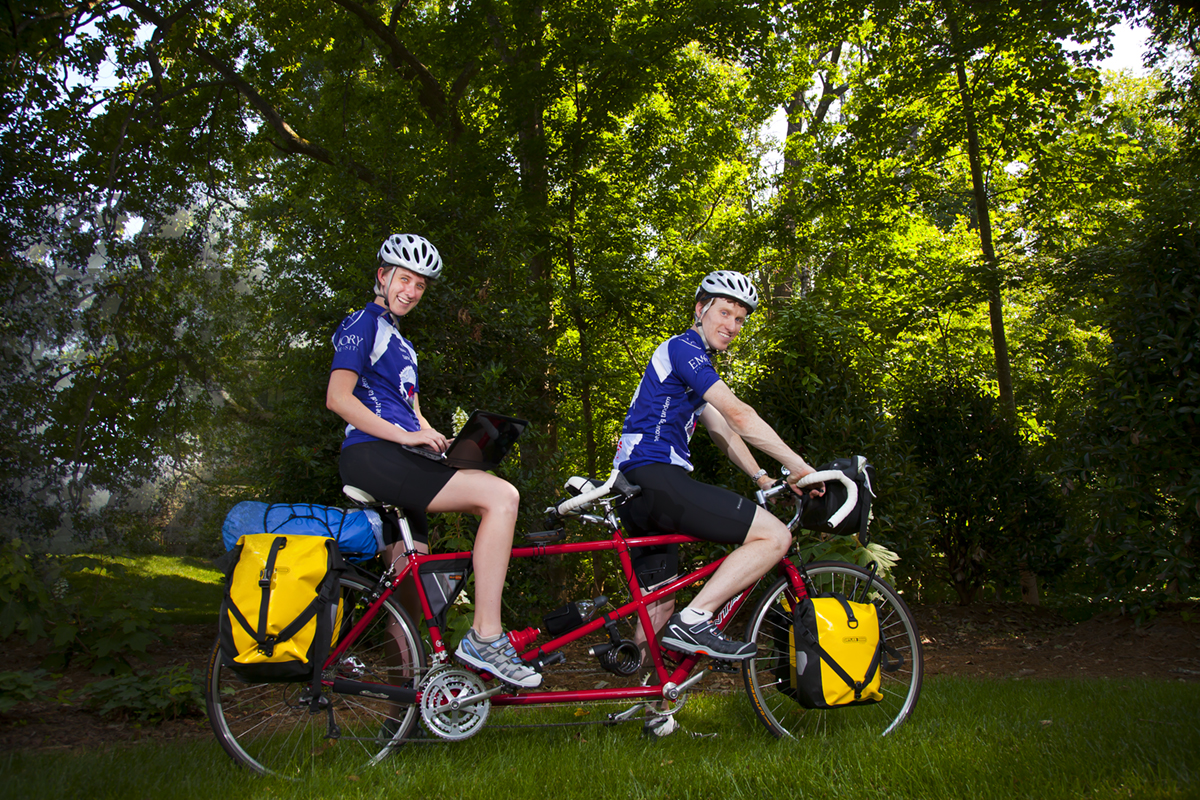 Pausing only to pose for a Twitter photo, Kevin Kelly 09C 09G and Anna Snyder 11C pushed off from Tybee Island, Georgia, on May 24 for the first leg of a five-thousand-mile cross-country trek—all on their bright red, Santana Arriva tandem bicycle.
"It's been a mutual dream of ours to ride coast to coast on a tandem bike, and we know that if we don't do it now, we probably won't have the time to do it later," says Kelly, a Bobby Jones Scholar and former program coordinator for Emory's Office of International Affairs.
Their meandering course will pass through eighteen states and across the Rocky Mountains before their planned destination of Cape Flattery, Washington. The couple, who met on a service trip to Mexico with Outdoor Emory in 2008, estimate it will take them about four months (and forty-five bottles of sunscreen). "We aim to cycle five or six days each week for about sixty to seventy miles a day," says Snyder.
Planned highlights of the trip include visits to their families in Baton Rouge and Chicago, cycling under the St. Louis Gateway Arch, watching Fourth of July fireworks at the annual Taste of Chicago, and biking the Elroy-Sparta trail in Wisconsin (which includes three limestone tunnels).
They are carrying about seventy pounds of gear divided between them in front and rear saddlebags, a handlebar bag, and a tent bag on the rear rack.
Kelly also had a surprise tucked away: an antique engagement ring, handed down from Snyder's great-grandmother, hidden in his backpack. He popped the question on day thirteen. (She said yes.)
Instead of a luxurious honeymoon, they're sleeping in a tent most nights and cooking over a liquid fuel stove. Keeping safety and the unexpected in mind, they have reflective vests, rain gear, two cell phones on separate cell carriers, and a SPOT transponder beacon that radios their GPS coordinates to first responders in a life-threatening emergency. "We also use this beacon to allow our parents to track our daily progress," they write.
Snyder grew up in a family of cycling enthusiasts—her mother and father gave each other bicycles as gifts for their fortieth birthdays, and she remembers frequent family rides as a child. Kelly, a long-distance cyclist who has participated in numerous triathlons, also remembers "biking days" on family vacations.
They are riding in memory of Snyder's father, Tom, who died of cancer while Snyder was still in high school, and are raising money for St. Jude Children's Research Hospital for pediatric cancer research. "He would have loved this bike trip," Snyder says.
A frequently asked question on their blog: Why not just take separate bikes? A tandem is more efficient, according to the duo, but mostly, "a tandem is simply more fun."
Email the Editor
Share This Story