2014 Emory Medalists
Honorees inspired to serve communities through justice, philanthropy
---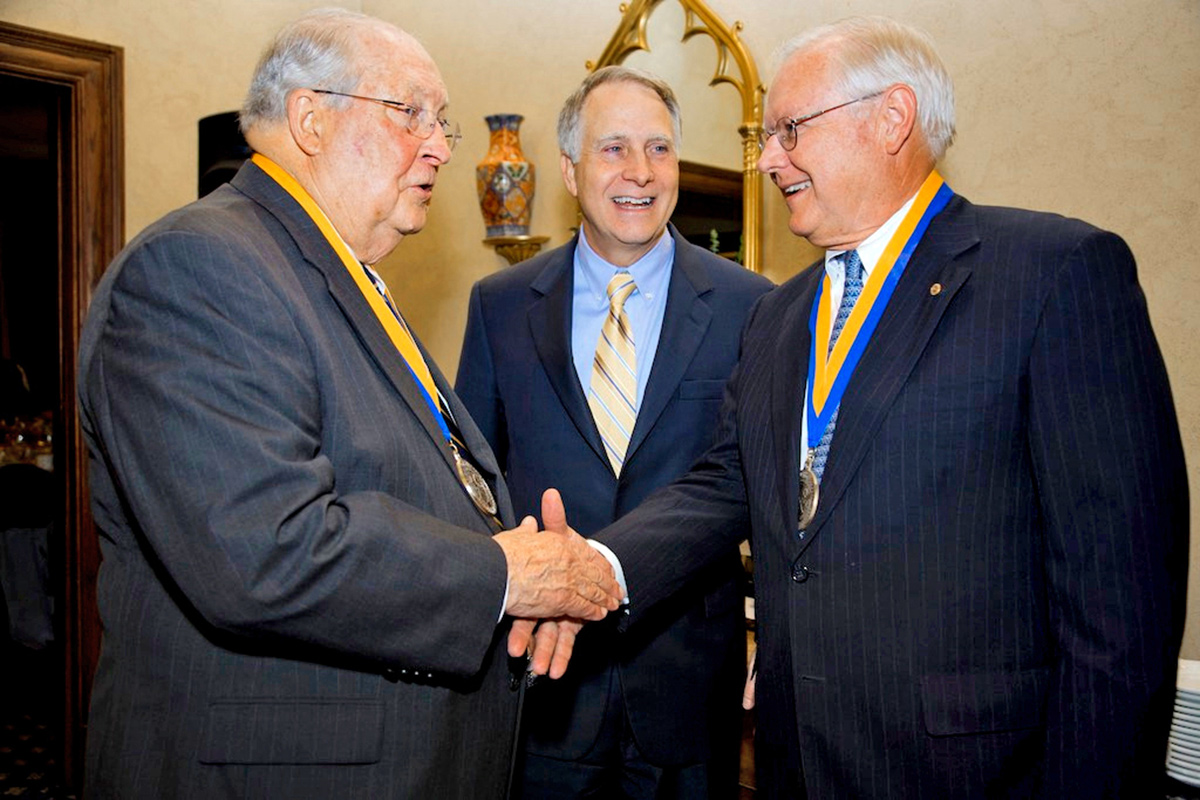 Judge William C. O'Kelley 51C 53L and philanthropist John W. Stephenson 70C received the 2014 Emory Medal in an October ceremony held at the Miller-Ward Alumni House.
Throughout their careers, the recipients shaped the futures of countless individuals by working on many vital initiatives, including DeKalb County Schools desegregation and the Woodruff gift that launched Emory as a world-class research institution.
The Emory Medal is awarded to recipients based on their distinguished service to Emory and their community or their achievements in business, the arts, the professions, government, or education. O'Kelley and Stephenson have demonstrated a lifelong commitment to excellence in their professional and philanthropic ventures and to nurturing this same characteristic in others.
"Judge William O'Kelley's life is the embodiment of service to his country, community, alma mater, and the law," says Crystal Edmonson 95C, past president of the Emory Alumni Board, in a multimedia presentation highlighting the honorees' accomplishments. "He was an Eagle Scout, attorney in the United States Air Force, litigator in private practice, federal prosecutor, and—for the past forty-four years—has served as a US district judge for the northern district of Georgia. He managed the court for seven years as chief judge. And now, at eighty-four years old, William O'Kelley sits as senior judge."
O'Kelley is a scholar and teacher as well as the recipient of both the Emory Law School's Distinguished Alumnus Award and the Significant Sig Award from the national Sigma Chi Fraternity. The Judge William C. O'Kelley Endowed Scholarship Fund was created in his honor, spearheaded by Emory alumni who served as his law clerks. He has supported his alma mater as a mentor to students, and through service on the Law Advisory Board, the Emory Board of Trustees, and its finance, campus life, and executive committees. In the Atlanta community and beyond, O'Kelley serves leadership roles in many organizations and charitable foundations.
"I've always been very devoted to public service, doing something for others," he says. To O'Kelley, adjudicating with fairness and objectivity is crucial. Nominated by President Richard Nixon to the bench in 1970 as one of the youngest federally appointed judges, O'Kelley has heard his share of pivotal trials, including the kidnapping trial of Atlanta Journal-Constitution editor Reg Murphy, the DeKalb County Schools desegregation case, and the copyright case involving Martin Luther King's famed "I Have a Dream" speech.
"The Court of Appeals disagreed with me," he recalls. "I said that the speech was, in effect, dedicated to the public in 'I Have a Dream.' They saw it a little differently and protected the copyright for the family."
O'Kelley has presided over numerous political reapportionment trials and civil rights cases. "We made a lot of difficult decisions and created a lot of turmoil. Society wasn't quite ready for something like that," he says.
As an appointee to the US Foreign Intelligence Surveillance Court, O'Kelley presided over cases involving foreign nationals.
"Everything in it originated at the top level of the government, either through the secretary of state or the attorney general. The president was quite actively involved," he says. "I was on that court for seven years and during the Tehran hostage situation. I also was appointed in 1996 by Chief Justice William Rehnquist to the Alien Terrorist Removal Court and have continuously served on that court to the present."
For fellow Emory Medalist Stephenson, giving back to students and colleagues is his way of repaying the kindness of his own mentors—including former vice president for finance and treasurer Hugh Hilliard and former vice president, dean of faculties, and dean of alumni Judson C. "Jake" Ward 33C 36G. Following their example, Stephenson strives to do the same by guiding the D.V.S. Senior Honor Society, of which he was a member. He now advises students on campus and at the national level.
As executive director of the J. Bulow Campbell Foundation, Stephenson has shepherded the vision of the foundation, which is dedicated to supporting large capital projects in the areas of education, youth development, human services, public spaces and cultural institutions, and Christian-based organizations.
"Over his thirty-year tenure at the foundation, there have been several instances where the foundation found opportunities to support projects at Emory, and John has welcomed those opportunities on behalf of his alma mater," says Edmonson. "He is thought of as a careful steward of Mr. Campbell's legacy, his university's heritage, and community interests throughout Georgia and beyond."
Named one of Emory's 175 Makers of History, Stephenson has spent his entire career in education administration and philanthropy. His associations with Emory—student, alumnus, administrator, and unswerving advocate—have, in his words, "provided a lifelong source of pride and profound sense of appreciation for Emory's influence on my life."
Stephenson has counseled Emory students on their career aspirations, guided Emory officials in the course of his duties at the foundation, and taken every opportunity to reveal to others Emory's strengths and values.
Before joining the foundation in 1985, Stephenson served Emory presidents Sandy Atwood and Jim Laney for twelve years as assistant to the president, secretary of the university, and vice president.
"When Laney was appointed president, he had high aspirations for the university, and he had a vision for where Emory could go if it had the resources," Stephenson says. "He began to frame that into the Campaign for Emory."
What followed was tremendous growth in student services including the Woodruff PE Center, dormitories, and expansion of the student center. "During all of my years at Emory, the focus was on student life, to bring Emory into a competitive position with our peer institutions," Stephenson says.
In the aftermath of Robert Woodruff's $105 million gift to Emory, Stephenson enjoyed the excitement around establishing The Carter Center near the university. "My meetings with [Jimmy Carter] were direct," he says. "The Carter Center was going to have to raise a lot of money, and they were going to use the Emory machinery to help with that."
Stephenson also assisted in the growth of the Emory Federal Credit Union, for which he served as treasurer and president.
On receiving the Emory Medal, Stephenson says it is "not so much about recognizing what I've done for Emory. I'd like to turn that around and take the occasion to say how much Emory has done for me."
Email the Editor
Share This Story