View from the Hill
Emory Scholars Visit Washington
---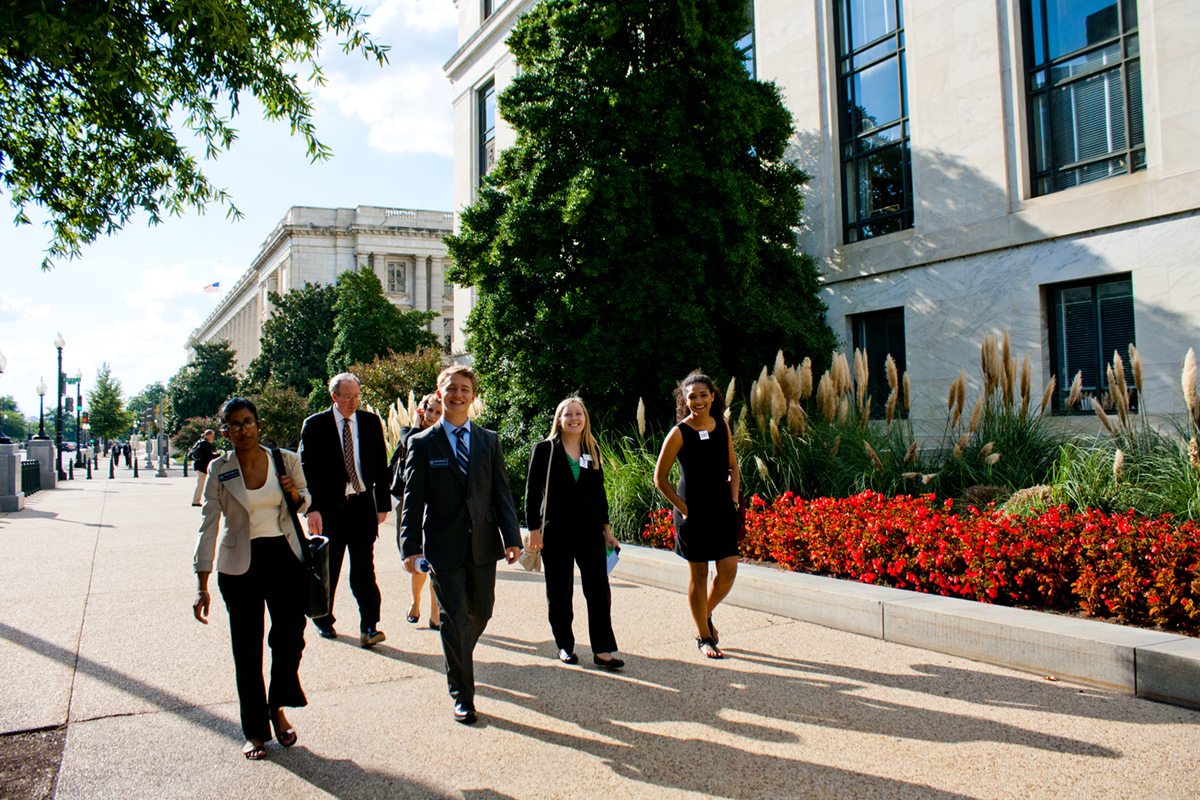 As a high school freshman in Anchorage, Alaska, Camden MacDowell 15C read The Hot Zone by Richard Preston, the nonfiction best seller that introduced millions to the ravages of the deadly Ebola virus.
The book sparked a sustained interest in viruses, leading MacDowell to pursue an internship at the Alaska branch of the Centers for Disease Control and Prevention. Through the internship, he learned about Emory, applied, and was accepted.
Eight years after he first encountered Ebola virus, MacDowell found himself in Washington, D.C., sitting in a US Senate committee hearing on the disease and efforts to control its spread around the world—particularly in West Africa where an unprecedented outbreak has taken a shattering toll. The star witness at the hearing was Kent Brantly, a physician and missionary who was successfully treated for Ebola virus disease at Emory University Hospital and became the first patient treated for the disease in the US.
"Ebola, in a way, is why I am at Emory," MacDowell says. "So it kind of came full circle when we went to this Senate hearing and I saw the powerful impact Emory is making. I know from experience that Emory has an impact in the Atlanta community and the Georgia community, but the Senate hearing was a really tangible example of the positive impact that Emory is making across the nation, and even helping to contribute resources to the Ebola outbreak in Africa. That's why it was so exciting."
MacDowell, a Woodruff Scholar majoring in neuroscience and behavioral biology, traveled to D.C. in September with a group of eleven other Emory Scholars on a specially planned trip that was the first of its kind. The students, mostly seniors, spent two days meeting with Emory alumni and officials working in a broad range of fields and learning about life in the nation's capital.
The Emory Scholars trip was originally the wish of Charlie Harman, Emory's vice president for government affairs, who previously served for five years as chief of staff to US Senator Saxby Chambliss. One of the highlights of that role was hosting a group of students from the University of Georgia, so when he arrived at Emory, Harman suggested a similar trip for Emory Scholars.
Cameron Taylor 90C, Emory's director of federal affairs, and Lydia Soleil, director of the Emory Scholars Program, put together a packed schedule of meetings and events for the students—including time with Susan Henry Crowe 76T, chief executive of the United Methodist Board of Church and Society and former dean of the chapel and religious life at Emory; Joan Kirchner, chief of staff for Senator Johnny Isakson; Jonathan Levy 04C, deputy chief of staff for the US Department of Energy; and two White House staffers—Emory Scholar Monique Dorsainvil 09C, director of planning and events in the White House Office of Public Engagement and the Office of Intergovernmental Affairs; and K. Awenate Cobbina 02C, special assistant to the president and policy adviser to the Office of the Chief of Staff.
Altogether the students met with more than thirty alumni in Washington, including fifteen Emory Scholars alumni. In addition to attending two timely Senate hearings—one on Ebola virus and one on the Islamic State in Iraq and Syria—the group toured the Capitol, spent every meal dining and networking with alumni working in different areas of government, and ended the trip on a high note with Congressman John Lewis. According to Taylor, the scholars' Washington visit yielded a number of positive outcomes, both expected and unexpected.
"One was that we got to engage a really stellar group of Emory students and interest them in public service," she says. "Another was that we got to show off these amazing students, who are wonderful representatives of Emory—bright, curious, and respectful. And finally, it became very evident that excitement really built among the alumni as they visited with the students, so we were able to engage a group of alumni with varied jobs and interests that I had not had the opportunity to reach out to before." Kaylee Tuggle 15C, a Woodruff Scholar and sociology and creative writing major from Griffin, Georgia, says her favorite part of the trip was meeting Lewis, who "made every individual feel like they were the only person in the room."
"It was a really incredible experience to meet someone who not only has so much history associated with them and how they came to be where they are today, but also just the wisdom that he has stockpiled," Tuggle says. "It's a wisdom of peace and an appreciation for life that I would hope to have someday."
Tuggle, who plans a career in education, says meeting Emory Scholars alumni helped make the business of policy making real for her. "They were all extremely approachable and interested in making connections between what we are interested in and what they are doing, " she says.
A highlight for Tuggle was a lunch meeting with Elizabeth Barchas Prelogar 02C, assistant to the solicitor general in the US Department of Justice. In addition to a varied and accomplished career spanning both the public and private sectors, Prelogar impressed Tuggle with her ability to connect with the students over almost any interest—from creative writing to neuroscience. "She made connections so flawlessly, I thought, 'I have to have that skill,' " Tuggle says.
Taylor hopes the Emory Scholars trip to D.C. might become an annual event. "The students were able to get different perspectives from alumni who are engaged in careers they are excited about and proud of," she says. "The timing really could not have been better for these seniors as they begin to think about what they will do after graduation."
Email the Editor
Share This Story