Emory-based Experts Leading Global Fight Against Ebola
Ribner, others recognized for their role in battling the outbreak
---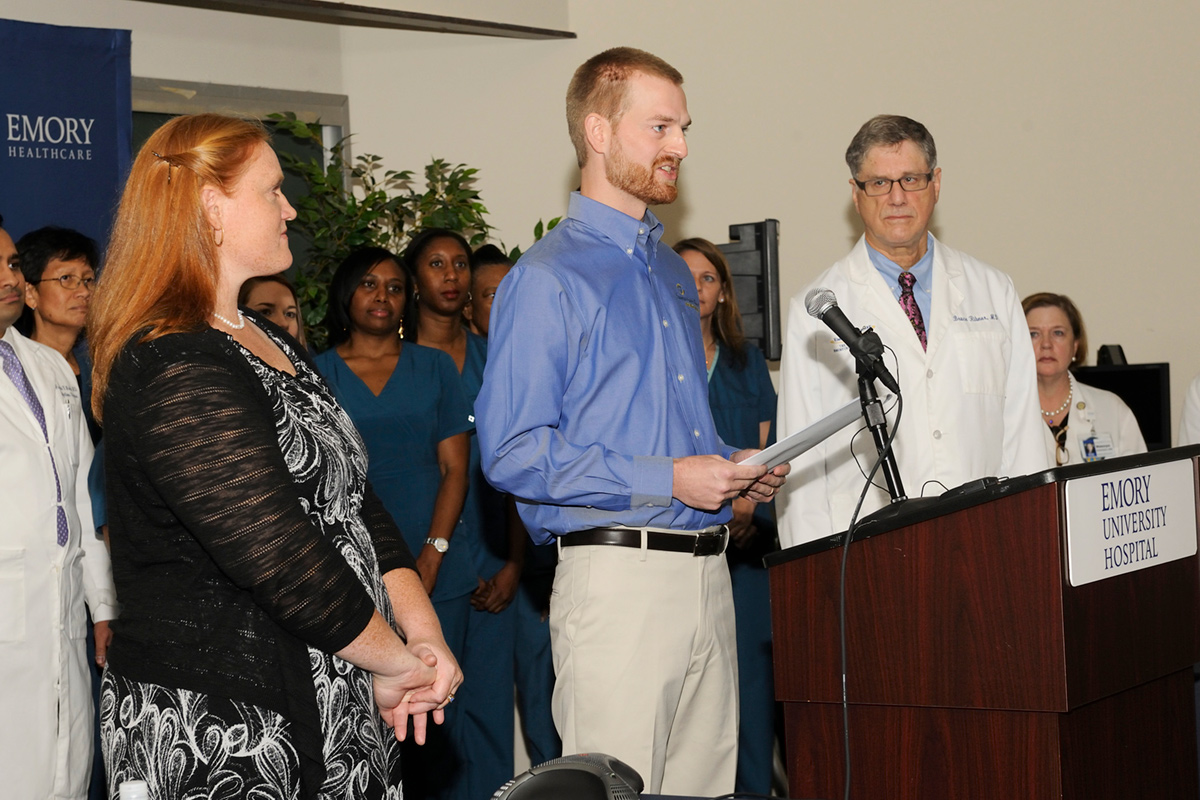 Since the first two patients with Ebola virus disease treated in the US were brought to Emory University Hospital (EUH) in August, Emory physicians, nurses, health safety officers, public health experts, and administrators have taken the lead in developing and disseminating protocols for the successful treatment of the disease, recommendations for infection control, and procedures for triage and screening of potential patients.
In December, doctors, nurses, scientists, and caregivers who are fighting the biggest outbreak in the history of Ebola virus disease—including Bruce Ribner, medical director of the EUH Serious Communicable Disease Unit—were named as Time magazine's 2014 Person of the Year. Included in Time's coverage are essays from physician Kent Brantly, aid worker Nancy Writebol, and Dallas nurse Amber Vinson, all of whom were successfully treated for the disease at Emory.
"Our own protocols from day one haven't changed much. We came up with procedures and protocols that have really stood the test of time," Ribner told Time magazine writer Alexandra Sifferlin. "In the process of getting our patients better, we are learning a great deal about the virus, and we are adding an enormous amount, which we hope feeds back to our colleagues in Africa, so that they perhaps can no longer have such high fatality rates."
As the Ebola crisis in West Africa continues, the world's national public health institutes (NPHIs) are on the front lines—and facing unprecedented challenges—in efforts to detect and prevent the spread of the disease. With overburdened infrastructures pushed to the limit, public health officials from the affected and neighboring countries are partnering with the US Office of the International Association of National Public Health Institutes (IANPHI), based in Emory's Global Health Institute, to strengthen the national public health systems needed to stop the spread of disease.
Founded in 2006 with thirty-nine members and support from the Bill and Melinda Gates Foundation, IANPHI was the brainchild of Jeffery Koplan, Emory's vice president for global health and former director of the National Centers for Disease Control and Prevention (CDC), and colleagues. Under the leadership of director Courtenay Dusenbury 08PH, it creates and strengthens NPHIs—organizations, similar to the CDC, which lead public health efforts in a country.
During the current Ebola outbreak, IANPHI has worked with its more than one hundred member institutes, bilateral aid agencies, private-sector partners, the CDC, donors, and others to identify the most urgent needs of countries fighting the outbreak and to address them through collaboration, training, and funding.
For example, with more than $160,000 in funding from the Bill and Melinda Gates Foundation, IANPHI partnered with the Guinean National Institute of Health and the Cameroon Ministry of Health to offer training in infection control and prevention and to provide personal protective equipment to health workers. The CDC announced in November its intent to award $1.1 million in Ebola funding to IANPHI for fiscal year 2015.
"IANPHI is uniquely positioned, in terms of authority, ability, track record, infrastructure, and credibility, to engage its member institutes to respond to the Ebola outbreak in West Africa," the award notice said. These funds will help the most heavily affected nations of Liberia, Guinea, and Sierra Leone, as well as neighboring Guinea Bissau, to strengthen Ebola surveillance and control activities.
IANPHI's member institutes outside West Africa also are working to mount a coordinated global response, which the World Health Organization says is necessary to stop the current outbreak. As part of this, IANPHI has linked volunteers from its member institutes into joint missions. The CDC has sent scores of employees to work in Ebola-affected countries and has established a site providing exhaustive information and guidelines. France's Institute of Health and Medical Research has created a series of educational videos, and Public Health England is working to recruit additional volunteers to staff its diagnostic laboratories in Sierra Leone.
Email the Editor
Share This Story