'Twisted Roots and Branches'
Ellmann Lectures trace family ties
---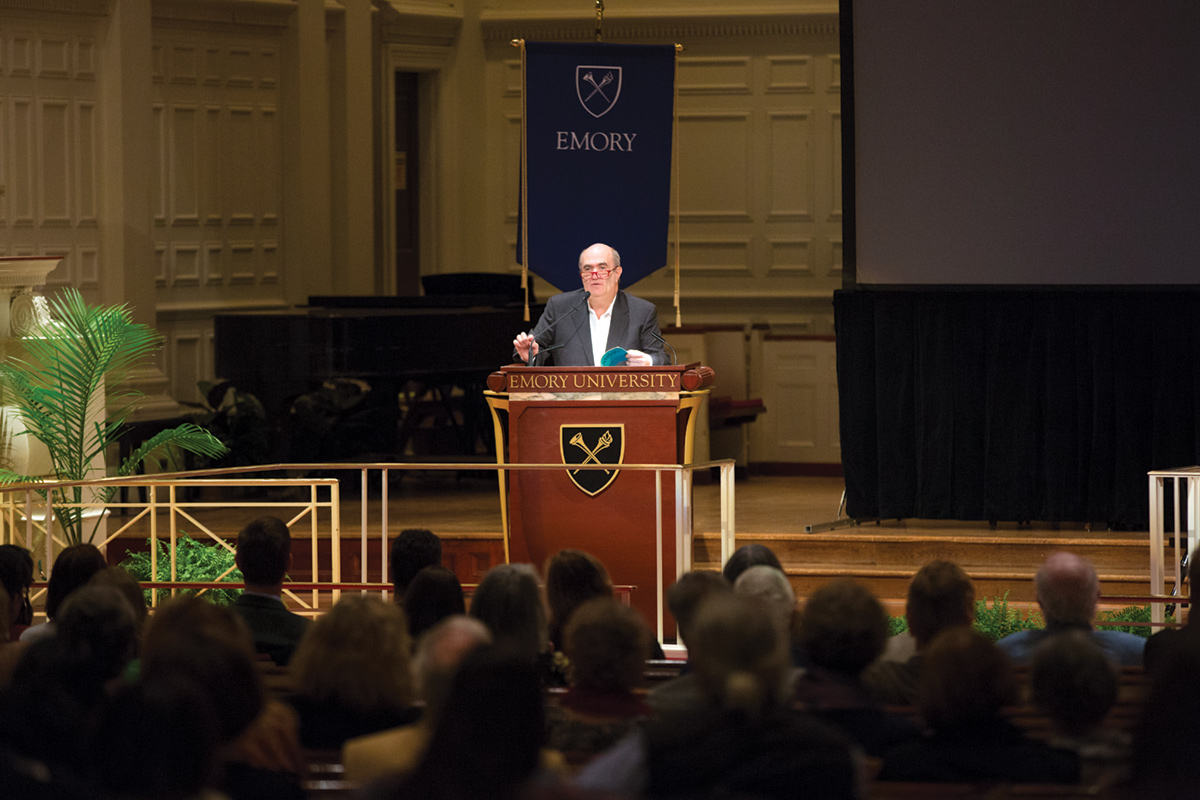 The 2017 Ellmann Lectures, given by acclaimed Irish author Colm Tóibín in November, turned on the subject of familial inheritance— or what Geraldine Higgins, codirector of the lecture series, calls "all the twisted roots and branches of the family tree."
Tóibín's subject was also personal, for he lost his own father when he was twelve and told a Guardian reporter in 2014, "Every writer has something in their childhood that nurtures them while seeming to be very damaging at the time."
During the course of three lectures, Tóibín examined the lives and relationships of Oscar Wilde, James Joyce, and W. B. Yeats with their fathers. He began with the scandalous libel suit Oscar Wilde brought against John Douglas, the Ninth Marquess of Queensberry, after the latter—enraged over the affair between Wilde and his son, Lord Alfred "Boisie" Douglas—left an accusing card in plain view at Wilde's club.
After a libel suit against his mother when Wilde was a child, the family maintained its social status. Based on this experience, Tóibín observed, Wilde "seriously misjudged how the judge, jury, and public would view him." Despite being the toast of London in 1895, when The Importance of Being Earnest was entertaining audiences, Wilde would lose his trial, be sentenced to two years of hard labor, and fall out of favor with the public.
Tóibín took on the father of poet W. B. Yeats, John Butler Yeats, who abandoned his family to pursue life as a painter, only to have his success eclipsed by his sons, W. B. as a poet and Jack as a painter. Says Tóibín, "the father's exile was enabling and inspiring for the son's work."
In the final lecture, Tóibín characterized James Joyce's father as incapable of managing the family finances and was, according to James's brother Stanislaus, "a man of absolutely unreliable temper." Despite this, the elder Joyce would inspire his son's work. "Hundreds of pages, and scores of characters in my books, came from him. I got from him his portraits, a waistcoat, a good tenor voice, and an extravagant, licentious disposition, out of which, however, the greater part of any talent I may have springs," Joyce wrote to his mentor, T. S. Eliot.
Tóibín concluded, "instead of openly killing his father, James Joyce sought not only to memorialize him but . . . use what he needed from his father's life to nourish his own art."
Email the Editor
Share This Story