Gifts Shared
2014 McMullan Award winner Matthew Pesce
---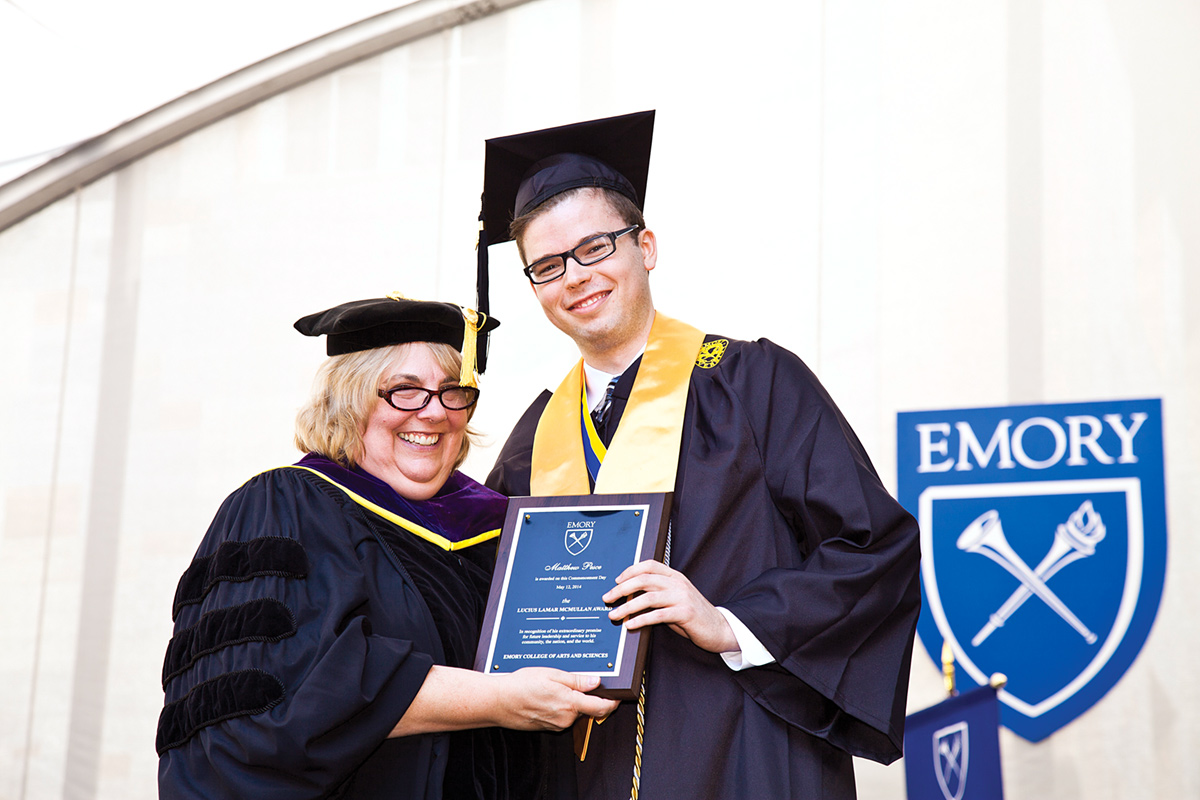 Debate has been the central, unifying theme for much of Matthew Pesce 14C's life. The Atlanta native came to Emory ranked third in the nation as a high school debater, and that success continued with regular college tournament wins and top-ten national rankings during his four years here.
Pesce also sought out ways to use debate to serve others, applying the skills and experience of debate—keen analysis of complex issues, critical thinking, and persuasive, civil argument—to help transform the Emory community. He's worked to bring the benefits of debate training to Atlanta Public School students as a coach and mentor through the Emory-founded Urban Debate League (UDL).
"Matthew uses his fame in debate to be a role model for students who have not had the resources he has had to advance his education," says Melissa Maxcy-Wade 72C 76G 96T 00T, executive director of forensics at Emory and founder of the UDL.
His service helped make Pesce the 2014 recipient of the Lucius Lamar McMullan Award. The award, made possible by a generous gift from Emory alumnus William Matheson 47G, recognizes Emory College graduates who show extraordinary promise of becoming our future leaders and rare potential for service to their community, the nation, and the world. The McMullan Award carries with it $25,000—no strings attached.
Described by other nominators as "a Renaissance student, a scholar, leader, and friend," Pesce has taken on difficult leadership roles as chair of the Honor Council and the Emory Elections Board. He served as president of Omicron Delta Kappa Honor Society and as a representative on the Committee on Class and Labor, the Committee on Campus Life, and the College Curriculum Committee.
"He has demonstrated great skill at navigating the difficult waters of university bureaucracy in order to effect lasting, positive change," says Jason Ciejka, associate director in the Office of Undergraduate Education.
Pesce graduated with highest honors in political science with a minor in development studies. He remained an active college debater, rising to seventh place nationally as a junior and serving as vice president of the Barkley Forum, Emory's award-winning debate program.
Pesce says the most challenging and rewarding activity has been serving as a mentor and instructor in Atlanta UDL. "It's been an amazing process to see struggling students gain confidence in themselves, learn to solve problems in constructive ways, engage with advanced material, and display tolerance for opposing viewpoints," Pesce says. "I came to understand the trials my students faced on a daily basis and the incredible opportunities education can provide."
Email the Editor
Share This Story