Battle Plan
Want to learn about the historic Battle of Atlanta? Let your mobile device be your guide
---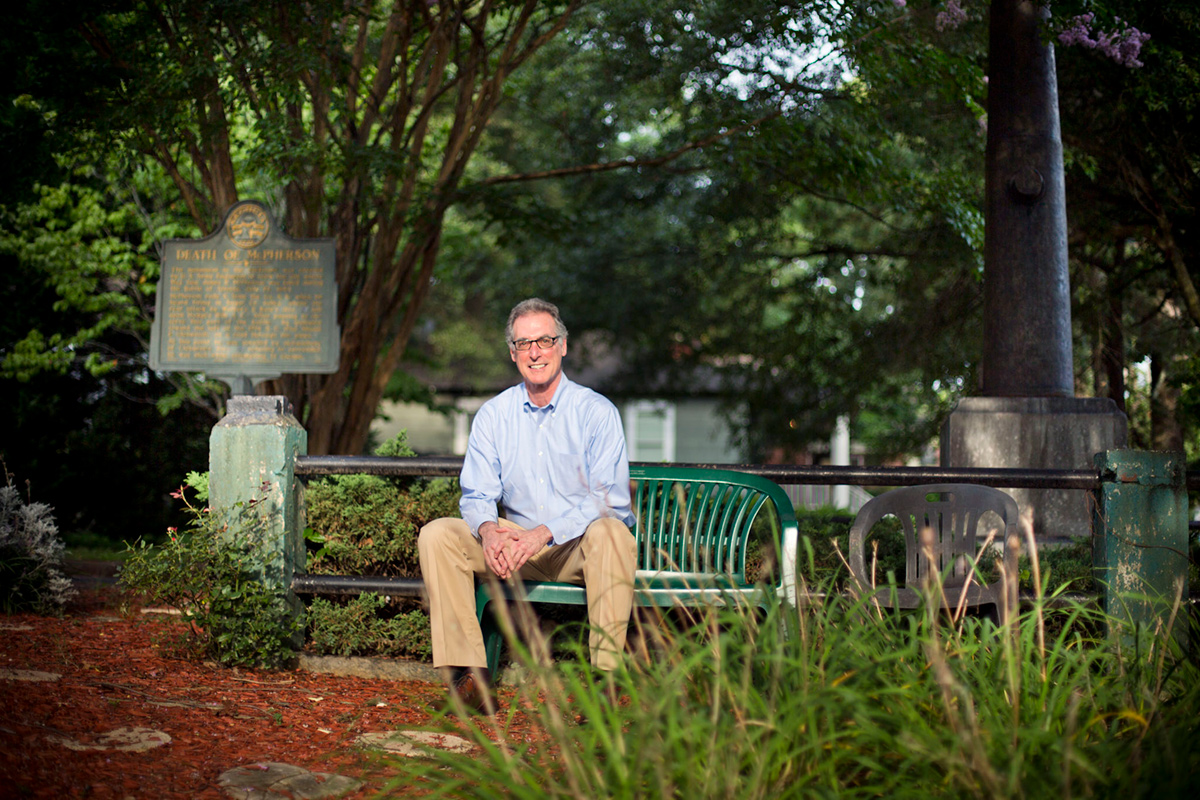 On a warm June evening, just weeks before the 150th anniversary of the Battle of Atlanta, guests gathered at the Atlanta Cyclorama and Civil War Museum are experiencing that historic battle in stereo: while surrounded by a sweeping circular painting of the event—the museum's main attraction—they also are being introduced to an innovative, self-guided digital tour of battle-related sites throughout the city.
The Atlanta Cyclorama is the last of twelve stops on the mobile tour, a project created by an eight-member team in the Emory Center for Digital Scholarship (ECDS). Designed to enrich people's understanding of Atlanta and its history, the smartphone-friendly tour provides GPS directions and mapping, historical information about each of its stops, and multimedia content including video and historical images. It requires no download and is accessible via a web link, BattleAtl.org, which went live the day of the June launch celebration and demonstration.
Many sites of the Civil War battle, which took place in July 1864 largely in the southeastern quadrant of the city, are now occupied by service stations, highways and streets, traffic islands, flattened hills, and unmarked spots of significance.
"People can't easily retrace the Battle of Atlanta because it doesn't exist as a battlefield park or monument. But it was significant for greatly improving the odds for Abraham Lincoln's reelection," says Allen Tullos, professor of history and codirector of the ECDS. "Most people pass these sites every day or they drive within a hundred yards of where there is a site and they don't realize it. So we're trying to put you in a location so you can park your car and learn about what took place."
The text describing points of interest along the tour and information for each one, as well as some of the images, are provided courtesy of Daniel Pollock, a Battle of Atlanta scholar and physician at the Centers for Disease Control and Prevention (CDC). Pollock had been studying the battle for more than twenty years and giving periodic tours when his friend, Tullos, suggested that his tour could be turned into a self-guided, GPS-driven mobile app with help from ECDS. Work on the project began in August 2012.
"Atlanta played a significant role in the Civil War," Pollock says. "The Battle of Atlanta was a turning point in a very important campaign. It was the biggest battle in that campaign and the most consequential, and it took place in our midst."
The tour, which is arranged chronologically, takes about four hours, but you can start, stop, or restart at any point. Guided by an interactive map, users can look at photographs, watch a short video, and read a description of what happened at each site.
"This application is the twenty-first-century version of a historical marker," says Brian Croxall, project coordinator and ECDS digital humanities strategist. "Markers only fit so much text, and you don't know they're there until you come across them."
The mobile tour is a companion piece to an article published in Southern Spaces, an Emory-based digital, peer-reviewed journal now in its tenth year. The article, written by Pollock, provides expanded information about the Battle of Atlanta and the twelve tour stops.
"It's been exciting to work on," says Tullos, who also is senior editor of Southern Spaces, "and it's been a very collaborative project."
Email the Editor
Share This Story