---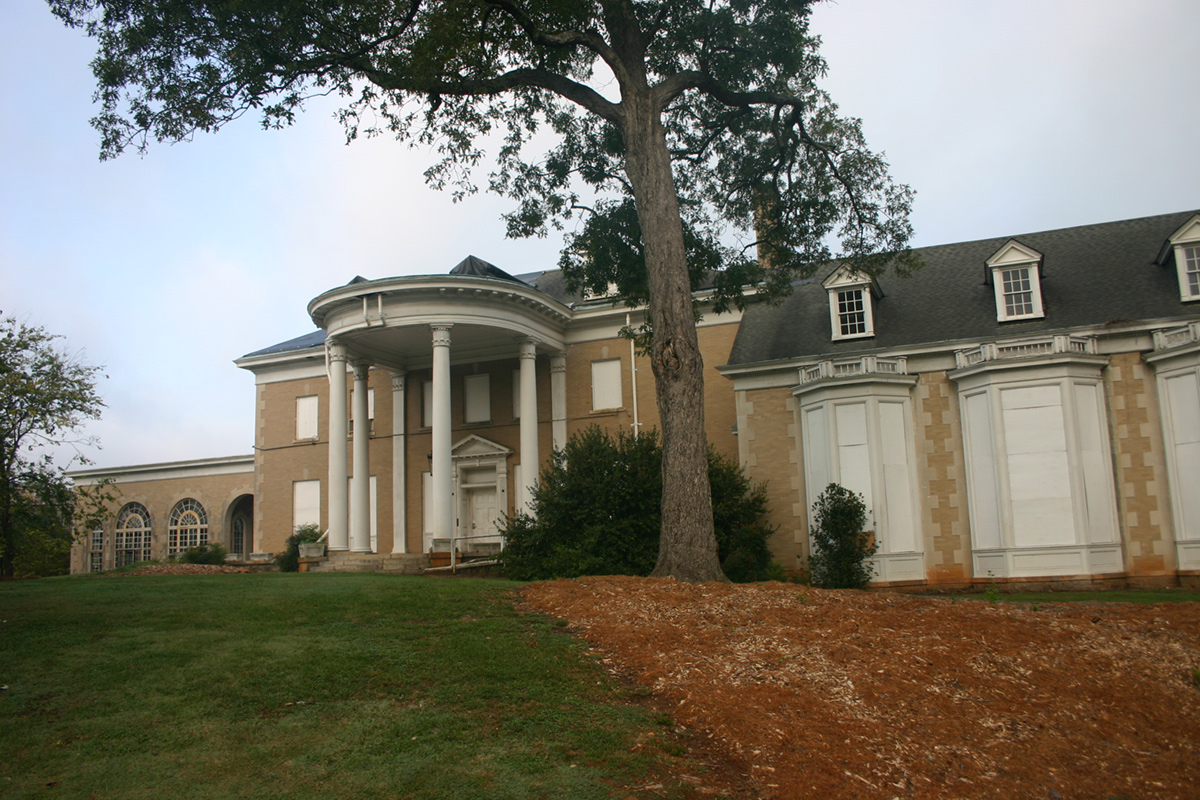 5. Neighborhood Character
Asa Candler Jr., second son of the founder of The Coca-Cola Company, built his Briarcliff estate a mile from the current Emory campus in 1920. Known as "Buddie," Candler was a character whose eccentricities apparently included a love of exotic animals. For years he kept a menagerie on his 42 acres made up of baboons, lions, rare birds, and four elephants named (according to legend) Coca, Cola, Delicious, and Refreshing. He's said to have bought the animals while traveling in Europe from a down-and-out circus owner who was ready to be rid of them.
The estate also offered a pool widely used by children in the surrounding Druid Hills neighborhood. Richard Sams, a local historian and author who grew up around the corner, remembers playing sometimes with one of the Candler grandchildren and being awed by the mansion, which boasted priceless tapestries, a pipe organ in the living room, and a kitchen "almost as big as our whole house." Sams is too young to remember the animals, but his older brother could recall the lions roaring at night.
Candler, Sams says, "was a very unusual person. He did a lot of things that you just wouldn't expect someone of his wealth to do."
Candler sold the estate in 1948. Listed on the National Register of Historic Places, it cannot be torn down, but has fallen into disrepair and would cost untold millions to renovate. For now, it serves as the setting for scary movies and TV shows, such as a recent episode of Vampire Diaries. It's easy to imagine that the quirky "Buddie" Candler might be pleased.
6. Becoming Briarcliff Campus
In the 1960s, Emory helped the state develop the Georgia Mental Health Institute (GMHI) on the grounds of the Candler Mansion off Briarcliff Road. For more than thirty years, GMHI filled a need for patients who couldn't afford private care; but growing attention and education around mental health were starting to indicate that large institutions were not the best setting for the mentally ill. GMHI closed in 1997, and Emory bought the property the following year to house various programs. The somber, imposing exterior of the main building now belies the bright bustle of more than 14 departments and programs at work inside. The network of underground tunnels beneath the facility—once used to transport patients securely between its 17 buildings—remains a creepy curiosity, watched over by a longtime maintenance worker who attributes the strange sounds he hears occasionally to a ghost he has named "Horace."
8. Remembering Mudville
Before there was Longstreet Hall, there was Mudville. Now just a faded memory, when Mudville existed in 1946 it would have been hard to miss. Emory's enrollment doubled after the Second World War, so to accommodate this grand influx of students, 100 used trailers, thirty-one homes, and three large wooden army barracks were shipped to the campus and set up as a makeshift housing area. During autumn especially, Mudville was cold, sparse, and unpleasantly . . . muddy.
12. A Home for Alumni
The stately Miller-Ward Alumni House, located on Houston Mill Road, is a major asset for the Emory Alumni Association and a burgeoning alumni community more than 120,000 strong. The $7 million, Tudor-style mansion opened in 2000 and serves as a distinguished setting for reunions, meetings, and special events. Seven rooms in the house are available for community use, including the Schley Library, which holds copies of hundreds of books by alumni authors, archives of Emory Magazine, and yearbooks dating to the 19th century.
20. End of the Line
Emory, Georgia, used to be the official name of the train station located at the present-day campus eatery Dooley's Den at the Depot. Until 1969, when passenger service from the depot ceased, one could travel from the small station to bustling New York City without switching trains. The station was the setting for a story by Flannery O' Connor.
Click here to continue reading.
Our next category of note: Research Powerhouse.
Email the Editor
Share This Story