Where Law Meets Religion (and Vice Versa)
---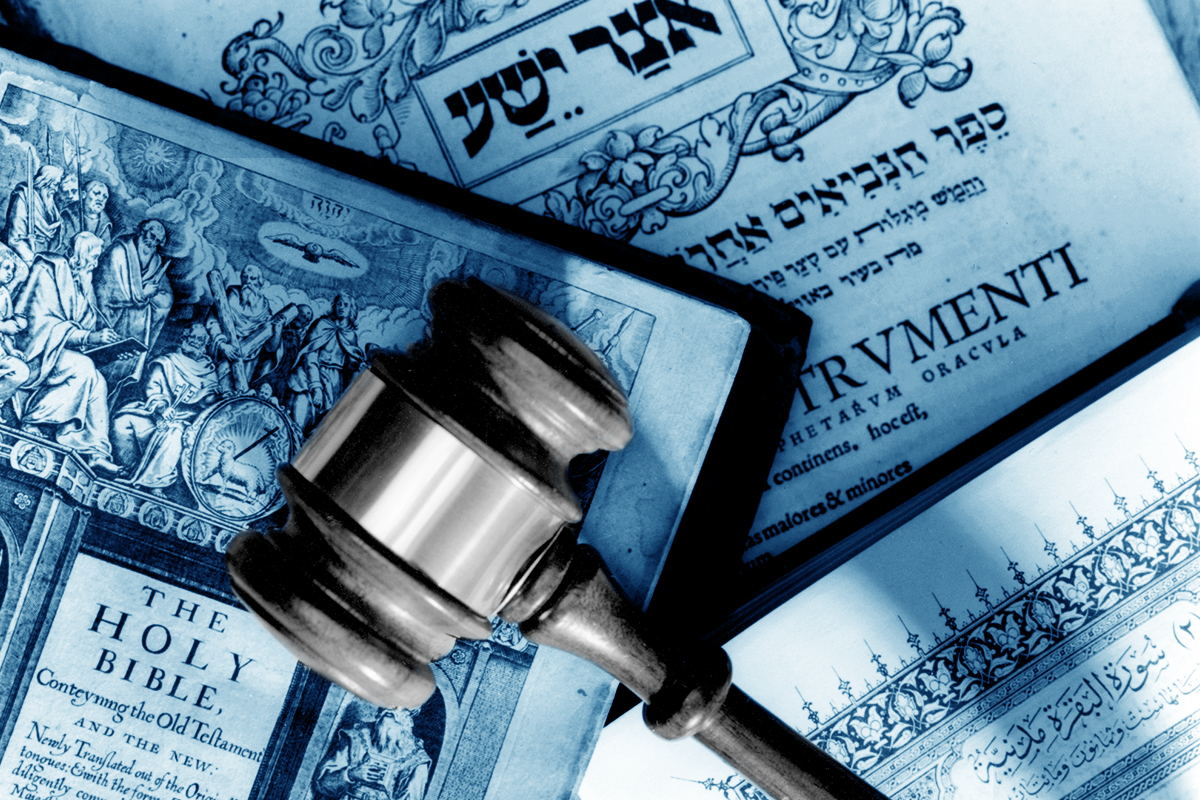 For 40 years, an interdisciplinary "center of excellence" at Emory has encouraged legal scholars and spiritual leaders to learn from each other.
One of the most revolutionary treatises in Western history stands on a shelf in the Pitts Theology Library at Emory. Slightly larger than a Kindle, this tract has a far greater historical weight than its size suggests. Published in 1520, it is a first printing of Martin Luther's Address to the Christian Nobility of the German Nation—a pamphlet that turned the world upside down.
Five centuries later, the issues it raised in medieval Germany still occupy headlines: questions about state authority over religious organizations, or the place of theology in the legal system, or the freedom of believers to act on conscience. Think of religious exemptions from vaccines during a pandemic, or a church-supported school refusing to cover contraceptives in its insurance plan, or a baker declining to decorate a cake for a gay couple's wedding, and the argument began half a millennium ago or more.
In a much shorter period—forty years—such questions have fueled the growth of Emory's Center for the Study of Law and Religion (CSLR). The program began with the aim to help law students understand the religious dimensions of law and to broaden the legal education of religious leaders without foisting doctrine on anyone. Law and religion have interacted for millennia, so perhaps, the thinking went, lawyers and religious professionals would be wiser for knowing more about that relationship.
The center was the brainchild of then President James T. Laney. In his view, universities should be educating the heart as well as the mind to build up a more humane and enlightened society. "The university should be a scene of fertile intellectual conversation, where different disciplines fructify each other," Laney said. "The university also has a moral calling to work toward the larger common good." Impelled by that vision, he encouraged interdisciplinary teaching and scholarship to foster new insights and cultivate deeper social commitments.
In its forty years, the center has lived up to that vision. Probing the interaction of law and religion, the center offers advanced-degree programs, cross-listed courses, and dozens of student and postdoctoral fellowships. It is home to three book series, the flagship Journal of Law and Religion, and the Canopy Forum digital platform. Affiliated faculty and fellows have filled small wings of libraries with their publications.    
Founded in 1982 by Frank S. Alexander, now the Sam Nunn Professor of Law, Emeritus, CSLR has been directed since 1987 by John Witte Jr., the Robert W. Woodruff Professor of Law and McDonald Distinguished Professor of Religion. Bringing scholars from around the world to its public events, CSLR has hosted such luminaries as President Jimmy Carter, Archbishop Desmond Tutu, Chief Rabbi Jonathan Sacks of the UK, and the Dalai Lama. The hub of a global network of sixteen hundred scholars, it is a steeple of excellence at Emory.
Open Doors in Academic Silos
Sporting degrees from Harvard Law and Harvard Divinity School, Frank Alexander saw the law as a form of ministry, a way to serve others as well as to get to the bottom of words like justice and freedom. As Alexander remarked in the summer 2001 issue of Emory Magazine: "Depending on your perspective of church ministry and your perspective of law, to me they were very much subtle variations on the same theme, which is that they're both forms of public service." In 1981, while practicing law in Atlanta, he jumped at an invitation to teach at Emory Law. When he joined the faculty full time the next year, Laney encouraged him to start a joint-degree program between the schools of law and theology.
Alexander soon had help. Among the first Robert W. Woodruff Professors appointed at Emory was Harold J. Berman, Alexander's former professor at Harvard Law and the "father" of the modern study of law and religion. Nearing mandatory retirement from Harvard, Berman welcomed Laney's offer in 1985 to extend his career at Emory, where he would continue teaching and writing until his death in 2007. (Earlier in 2007, the eighty-nine-year-old Berman had undertaken a two-week lecture tour of China, where he spoke to audiences numbering a hundred thousand.)
Berman brought to Emory another young Harvard Law protégé, John Witte. Beginning at Emory as Berman's research fellow, Witte soon received his own invitation to join the faculty and become director of the center. Since then, like a globe-trotting missionary, he has lectured on six continents at the world's most renowned universities. In October he will deliver the prestigious Gifford Lectures in Scotland. 
Overcoming the Skeptics
Throughout its history, the center has encountered skepticism and resistance. Skeptics view the undertaking as antiquated and misguided. No matter that law and theology functioned almost indistinguishably in medieval universities. Modern legal scholars now often hold that law is what the state says it is, with no relation to morality (what ought to be), let alone religion.
The resisters, on the other hand, view the enterprise as a distraction from the purpose of legal education—preparing lawyers to produce wills and contracts, prosecute crimes, defend the innocent, and, as judges, decide matters according to codes and precedents. In this view, religion has no place in the law classroom.
Of course, just as the program was being established, religion had barged into American politics like a Temperance Union matron through saloon doors. Backed by the Moral Majority, conservative politicians in the 1970s began calling America to return to what they perceived as the nation's Christian foundation. In some ways this was not different from work at the other end of the political spectrum.
Martin Luther King Jr., a minister, quoted the Bible freely on behalf of civil rights, and President Carter quoted the prophet Micah in his inaugural address. Religion clearly played a role in American politics.
Elsewhere, pillars of tyranny were falling, as religious leaders challenged unjust laws. The South African apartheid system was straining under the pressures of a boycott, protests, and the eloquence of a local prophet named Desmond Tutu. His standing as an Anglican archbishop did not exclude him from politics.
At the same time, the communist grip on Eastern Europe was loosening as well. Among the influential figures accelerating change was Pope John Paul II, whose visits to his native Poland gave hope to reformers. In one of the more astonishing coincidences of history, 1991 saw the repeal of apartheid and the dissolution of the Soviet Union. Religion played no small part in both transformations.
The Convergence of Religion, Democracy, and Human Rights
With remarkable synchronicity, that landmark year also brought the first international conference on law and religion at Emory. Bookended by speeches from Carter and Tutu, the conference on Christianity and democracy gathered eight hundred participants from around the world and put the program on the map. Commenting on the end of the Cold War, Carter appealed to his audience to seize the historic opportunity to blend "the Christian characteristics of compassion, of sharing, and of peace with the democratic principles of freedom, equality, human rights, and the right of the people to rule."
More groundbreaking projects followed. A second conference looked at Jewish, Christian, and Muslim contributions to human rights. A project on religious liberty in Russia studied the state's retreat from the promise of human rights born of glasnost and perestroika. Additional conferences around the world sought ways to reduce the clash between local religions and foreign missionaries.
These projects also introduced a new faculty star at Emory. Johan D. Van der Vyver had burnished his reputation on human rights as a professor in South Africa, where he spoke out against apartheid. Appointed to the I. T. Cohen Professorship of International Law and Human Rights at Emory in 1995, he continues to teach and write.
Beyond the Christian Paradigm
If the little publication by Luther housed in the Pitts Library suggests the need for lawyers and religionists to talk to each other, some traditions have always seen law and religion as inseparable. David Blumenthal, now the retired Jay and Leslie Cohen Professor of Judaic Studies, says that "law as a religious category" is crucial in Judaism—law and religion are two sides of the same coin of Jewish life. Thus, it was natural for him to say yes when invited to join the conversation in the early 1980s.  
He also was instrumental in bringing to Emory two prolific contributors to the center's efforts. The first was Michael J. Broyde, a lawyer and a rabbi. Recruited to the Department of Religion in 1991, he moved to the law school in 1994 and two years later established the Law and Judaism program at CSLR. Profuse at the keyboard, he has a dozen books, scores of articles, and hundreds of op-eds and blog posts to his name.
Blumenthal also introduced John Witte to a powerful Muslim human-rights advocate from Sudan. Abdullahi Ahmed An-Naim was an exile from his homeland, where he had become involved in the push for human rights. With two law degrees and a PhD, he was teaching in Sudan when, in 1984, he and hundreds of others were arrested for their activism. After their leader's execution, An-Naim was released into exile, eventually making his way to Emory. Now the Charles Howard Candler Professor of Law, Emeritus, An-Naim has spent his career exploring how Islam and human rights support each other. Perhaps summing up the significance of CSLR, he says, "If academic theory has no resonance in people's lives, there is no point in pursuing it."
Embracing Growth and Change
The center's growth has been fueled largely by external funding chased down by Witte and his colleagues. Most significant was a grant of $3.2 million in 2000 from the Pew Charitable Trusts, which designated the program as one of the nation's "centers of excellence" in interdisciplinary religious study. A five-year grant of $1.6 million committed Emory to a matching amount and a $10 million endowment. In return, the program changed its name to the Center for the Study of Law and Religion. More funding followed—some $25 million in grants and gifts from major foundations and individual benefactors alike.
As CSLR grew in international reputation, it attracted eminent partners from around the world. One such collaborator is a brilliant Spanish legal scholar, Rafael Domingo, who joined the center in 2012. Tenured at the University of Navarra, in Spain, where he served as dean of the law school, Domingo attacks the keyboard with a vengeance, authoring or editing eight books in the past six years. Now the Spruill Family Professor of Law and Religion in the center, he is exploring the connections between spirituality and the professions.
Another arrival at the center, in 2013, was a return. Silas W. Allard had first come to Emory as a student. After earning JD and MTS degrees from Emory in 2011, he clerked at the Court of International Trade, then returned to the center as managing director. His publications explore legal and theological perspectives on the worldwide phenomenon of migration. Noting that "there are more people on the move today than at any point in human history," Allard underscores the "profound implications" that this phenomenon has for both legal systems and people whose faith calls them to show hospitality.
Other alumni of the center continue to play important parts. Justin Latterell wrote his PhD dissertation under Witte's direction and stayed on as director of academic programs at the center. Terri Montague, the first president and CEO of Atlanta's $3 billion BeltLine Project, earned JD and MTS degrees from Emory in 2014 and, after a term at the US Department of Housing and Urban Development, returned in 2021 as a McDonald Senior Fellow and senior lecturer in law.
The Pursuit of Happiness         
By the time CSLR celebrated its twenty-fifth anniversary, in 2007, the global landscape had changed dramatically. The modern welfare state, shaped by religious impulses, was eroding. The shock of 9/11 generated anti-Muslim sentiments. The Catholic Church was rocked by revelations of sexual abuse by clergy. New technologies presented quandaries in health care and artificial intelligence. The center used its silver anniversary to ask what it should tackle next. One response was to begin exploring law and religion beyond the Abrahamic faiths. Buddhism presented a particularly appealing opportunity.
Since 1996, Emory had developed a special relationship with Tenzin Gyatso, the 14th Dalai Lama, leading to unique partnerships with Tibetan institutions. Anticipating a visit of His Holiness to Emory in the fall of 2010, the center launched an exploration of what the Declaration of Independence calls "the pursuit of happiness." Just what were the legal, religious, and philosophical dimensions of this pursuit? Even the Dalai Lama was interested, as the title of his 1998 book indicated: The Art of Happiness. The "happiness project" produced more publications and culminated in an international conference with the Dalai Lama as the keynote speaker.           
New Frontiers, New Forums, New Leaders
As the third decade of the twenty-first century loomed, external funding was becoming harder to reel in. Early advocates and collaborators were retiring. Younger scholars were maturing and looking for opportunity. The time was right to rethink the organization.
Aware of the rising cost and limited reach of traditional publishing, the center pressed more deeply into digital realms in 2019, recruiting John Bernau, a newly minted PhD in sociology from Emory, to become its first director of digital scholarship. In October that year, the first issue of Canopy Forum appeared, an online journal aimed at enhancing public discourse about critical issues. Wading into a controversy of the moment, it offered a series of essays on the intersection of religion, law, and public health during the COVID-19 pandemic.
New areas of emphasis also opened up, as the center explored the shifting roles of modern institutions in shaping morality and character, the ways law and religion perpetuate or redress social injustice, and the influence of religious doctrine on bioethics and health care concerns.
Organizationally, too, the center was transitioning. After thirty-five years at the helm, Witte wanted to devote more time to his original calling of scholarship and teaching.
Following a nationwide search in 2022, the center found its new executive director in Whittney Barth. A graduate of Harvard Divinity School and the University of Chicago Law School, she had served as assistant director of the Pluralism Project at Harvard and had worked as an attorney in Maryland. Her publications examine the role of religion in American legal history and in shaping human rights law. "Whittney brings to the job a brilliant mind, rich academic experience, a learned pen, a generous heart, superb organizational strengths, and the refined legal skills needed to navigate bureaucratic complexities," Witte says.
Preparing for its fifth decade, CSLR appears well positioned to carry on the legacy of those early pioneers in the field who wanted to help religious practitioners and legal professionals better understand each other's contributions to civil society. Law and religion show no signs of diminishing in importance. Indeed, their mutual influence seems as worthy of scrutiny today as it was when Luther wrote that pamphlet back in 1520.
Gary S. Hauk 91PhD is university historian emeritus and served Emory as vice president and deputy to the president before retiring in 2020.
Email the Editor