Inside Emory's New 'One Big Question' Podcast
---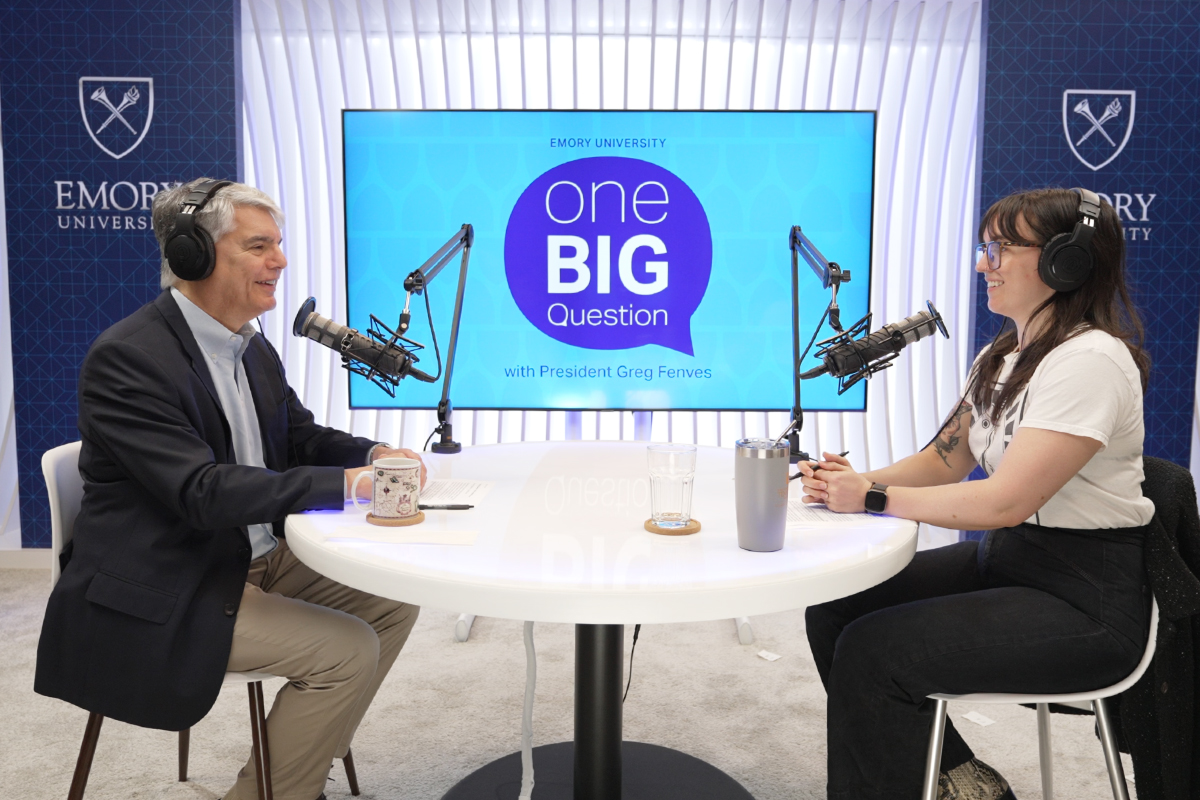 There's a reason why Emory President Gregory L. Fenves has spent nearly four decades working in higher education. An engineer by training, he's always been incredibly curious about the world and how it works. And he's not afraid to ask big questions.
At Emory, President Fenves is surrounded by experts—educators, researchers, thought leaders, artists, and students—whose job it is to find the answers to humanity's most pressing challenges. He's also in the unique position to have access to the university's more than 150,000 alumni who are blazing new trails across a diverse range of fields.
The new podcast One Big Question was created out of President Fenves's love for learning and his burning desire to share the stories of Emory's faculty, staff, students, and graduates with listeners across the globe. In each of the first three episodes of the podcast, he sits down with a different expert to ask them a big question about their experiences and specialized areas of study—which range widely from debunking scientific disinformation to the creative writing process to today's supply chain issues.
Emory Magazine recently sat down with President Fenves to ask him our own big questions about the creation of the podcast.
EMORY MAGAZINE: Tell us, how did you and your staff decide to create a podcast?
PRESIDENT FENVES: As a university president, I'm always thinking about new and inventive ways to engage the Emory community—a very broad community that includes our faculty, staff, and students here on campus, as well as alumni and supporters around the globe. Podcasts seemed like a way to reach everyone through a medium we had yet to explore, as well as to be able to tell deeper stories about some of Emory's most brilliant minds and their work. Almost a year ago, we held the big public launch for Campaign 2O36—a fabulous event that took place on campus over the span of four days—and we had a wide variety of presentations and experiences set up in big domes on the Quad. One of those domes doubled as a podcasting studio, and I hosted an interview with Emory researchers Dennis Liotta and George Painter about drug discovery, highlight their groundbreaking work in developing treatments for HIV-AIDS and COVID-19. It was a riveting conversation and we received great feedback on this podcast. From that, we asked ourselves: Why not explore more of these conversations and share them with the Emory community and beyond? 
EMORY MAGAZINE: What is the thinking behind asking Emory experts just One Big Question per episode?
PRESIDENT FENVES: We knew we had to have a theme for the podcast that would keep it focused and fairly short. So we did that by narrowing it down to a single question—about a big idea—per episode that would grab listeners' attention and get them interested in what we are doing at Emory.
EMORY MAGAZINE: How do you like being the host of a podcast?
PRESIDENT FENVES: I was a little nervous about doing it at first, because being on that side of the mic (the opposite of what I'm doing right now) is not something with which I'm very experienced. However, I learned something important from my first run at hosting when I interviewed Dennis and George at the 2O36 Campaign launch. What made that podcast work was the fact I was very familiar with their research. So for each of the experts we decide to feature on One Big Question, I have to do my homework. I have to be prepared. In the case of Emory professor and acclaimed novelist Tayari Jones [Episode 2], I read her book beforehand. The same goes for alumnus and Wall Street Journal columnist Christopher Mims 00C [Episode 3].
EMORY MAGAZINE: How does hosting the podcast help you learn new things about the wide breadth of expertise that resides at Emory?
PRESIDENT FENVES: That's a great question. First off, my team and I—especially Matt Kiven, assistant vice president of communications—have done a lot of research in deciding who we are going to interview. We looked across Emory to see who was working on fascinating topics that would appeal to a broad audience. What are the big questions they are trying to answer? It helped me get a better handle on the breadth of the work—be it academic, research, or creative in nature—that's being explored at the university. And then when we identify an expert to interview and the big question we want answered, we dive deeper. I get to learn about someone and their work on a much greater level than I would normally in my role. As a lifelong learner, I find this inspiring. I've discovered so much in just three of these conversations and I can't wait to do more.
EMORY MAGAZINE: How did you pick the experts and the topics you want to explore?
PRESIDENT FENVES: So far, it's been pretty easy. I'm a huge reader of fiction and at Emory we happen to have an amazing novelist in Tayari Jones, author of An American Marriage, teaching our students how to become writers. In the case of Laurel Bristow [Episode 1]— who's become a huge social media influencer in the COVID-19 and public health space—there was a clear connection because Emory's been at the epicenter of the scientific community's fight against misinformation, I knew a lot about the topic but wanted to learn about the role she's played in debunking myths about the pandemic. And then Emory alumnus Christopher Mims wrote a book called Arriving Today: From Factoryto Front Door about the supply chain problems we're facing today. It was a timely topic that I wanted to learn more about. Despite my natural affinity for these topics, you can see that there's been great care in choosing questions and people that showcase a diversity of expertise.
EMORY MAGAZINE: Were there any moments from these podcasts that surprised you?
PRESIDENT FENVES: Yes, definitely my talk with Tayari Jones. I write a lot in my career—but it's mostly professional communication. It's not what I would call creative writing. I admitted as much to her during the podcast and she told me that she could make anybody a creative writer. Even me. Our conversation was like being a student in her class as she showed me how I could take something basic about myself—in this case, my name—and turn it into a creative exploration. It was a fabulous experience.
EMORY MAGAZINE: Flipping the mic, you were a guest on one of the world's most popular podcasts, Revisionist History, hosted by Malcolm Gladwell. What was that experience like and is there anything you learned from it that you try to apply to One Big Question?
PRESIDENT FENVES: I've been a big fan of Malcolm and his writing for decades, since his early days as a staff writer for The New Yorker. So it was a real thrill for me to be interviewed by him. Over my career, I've been interviewed by a lot of people but he was definitely one of the most famous. I have to admit I was a little star struck and nervous. What I was most impressed with was his professionalism and preparedness. He knew a lot about my background and asked great questions. It was a very instructive, definitive exercise in how the best in the business conduct an interview. I also saw how carefully he turns what seems like a straightforward Q&A session into an immersive storytelling experience, complete with masterful narration, carefully selected music and a great attention to detail. He had a storyboard laid out before he interviewed me. It was impressive. We try to emulate some of that with our podcast, but what Malcolm does lives in a different stratosphere.
EMORY MAGAZINE: Who is the audience for One Big Question? Why should people subscribe to the podcast?
PRESIDENT FENVES: Our target audience is primarily the Emory community, which is very broad. It's everybody on campus, from faculty and staff to our students. But it also includes our strong alumni base and all our partners. If we can extend the reach beyond Emory and teach others around the world a little bit about what the university is doing, that would be wonderful. As for who should listen and subscribe? I think the appeal is very broad and should interest anyone who wants to hear experts talk about the answers to some of life's biggest questions.
EMORY MAGAZINE:You've recorded three episodes so far. Do you have a plan to answer more big questions in the near future?
PRESIDENT FENVES: We would love to do more and have a tentative plan of attack, but we're going to see how the first three episodes go first. It's an experiment of sorts, and so we're going to learn and adapt moving forward. There are many more big questions to ask and more amazing Emory experts to answer them. Stay tuned.
Listen and subscribe to the One Big Question podcast here.
Email the Editor
Share This Story