A Walk on the Wild Side
Shelby Stanger 02C channels her restless spirit into a podcast that's now sponsored by REI
---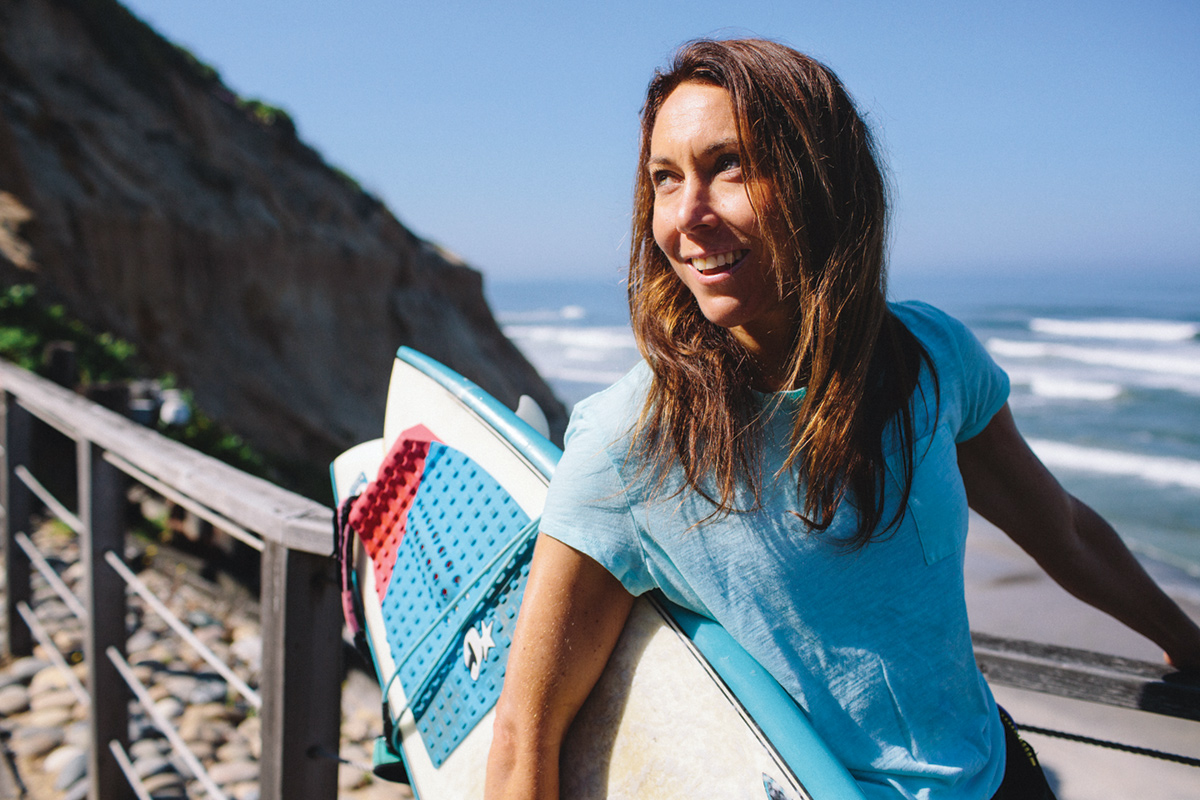 Some of the wildest ideas can lead to the most rewarding adventures.
That's what Shelby Stanger 02C says at the end of every episode of her podcast, Wild Ideas Worth Living, sponsored by REI and designed for born adventurers and those who wish they'd been born that way.
The San Diego native travels all over to meet with athletes, outliers, and adventurers who have taken an urge, formulated an idea, and undertaken adventures that have changed their lives and inspired others.
Stanger is an ideal host for the podcast, considering the path she's followed in life so far. An Olympic-development soccer player in high school, Stanger chose Emory because it offered more than just soccer.
"All of the girls on the team seemed interesting and a lot of them volunteered, and I thought that was really cool, that value system," she says. At Emory, Stanger majored in journalism and political science and wrote stories for a local weekly newspaper. In the summer after her first year, she "knocked on the door" of the local San Diego newspaper until they gave her a weekly column on surfing and adventure sports that went to five different communities.
The summer after her sophomore year, she was part of a cadre of students led by faculty member Nathan McCall to intern for a South African newspaper. She ended up covering major surf competitions and writing about adventure, including a piece on how many exploits she could complete in one day in Cape Town. In her junior and senior years, Stanger joined Outdoor Emory, going on her first hiking and camping trips, exploring the Appalachian Trail, and leading a kayaking trip for first-year students. During one of her final semesters at Emory, she interned for CNN.
"Every experience I had at Emory had a rich impact on my life," Stanger says.
After graduating, Stanger and a friend who had graduated from Emory two years prior took a six-week camping trip through Fiji, New Zealand, and Australia. When she returned, she quickly landed her first job after college, covering the Vans Warped Tour, a cross-country punk and rock music festival, sponsored by the iconic shoe company.
"They'd never had a female do it. The guy who was hiring was headed to Canada that afternoon, so I told them I'd be there at noon," says Stanger, who drove an hour and a half to Vans headquarters in Orange County for an impromptu interview. "I got the job, and I was on a tour bus for sixty days to sixty cities writing a daily diary." Armed with a Canon Elf digital camera and a naturally ebullient spirit, Stanger interviewed roadies, crew, bands, and fans.
After the tour, Stanger decided she didn't want to pursue a hard news career. She moved to Breckenridge, Colorado, where she hosted the entertainment portion of a local cable access action sports show, did public relations work, and wrote an adventure column for the local newspaper. Following that, she went back to Vans to lead all of their women's marketing, then worked in international sales and marketing—all the while doing freelance writing for health and surf magazines—until she "resigned at the height of the recession to be a writer full time."
"I always loved stories of people going for it, especially if it was something a little wild and crazy and people told them they couldn't do it, but they did it anyway," Stanger says.
Taking inspiration from other, mostly male-hosted podcasts, Stanger launched Wild Ideas in December 2016 as a vehicle for the stories she wanted to tell. After nearly a year of independently producing and marketing the show, REI negotiated to sponsor the show for 2018.
She hopes her podcasts will inspire others to pursue their own wild ideas.
"It feels really good to get fan mail, even though it's a little nerve-wracking when people tell me they've quit their jobs and they're moving to Alaska," she laughs, "but everything in life leads to the next thing. When you know what you want to do in life, it makes every step along the way a lot easier."
Email the Editor
Share This Story