Boot Camp for Bold Visions
'Leadershape' program comes to Emory
---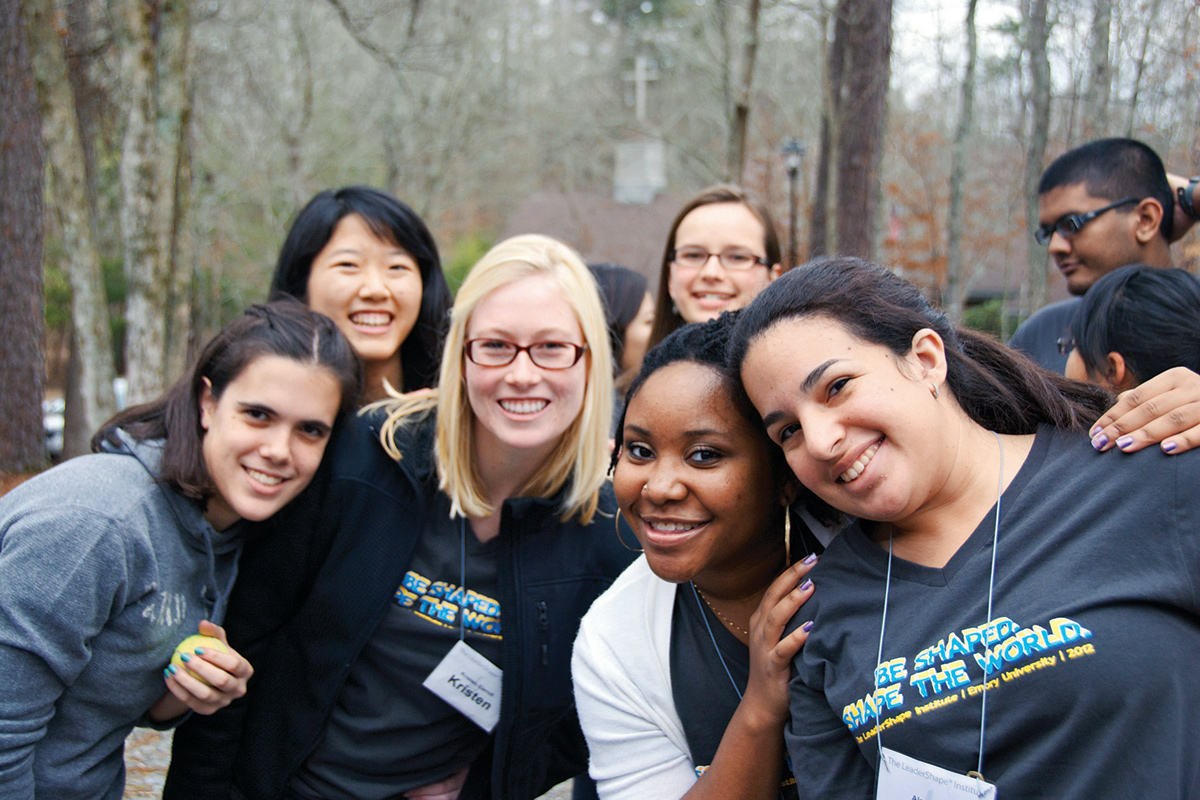 Every elementary school playground at recess is a microcosmic study in how future leaders are made: there's the bully, the persuader, the rebel, the teacher's pet. As we grow up, leadership styles become more varied and complex. But one thing is certain: qualities like integrity, respect, and personal values are not prerequisites for gaining leadership positions.
That's one of the reasons the LeaderShape Institute exists—to help create leaders who can make change happen, not only effectively, but also ethically.
The intense, six-day national program was offered at Emory for the first time in January, attracting sixty-five student participants from both Oxford and the Atlanta campus. Hosted by the Office of Student Leadership and Service, the program was a goal realized for staff of the Division of Campus Life, some of whom have been connected with the LeaderShape Institute for years and have always wanted to bring the opportunity to Emory students.
"LeaderShape is known for producing exceptional leaders," says Dean of Students Bridget Guernsey Riordan, a former LeaderShape facilitator. "One of the Google founders has been quoted about his participation in LeaderShape and his belief in the program. It is a boot camp for improving leadership skills."
LeaderShape is open to freshmen, sophomores, and juniors at more than sixty campuses nationwide each year. "Typically we would send one or two students to a national LeaderShape session with other students from around the country," says Jill Camper, assistant director of student programming and leadership and a previous LeaderShape facilitator. "Students always have a great experience, but then they return to Emory with little support from their peers because no one quite understands. Now that we have a campus-based session, we have sixty-five students back on campus wanting to make a difference, who are supporting each other in making their visions a reality."
During the course of the six days, LeaderShape facilitators encourage a "healthy disregard for the impossible" as they ask students to envision positive change and develop a plan for making it happen. They emphasize ethics, teamwork, bold thinking, and action.
"I came into LeaderShape expecting to come out with a couple of ways in which I could better lead the community. I quickly realized that I would come out a different person," says Austin Fuss 15C, whose vision involves reducing cancer. "LeaderShape does so much more than provide individuals with leadership skills; they actually shape participants into developed leaders with visions of how they can make a difference in their local and global communities."
One of the highlights of the institute is the Guest Leader Forum, a chance for students to interact directly with upper-level examples of leadership success from within and outside the university. Emory's "guests" included President James Wagner, who joined others in mingling with the students and providing feedback on their dreams and visions, expressed on large posters.
"The thoughtfulness and intellect of our Emory students always impresses," Wagner says. "It was wonderful to see them apply those same characteristics through the LeaderShape program. It is often said that leaders are born and not made. I'm not at all certain that is true, but even if it is, talent for leadership needs to be grown and exercised."
Several alumni took part in the program as well, demonstrating volunteer as well as professional leadership. "I believe the students gained an understanding that leadership at Emory is important to both their education as well as to their connection to Emory beyond graduation," says Allison Dykes, vice president for alumni relations, who also served as a guest leader. "The alumni were excellent examples of the value of staying connected and serving as leaders."
The power of forging relationships was a theme that resonated throughout the week, with groups of about ten students working together in "family clusters" that are still active.
"I came into LeaderShape knowing two of the participants," says Fuss, "and came out with sixty new friends."
Email the Editor
Share This Story