2O36 UPDATE
Realizing the Full Power of Emory
---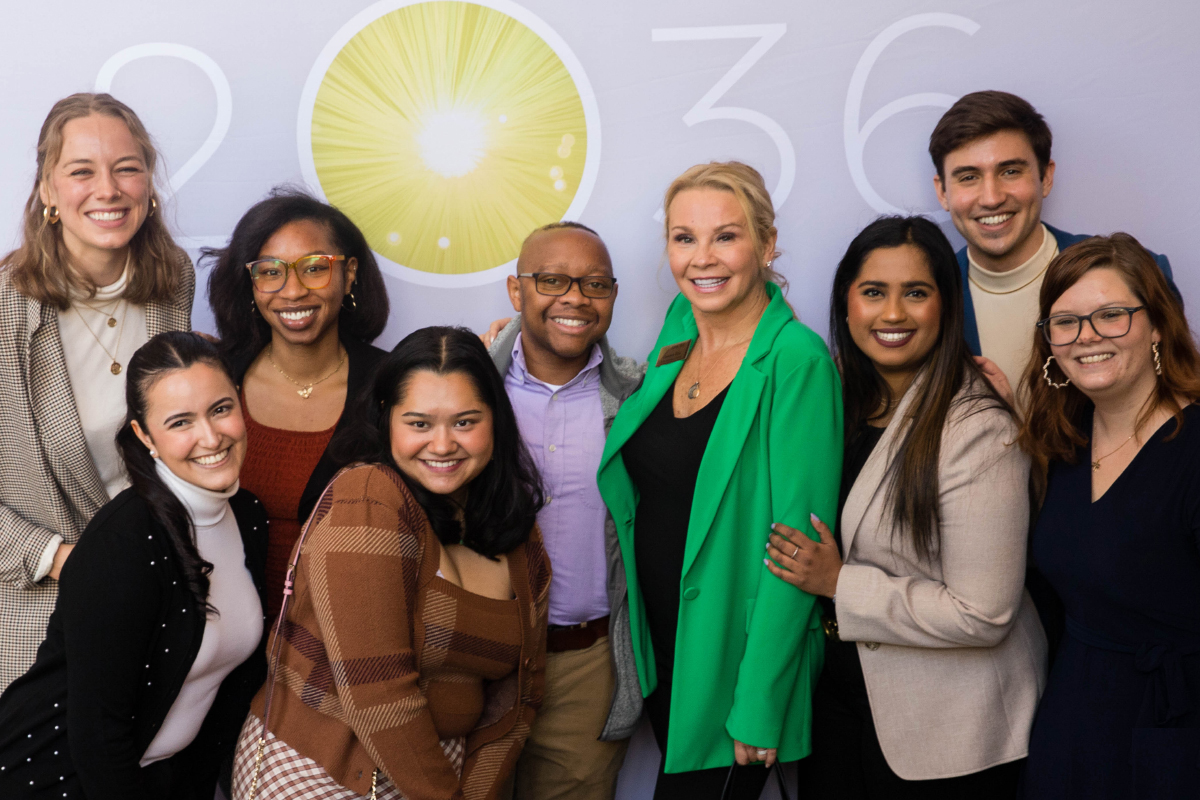 2O36 inspires investment in people for the benefit of people.
2O36 is more than just a campaign. It's an opportunity for Emory to transform the world — by contributing to boundary-pushing advancements that will spark change, inspire wonder and catalyze action. By investing in people for the benefit of people. 
Emory alumni and donors understand that when we work together, no dream is too big and no challenge is insurmountable. The problems we face can be daunting — cancer, racism, climate change and more. Through 2O36, Emory will realize the full power of our students, faculty members and research strengths, bringing to life an ever-promising future.
Nearly 99,000 people have invested in Emory during 2O36 so far — 65% of them making gifts of less than $250 and 55% making first-time gifts. Learn more about a few of the donors who are driving positive change through their investments in Emory's mission. We hope they inspire you to explore where you, too, can make your mark at together.emory.edu/Give2O36.
Karen and Bob Sharrar:
KEEPING COLLEGE AFFORDABLE
As retired physicians, Karen Sharrar 66C 70M and her husband, Robert "Bob" Sharrar, appreciate both their educations and the scholarship assistance that made earning their degrees possible.
"I received a great education at Emory, both in the college and the medical school," Karen says.  "I had great teachers, colleagues and friends, and it was just a good experience all around."
Karen, an emergency medicine physician, worked for the Philadelphia Medical Center and the Philadelphia Veterans Administration Hospital. Bob, an epidemiologist, still does some consulting work. 
"Since we both had scholarships to help with college and medical school, it's proper for us to help the next generation coming up, and we are happy to do it," he says. 
Together, they've created the Drs. Karen Moore Sharrar and Robert Gene Sharrar Scholarship with a preference for students pursuing environmental science degrees. Karen, who volunteers with the Delaware Valley Ornithologic Society and a local land trust, has long been active in environmental causes. "I think helping students who are studying environmental issues is a good thing," she says.
Bob agrees. "I've always worked in public health, and environmental issues are public health issues," he says. "I hope the students who receive our scholarship apply what they've learned to climate issues, in particular. We need more expertise in that area."
But the major driving force behind the scholarship is affordability. "When I graduated from medical school, I had a small amount of debt, but it isn't anything like what people experience today," Bob says. "I don't like to see young people starting out in life with huge college loan debt." 
Helping Emory students avoid debt "is a good investment, for sure," Karen says. "Since we both had scholarships, it feels right to help other young people in this way." 
Srisha Jayakumar 22Ox 24C is a Sharrar Scholarship recipient. She works as an undergraduate researcher in the environmental science lab of Associate Professor Eri Saikawa and studies the effects of mining on climate. "I've been able to pursue connections between health and the environment in an interdisciplinary way," she says. Jayakumar, who plans to apply to medical school once she graduates, says the scholarship helped her "take advantage of everything Emory has to offer. I am so grateful for the Sharrars' generosity, and I hope to pay it forward one day." 
Diana Blair:
SUPPORTING RESEARCH AND FACULTY NEEDS
The care Diana Blair received at Emory saved her life 21 years ago. In gratitude, she established a research fellowship in the Emory Department of Gynecology and Obstetrics.
The Diana and Bryan Blair Research Professorship allows researchers to study the causes of gynecological diseases and to devise better treatments so that women get earlier, more effective care. Alicia Smith, vice chair for research and professor of gynecology and obstetrics, is the first recipient of the professorship. "I believe that investing in professorships is one of the most effective ways to fuel innovation and discovery and to accelerate scientific advances," Smith says. 
Now Blair is taking advantage of Emory's new Faculty Eminence Initiative to upgrade the existing fellowship to a distinguished professorship. Established by President Gregory L. Fenves to encourage new endowed professorships, the initiative offers a 2:1 match for donors making $1 million gifts (professorships) or $2 million gifts (distinguished professorships). 
"The match was a powerful incentive," Blair says. "Emory truly saved my life, and I'm happy to contribute in this way." 
Blair was diagnosed with stage 3 ovarian cancer in late 1997 after several misdiagnoses from multiple providers. She sought treatment at Emory University Hospital, and met with Ira Horowitz, the John D. Thompson Professor and chairman of the Department of Gynecology and Obstetrics at Emory University School of Medicine. Horowitz agreed that her situation was dire, and he performed surgery the next day.
Blair began chemotherapy at the Winship Cancer Institute of Emory University the following week. "I had six rounds of chemo three weeks apart," she says. The grueling schedule was successful, and Blair became one of Emory's biggest fans.
Gratitude inspired her to give back to Emory — through philanthropy and service. An active member of the Campaign Council as well as Emory's Board of Visitors, Blair says, "I preach Emory as much as I can to my friends and family. I've been so impressed with President Fenves and everything he's doing, and I'm blessed to be able to help." 
Rob Friedman:
HARNESSING AI TO IMPROVE HEALTH CARE
Rob Friedman's philanthropy is guided by a simple maxim: Generate the highest social good. 
In the early 1980s, Emory Healthcare helped save his father's life through a complicated triple-bypass surgery, which was rare at the time. The innovation, and its impact on his family, stuck with him and inspired him to include Emory School of Medicine in his estate plans. 
Through the 2O36 campaign, Friedman has expanded his philanthropic giving to support Emory Precision AI for Health Institute, helmed by Anant Madabhushi. "I am particularly excited by Professor Madabhushi's vision to innovate, deploy and translate AI technologies in medicine and health within the Emory Healthcare ecosystem, while reducing health disparities with these powerful technologies." 
Madabhushi is one of Emory's newest faculty members, and, like Friedman, a loved one's health challenge influenced his career path. He lost his aunt to triple-negative breast cancer and realized that — even though he was not a physician — the technology he was developing could lead to better, more targeted treatments. "I wasn't treating breast cancer," he says, "but I could make a contribution." 
Leveraging his expertise in AI for precision medicine, Madabhushi is working to develop AI as an interdisciplinary initiative between technologists, humanists, social scientists and health care specialists across the university.
"The potential of this work is limitless," Friedman says. "Most insidious diseases are incredibly complex, but with AI, we can combine enormous amounts of patient data with powerful computing power to develop truly individualized medical treatment. With this new capacity, we have a chance to come up with less toxic treatments and even outright cures. Some of the worst diseases — Parkinson's, Alzheimer's, heart disease, cancer — could become things of the past."
Friedman's enthusiasm and optimism for a brighter future in health made him a natural choice to co-chair the School of Medicine's 2O36 campaign efforts. 
"Not only do I want to expand my personal philanthropic support for the School of Medicine, but I want to connect more potential benefactors with this work," he says. 
 "Emory has big goals that require lots of funding. No donation is too modest. Every gift adds up to fuel this great mission." 
Email the Editor