LETTER FROM THE PRESIDENT
Our Good and Wise Hearts
---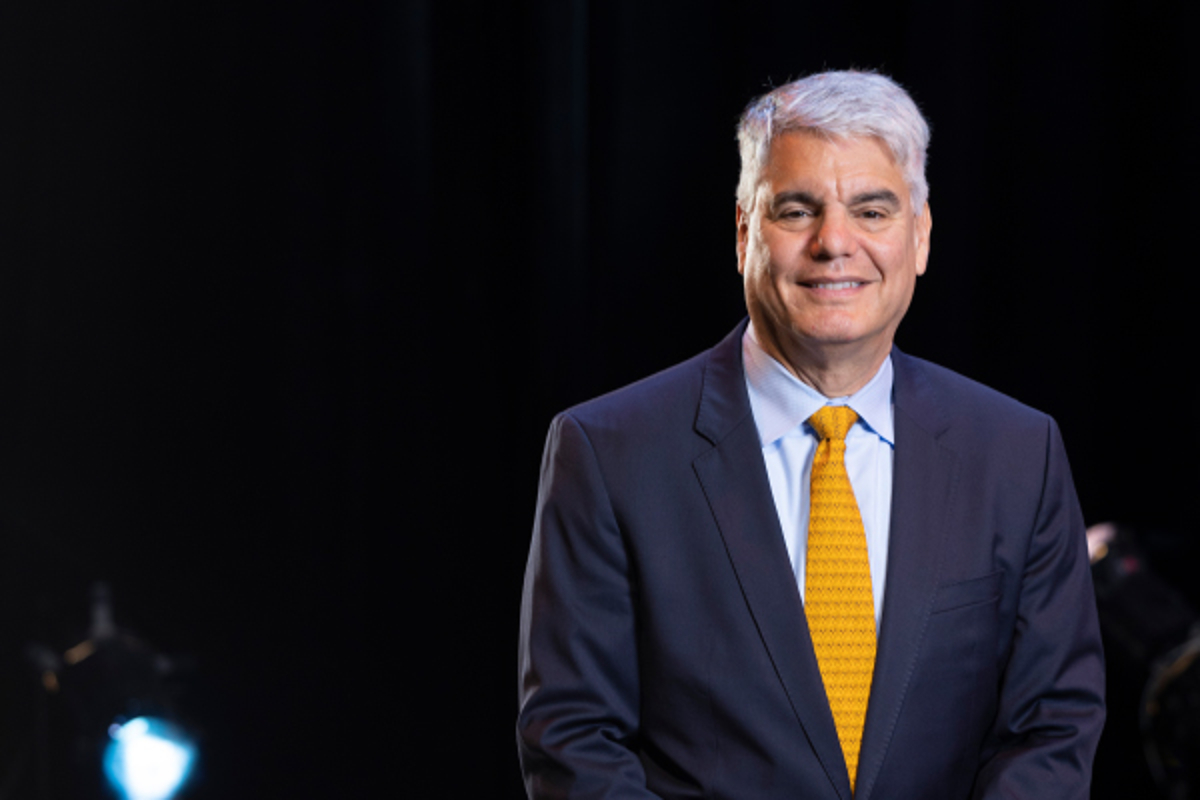 Dear Emory alumni and friends,  
Late last year, I had the honor to visit Emory's renowned Presidential Distinguished Professor, His Holiness the Dalai Lama, at the Namgyal Monastery complex where he lives in Dharamsala, India.
There, tucked within the majestic foothills of the Himalayas, His Holiness welcomed an Emory delegation including myself, Emory University Board of Trustees Chair Bob Goddard, Provost Ravi Bellamkonda and our wives Carmel, Kathi, and Lalita.
Although I had spoken with His Holiness by Zoom, it was my first in-person meeting with this beloved teacher and global leader, who held our hands to his face in warm greeting. I was profoundly moved to be in the presence of someone whose message of peace, hope, understanding, and compassion has spread throughout the world. After almost an hour with His Holiness, we left uplifted and changed.
The following day, we attended a conference hosted by Emory's Center for Contemplative Science and Compassion-Based Ethics, which is creating innovative educational programs that promote a compassionate, peaceful, sustainable world—the embodiment of what legendary Emory President James T. Laney called "the education of the heart and mind."
Listening to His Holiness, now in his 80s, I was reminded of his decades-long relationship with Emory, first as a visiting lecturer, then as a Commencement speaker and honorary degree recipient, and finally as a Presidential Distinguished Professor. I've heard that during his visits to Emory—which many alumni will remember—everywhere he went became a spontaneous classroom, as he shared lessons on science, morality, religion, ethics, and humanity.
The chance for our students to learn from one of the world's great spiritual leaders is just one of the extraordinary things that sets Emory apart and underscores our distinctive ethos, the combination of ambition and heart.
During this year's Charter Week in February, I spoke with the campus community about the inspiring ways I've seen the Emory ethos in action, from life-changing scholarship, service, research, and community partnerships to the soaring achievements of our remarkable graduates.
In my time here, I've come to understand how these qualities of ambition and heart nourish Emory's success.
Building on this core ethos, what does success look like?
Success begins with strong schools driven by our eminent faculty who are leaders in their fields, enabling cutting-edge research and creativity. For our students, it means unparalleled opportunities for learning, leadership, and growth, with support that elevates and enriches their education and lives.
Success at Emory must also include a commitment to our outstanding academic health system, with patient-centered care, life-saving treatments, and training tomorrow's health care professionals.
And now more than ever, we must recognize and recommit to the incredible Emory staff who empower our mission, along with the vibrant city we call home—Atlanta.
Each of these elements are in the renewed One Emory strategy, which will point the direction forward for Emory's future. You can read more about One Emory in this issue.
With the tremendous potential of this great university—to achieve with both ambition and heart—I believe Emory has the conviction to reach new heights in the years ahead, becoming a university without peer, in a class all our own.
His Holiness the Dalai Lama has said, "It is very important to generate a good attitude, a good heart, as much as possible. From this, happiness in both the short term and the long term for both yourself and others will come." 
At Emory, with our good and wise hearts, there is no limit to what we will accomplish and who we can serve.
Gregory L. Fenves
President, Emory University
Email the Editor