Letter From The President
The Future Starts Now
---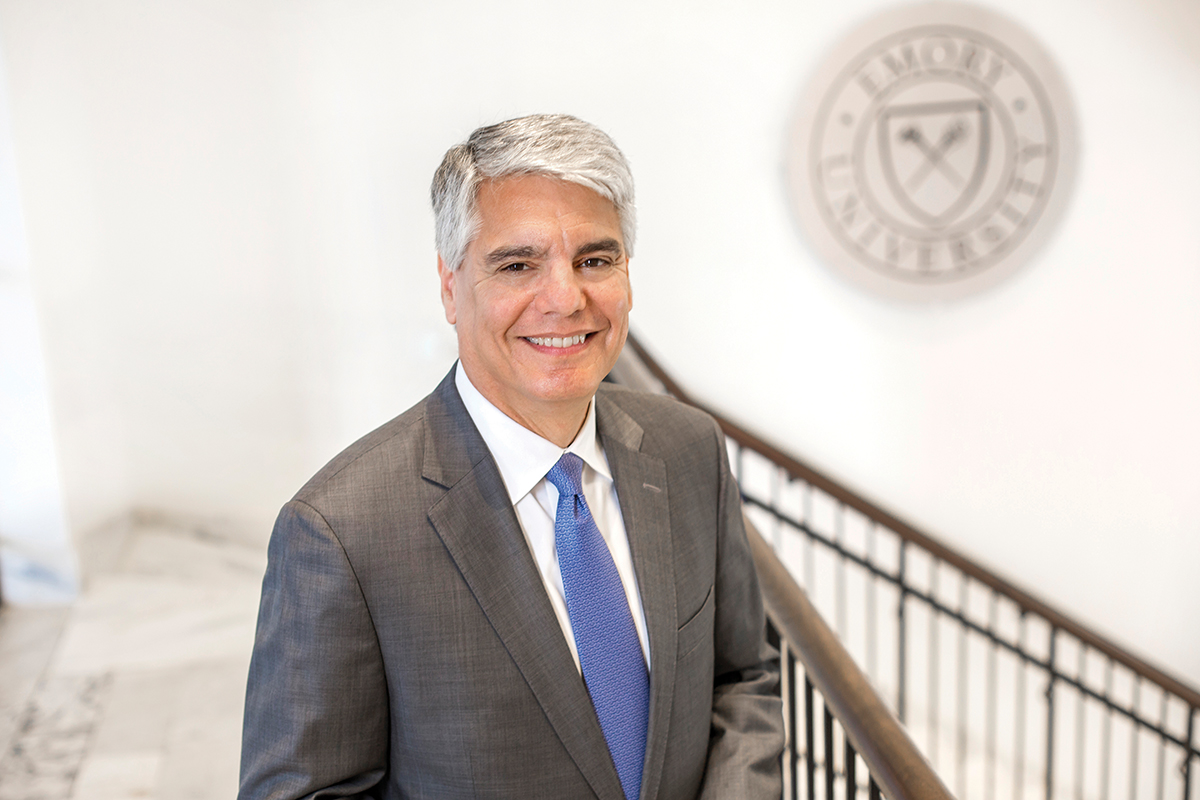 Dear Emory alumni and friends of the university,
How do we prepare our incredible students for the challenges of the future? What problems will society call on us to solve? And how will our outstanding faculty, through their teaching and research, lead at an even higher level? 
Last month, we launched a historic fundraising campaign for Emory. Over the next four years of the campaign, we will answer those questions as we shape our future. Named for the year of our two hundredth  anniversary, the 2O36 Campaign is about investing in our people who will transform Emory from a great university into one without equal. 
It starts with students. Each year, Emory is a top choice for thousands of talented, diverse undergraduate, graduate, and professional students. This campaign is about students not only succeeding, but also flourishing in all aspects of their lives as thinkers, doers, innovators, and leaders.
What does that mean? In addition to academic achievements, we want students to explore their dreams and realize their potential from the moment they arrive on campus. That includes extending learning opportunities beyond the classroom, reimagining how we help them prepare for careers, bolstering support for mental health and well-being, and creating opportunities for students to reflect on their purpose and sense of self. Crucial for student flourishing, this campaign is also about significantly expanding endowed scholarships so that cost doesn't deny top students the benefits of an Emory education.
Essential to my vision of a university without equal is our extraordinary faculty. Faculty eminence is the very foundation of our future. At Emory, we want an exceptionally talented, diverse faculty who, when given a choice among the very best universities, choose to make Emory their home. But advances in research, teaching, and collaboration require resources. The 2O36 Campaign will enable us to recruit and retain the very best faculty, creating 154 new faculty endowments. For too long at Emory, our faculty endowed positions have been underfunded. Now is the time to change that trend and invest ambitiously in world-class talent.
After a year of attracting record-setting research funding—including inspiring breakthroughs in COVID-19 vaccines and treatments—it is clear Emory has the expertise to drive life-changing discoveries with global impact. 
We are the university that launched the Trans-Atlantic Slave Trade Database, enabling scholars to understand the horrors of slavery and its effects on society today. We are the university that discovered two drugs that revolutionized HIV treatment, improving the lives of millions of people. We are the university that treated the nation's first Ebola patients. And as humanity faces future challenges, I want Emory to unlock the power of our unique strengths and lead the way in developing solutions. This campaign will support those advances, enabling us to reach new heights of discovery.
If we boldly invest in student flourishing, faculty eminence, and research excellence, Emory will contribute as never before. And the 2O36 campaign will empower our students, faculty, and staff to accomplish our mission: service to humanity. 
With your commitment and generosity, Emory will be a university without equal, in a class of our own. I ask you to get involved. Our alumni bring our bold ambitions to life, and I am excited to imagine all we can accomplish together. 
The future at Emory starts now. And it starts with you.

Gregory L. Fenves
President
Emory University
Email the Editor
Share This Story