Tag-Team Efforts: Emory–Georgia Tech Joint Programs
These collaborations between Emory and Georgia Tech prove that faculty and students from both universities, working together, are a winning combination.
---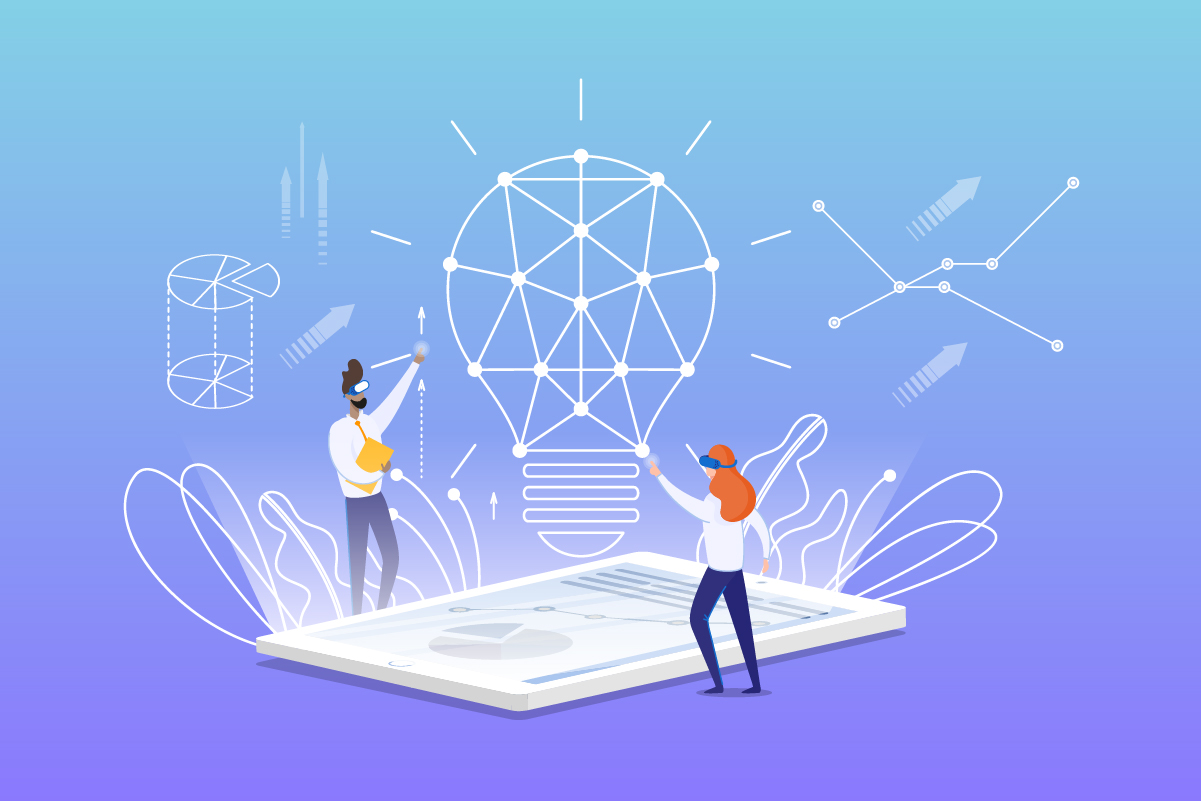 Throughout their shared history — and especially in recent years — Emory University and Georgia Tech have pooled their complementary strengths and expertise to tackle a wide range of challenges and opportunities in the service of humanity. To be sure, the impact of these collaborative efforts weigh far more than the sum of their individual contributions. Through these partnerships, faculty and students from different disciplines and backgrounds work together to solve problems, gain insights, and make advances that they wouldn't have been able to achieve alone.

Here's a breakdown of some of the key collaborations between these two top universities:
The Wallace H. Coulter Department of Biomedical Engineering
The Wallace H. Coulter Department of Biomedical Engineering is a landmark partnership between Georgia Tech and Emory University that dates back more than 20 years. Combining the best of research and education, the department is dedicated to improving health and well-being by creating medical breakthroughs driven by engineering innovation and translational research. Georgia Tech and Emory's biomedical engineering collaboration is a true success story in risk-taking and innovation — a visionary partnership between a leading public engineering school and a highly respected private medical school. True to Wallace H. Coulter's vision and legacy, our faculty and students work closely with clinicians to not only gain fundamental insights into human health and pathology, but also to translate our research to impact industry and medicine. The Coulter Department is the largest biomedical engineering program in the country with more than 1,400 students and 70 faculty members. It currently ranks as the No. 2 academic program of its kind—across both undergraduate and graduate studies—nationally, according to U.S. News & World Report. 
Learn More About the Wallace H. Coulter Department of Biomedical Engineering
Children's Healthcare of Atlanta
With three hospitals across metro Atlanta, Children's Healthcare of Atlanta is committed to making new discoveries with many of its physicians who practice medicine also investigating potential new treatments and technologies in the lab. Emory University and Georgia Tech have long been two of Children's key pediatric research partners. Beginning in 1956, Children's Healthcare of Atlanta's Egleston Hospital, formerly known as Henrietta Egleston Hospital for Children, and Emory University first established a teaching relationship that developed over time to facilitate leading-edge pediatric research, training, and innovation. Discoveries made in pediatrics and supported by Children's at the Emory-Children's Center and Health Sciences Research Building on Emory University's main campus are translated into lifesaving treatments at Children's. Meanwhile, Children's Atlanta Pediatric Technology Center brings clinical experts together with Georgia Tech scientists and engineers to develop technological solutions to problems in the health and care of children, providing extraordinary opportunities for interdisciplinary collaboration in pediatrics, creating breakthrough discoveries that often can only be found at the intersection of multiple disciplines.  
Learn More About Children's Healthcare of Atlanta 
Biolocity 
A collaborative program between Georgia Tech and Emory University, Biolocity provides university innovators with resources to guide and advance early-stage medical technologies and translational science to reaching critical commercialization milestones. Although housed on both Emory and Georgia Tech campuses, Biolocity's marketing reach, technology pipeline, and commercialization resources span the city of Atlanta, regional stakeholders, and national experts. Since 2015, the program has awarded more than $8.7 million across 58 projects, generating 10 times that much follow-on investment. Funded technologies from this collaboration so far include medical devices, diagnostics, drug delivery systems, health IT, drugs, carriers, and advanced therapeutics. Each year, Biolocity issues a call for proposals in a multi-stage application process that awards more than $1.5 million in funding support and provides university innovators with the opportunity to receive pitch coaching, market assessments, and competitive analysis to cultivate commercial success. A recent $5 million gift from John and Rosemary Brown to Emory's School of Medicine will in part expand Biolocity's ability to fund biomedical projects.
McCamish Parkinson's Disease Innovation Program at Georgia Tech
The McCamish Parkinson's Disease Innovation Program at Georgia Tech was formed through a generous gift from the McCamish Foundation under the Coulter Department of Biomedical Engineering. This gift  drives research, innovation, and community building between Georgia Tech and Emory University, as well as the University of Georgia, and the state of Georgia, toward understanding, treating, and ultimately curing Parkinson's disease and other neurological disorders. The vision is to be the technology-driven hub of far-reaching innovation for the understanding and treatment of Parkinson's disease and other complex neurological disorders through the intersection of fundamental neuroscience, engineering, computing, and clinical neuroscience. This summer, the McCamish Parkinson's Disease Innovation Program awarded its first round of "Blue Sky" grants to eight research teams taking a multidisciplinary approach to studying this so-far incurable brain disorder. The wide-ranging projects all involve researchers from Georgia Tech and Emory and run the gamut from basic science to practical, quality-of-life technologies. 
Learn More About the McCamish Parkinson's Disease Innovation Program 
Cognitive Empowerment Program 
Through a unique partnership between Emory University and Georgia Tech, the Cognitive Empowerment Program aims to provide people with mild cognitive impairment (MCI), as well as their care partners and families, an opportunity to participate in comprehensive lifestyle programs that promote joy, purpose, health, and wellness. The program is currently for patients and families seen in Emory's Cognitive Neurology Clinic who receive an MCI diagnosis caused by presumed Alzheimer's disease or other related condition. Members of the program receive personalized assessments and goal-setting sessions designed to empower them as they seek to implement healthy brain interventions. The Cognitive Empowerment Program is supported by a generous investment from the James M. Cox Foundation and Cox Enterprises. 
Learn More About the Cognitive Empowerment Program 
TI:GER Program 
Technological Innovation: Generating Economic Results, or TI:GER, is a nationally recognized collaboration between Emory School of Law and Georgia Tech. The program brings together graduate students in law, business, science, and engineering to work on startup projects to transform highly promising research into economically viable projects. TI:GER combines classroom instruction, team-based activities, externships, and networking opportunities into a total educational experience. Emory Law students provide a crucial legal perspective to their TI:GER teams, helping to grow ideas and inventions that can change the world and save lives.  
Learn More About the TI:GER Program 
Library Service Center (LSC)
The state-of-the-art Library Service Center (LSC) is a shared facility between Emory University and Georgia Tech that houses a joint collection of millions of books and other materials. Stretching across 4.6 acres near the back of Emory's Briarcliff Property, the climate-controlled, 55,000-square-foot facility was developed to create a seamless, unified collection of materials that will be available to faculty, staff and students at both campuses. Items are delivered to the main campuses at both universities twice daily. Not only does the LSC provide optimal conditions for the secure, long-term preservation and storage of books and related materials — including film and microform collections — it brings key content from two major research university libraries under one roof, expanding access to a broad range of resources and freeing up campus spaces. 
Learn More About the Library Service Center
Shared Memberships in Broader Efforts 
The Atlanta Global Research and Education Collaborative
Georgia Tech and Emory are founding members of the Atlanta Global Research and Education Collaborative (AGREC). This collaboration invites scholars from any Atlanta institution or university and in any discipline to submit collaborative projects that address a need in our global and local communities. AGREC aims to connect the Greater Atlanta region's international assets through an emphasis on supporting "global at home" projects that serve students, faculty, and community partners; enhance and broaden institutional partnerships amongst universities in Greater Atlanta; create and strengthen global networks of scholars and practitioners in Greater Atlanta; and raise the profile of Atlanta region as a whole, making Greater Atlanta a hub for global education and research through innovative collaborative educational and research projects from various disciplines. 
Learn More About the Atlanta Global Research and Education Collaborative 
Georgia Clinical & Translational Science Alliance
The institutions of the Georgia Clinical & Translational Science Alliance (GCTSA) leverage their complementary strengths to accelerate clinical and translational education, research, and community engagement to impact health in Georgia and beyond. The GCTSA is an inter-institutional magnet that concentrates basic, translational, and clinical research investigators, community clinicians, professional societies, and industry collaborators in dynamic clinical and translational research projects. Emory engaged three of its close academic partners — Georgia, Tech, Morehouse School of Medicine, and the University of Georgia — to form the alliance. This partnership offers compelling, unique, and synergistic advantages to research and patients statewide. Created in 2017 as part of a national consortium striving to improve the way biomedical research is conducted across the country. The consortium, funded through the National Center for Advancing Translational Sciences, part of the National Institutes of Health's Clinical and Translational Science Awards, shares a common vision to translate laboratory discoveries into treatments for patients, engage communities in clinical research efforts, and train the next generation of clinical investigators. 
Learn More About the Georgia Clinical & Translational Science Alliance 
Georgia Research Alliance
Both Emory and Georgia Tech are key members of the Georgia Research Alliance, a nonprofit organization that brings together top researchers, business community leaders, and state government to create opportunities to grow Georgia's economy through scientific discovery. The alliance focuses its technology-based economic development strategy on the recruitment of world-class scientific talent, the development of sophisticated research infrastructure, and the commercialization of university research and development. 
Learn More About the Georgia Research Alliance
---
Want to add your program or center to this list of partnerships between Emory and Georgia Tech? Please email the editor with a brief description and link. We will update this list on an ongoing basis. 
Email the Editor
Share This Story