Spring 2010: Features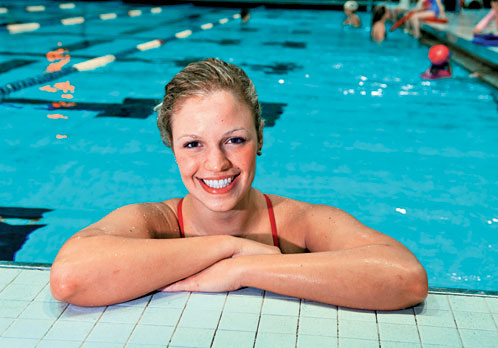 Kay Hinton
To see the slideshow, please enable Javascript and Flash Player.
Speed-oh
Eagles swim and soar, in the pool and out
By Salvador Rizzo 09C
Jon Howell, the head coach of Emory's swimming and diving teams, starts early.
He has to. Recruiting begins when swimmers are in their junior year of high school, and he's mostly competing for students with the likes of Harvard and Yale, Ivy League schools that can sweeten the deal with Division I athletics and hefty financial aid packages.
So he starts early. He wakes up at 3:45 a.m., writes emails in his office until daybreak ("it's quiet," he explains), then heads downstairs at 6:00 a.m. for the day's first two hours of practice in the Woodruff P. E. Center swimming pool.
It's the high point of the season, and the Eagles are riding high: The men's and women's teams have each just clinched their twelfth straight titles in the University Athletic Association (UAA), a league Emory began to dominate after Howell's arrival. Now they're preparing for the biggest meet of the year, the NCAA's Division III national championships in mid-March, where the Eagles face some of the best swimmers in the country.
Last year, in a stunning two-day performance, the men's and women's teams both ripped through the water at the NCAAs, claiming the gold in a handful of events, quashing several records, and finishing second place overall. The spotlight shone on Elizabeth Horvat 11C, who was the first Eagle ever to be named NCAA Swimmer of the Year after winning three individual races and one team event.
Those national feats are rare in Emory's athletic history, and the meet has since become a sort of shaping experience for the swimmers; many now describe it as their proudest moment and fondest memory. "Everyone just fed off the positive energy and had fast swim after fast swim," says senior Ruth Westby 10C, who defends her title this year in the 200-yard medley relay, a team race. "If this year is anything like last year, I can graduate and retire from swimming a happy person."
Yet, to those who had been keeping tabs, the NCAA meet was no turning point—it was a culmination of years of work and progress. Under Howell, Emory has been recruiting some of the highest-caliber swimmers nationwide, and they've been getting better every year.
"For the first time," Howell says, "you look up and say, 'How much farther can we go?' " He has some ideas: "With Olympic trials coming up, it raises the question, 'Can we have an Emory team there?' "
The Emory Eagles may not be a franchise known to football followers, but during the last decade, Howell has helped turn Emory's name into one of the top Division III brands, leading the swimmers and divers to a string of successes that gets longer with each season—and equally important for Howell, anchoring a support network for these fifty to sixty students who want to take swimming as seriously as school.
His secret? Howell will almost convince you it could be as easy as starting early, staying until the end, and looking for the right balance for every swimmer along the way. But that only fills the day-to-day agenda; he doesn't have a formula so much as a philosophy. "It's more what people have become than what they've accomplished," Howell says. "Part of it is the water, but there's something bigger than that."
For Howell, coaching is holistic, and swimming is a lifestyle more than a water sport. When he looks back and talks about alumni, he doesn't mention their times or scores, he talks about weddings and milestones (one won the Pulitzer Prize; another was a finalist for the Rhodes Scholarship).
The students are keenly aware that Howell's hopes and concerns for his team stretch far beyond just swimming fast. "I always seem to be either in the library or the pool, and I definitely have had very stressful semesters, but I think that it has forced me to learn better time management," Westby says. "Jon is always very understanding if you need to miss or make up a practice because of school or stress, and that is something that I absolutely love about him."
There's no denying that practice can be grueling. Howell holds eight to ten sessions a week and each lasts more than two hours. Horvat, a psychology major who has been swimming competitively since she was seven, goes to all of them. "Each year, Jon tells us to hold ourselves to a higher standard, and I think everyone takes that to heart," she says.
John Petroff 10C, a senior economics major, says, "Twenty hours a week is like a part-time job." But he can also see the upside: "Practice helps me focus on the task at hand once I do sit down to study."
"Everything we do is to try to find that balance," says Howell, who came to Emory in 1998. It helps that the group is strongly bound together, more like an extended family than a competitive sports team.
Howell himself reviews every one of the two to three thousand yearly applications from potential swimmers, cramming phone calls and visits all around his calendar. (The acceptance rate is low: Only twenty-one freshmen are on the team this year.) The first thing he wants to know is whether a prospect will fit in with the team. "It's very much a family," he says. "I think we all take that role very seriously."
Howell also says the team itself is the best selling point for most students. At Emory, the swim program grabs you early and doesn't let go. Upperclassmen and a group of alumni are on campus and ready to help the freshmen move in before school starts. The team travels together for away meets, for winter training in Florida, and even for a training trip to Italy in August 2008. "I doubt I will ever be able to go to Europe with forty of my closest friends ever again," Petroff says.
Around campus, they show their solidarity even at costume parties—dozens of members in the men's team dressed as Spartans (from the movie 300) for Halloween in recent years.
And the bonds take root all the way back home, too. Petroff's father runs the newsletter for the parents' group. Westby's parents recently had some of the others over for dinner and a movie, and to decorate shirts for the NCAAs. Horvat's mother takes over as "head parent" next year.
The team also does service projects together, like volunteering with the Special Olympics, with Howell's encouragement.
Horvat, Petroff, and Westby agree that if the team is successful, it's because it is one tight unit. "I cannot even put into words how important my teammates are to me," Horvat says.
The close-knit nature of the team became painfully evident in late 2006 when one of its newer members, stand-out freshman swimmer Madeleine Brown, was discovered unconscious in the water and could not be revived. Last year, the Woodruff P. E. Center pool was named the Madeleine Jude Brown Aquatic Center in a ceremony led by Howell, where more than three hundred community members gathered to honor Brown.
For Tim Downes, the University's director of athletics and recreation, balance is as important as competitive success. Downes says Emory wants to provide top-flight athletics and academics without letting one overpower the other.
"One of the things that Jon has done is that he has created a swim community here," Downes says. "His alums are so incredibly loyal. These are some of the best athletes in the country, but it is not the defining thing for them."
That balance is the reason Emory joined the UAA. The University had lived through a long ban on intercollegiate sports—Methodist leaders forbade them with an edict in 1891, Downes says, to avoid the associated gambling and drinking. The UAA was formed nearly a century later, in 1985, and Emory quickly found its niche in sports with a league of academically focused research universities including New York University, the University of Chicago, and Washington University in St. Louis. "It's important to look across the pool lane and see someone a lot like you," Downes says.
Downes says each UAA title is a coup, and Emory's full UAA trophy cases are not to be discounted, but it's also clear that the team's sights are set higher. Horvat is training for a possible Olympic bid, and Howell is thinking up ways to recruit more swimmers in her category.
"President Wagner always says, 'What can we do the best? What can we be the model of?' And it seems to me that this is it," Downes says. "If you look at our program, and what Coach Howell has done, there's no better college athletics program."
For all the successes, NCAA Division III can be a tough sell at times, Howell admits. He tries to travel around to promote the division, both to help break the stigma around it and to catch up with candidates, but in the world of swimming, Auburn and the University of Georgia are the Southern powerhouses. Emory still faces a bit of an uphill climb in name recognition, especially with a program that touts coursework right alongside championship titles.
But it helps that the Emory swim team has won more NCAA postgraduate scholarships than any other college sports team nationwide. Last year, two swimmers, Harrison Brown 09C and Keith Diggs 09C, received the scholarships, the NCAA's top honor for students who excel in both academics and athletics.
This spring, a week before the NCAA championship meet at the University of Minnesota, Westby, Horvat, and Petroff were all touching up their technique, and slowly decreasing the yardage in their daily practices in order to be rested for the big meet.
"In particular, I have been honing my underwater dolphin kick for my butterfly events," Petroff says. "I have gotten them almost to the point of rocket propulsion."
Horvat said she was polishing for the 500- and 1,650-yard freestyle events, and focusing "on the little stuff that will hopefully separate me from the rest of the pack," such as her turns and off-the-wall moves.
Swimmers have been getting faster in the last year, but the Eagles' momentum may have been just the thing to turn the tide on perennial favorite Kenyon College—the Ohio swimming powerhouse, and Howell's alma mater—which beat Emory at nationals last year.
The work paid off. At this year's NCAA meet, the women's team came in first place, clinching the top spot at nationals for the third time in their history. The first two wins, both under Howell's recent tenure, were in 2005 and 2006. The men's team recorded their tenth top-three finish this year, coming in third.
It was Westby's last championship meet, and the senior and three others won the 400-yard freestyle relay for the first time. "It's sad that I have to hang up my cap and goggles at the end of the year," she says.
Next year, Westby's leaving the lanes behind to work for six months to a year, then it's off to graduate school for a master's in environmental policy.
That may be a big adjustment from seven swim practices a week, but if Howell's done his job right, Emory swimmers have been profoundly shaped in body and mind—and heart—by the swim team experience.
And who knows? Maybe they'll have a reason to come back someday, even if only to visit Howell. They sure know where to find him.
"The great thing about the kids," he says, "is ten years from now, they might not be as fast, but they'd fit right in."
Salvador Rizzo 09C is a former editor of the Emory Wheel and an Atlanta-based copy editor for the Washington Post.