Spring 2010: Features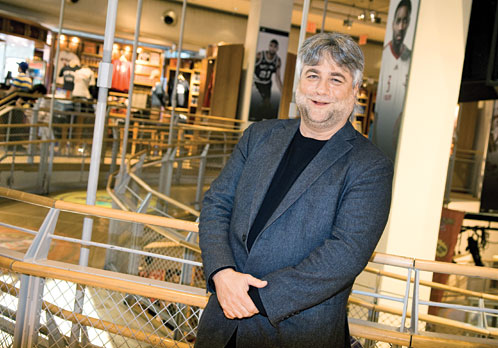 Annemarie Poyo Furlong 89C
To see the slideshow, please enable Javascript and Flash Player.
Calling the Play
As head of entertainment and player marketing for the NBA, Charles Rosenzweig 80C 80G is the man who makes halftime happen
By Josh Getlin
The National Basketball Association's marquee store on New York's Fifth Avenue was packed with media and fans. They were massing around former NBA star and Atlanta Hawks announcer Dominique Wilkins as he signed autographs and helped publicize a new basketball card collecting game. On the periphery, a man with graying hair and an engaging smile was surveying the event he had organized and talking on his cell phone, largely ignored by the crowd.
"That guy in the suit jacket over there," whispered one tourist to his friend, pointing to Charles Rosenzweig 80C 80G, the NBA's senior vice president of entertainment and player marketing. "Is he somebody?"
When it comes to the NBA, Rosenzweig is indeed somebody. The beleaguered executive—who graduated from Emory in 1980 and remains active in alumni affairs—is a quiet magician behind the scenes, a man whose influence on the league has been profound, even though he's not widely known outside of a small circle of NBA insiders and movers and shakers in the entertainment world. During the past twenty years, he's helped build the league into a $4.5 billion powerhouse, a global marketing machine. And along the way, he's played a key role in shaping some of professional basketball's most memorable moments.
Take this year's All-Star Game, which was played in Dallas on February 14 before a record-breaking crowd of more than 108,000. When millions of casual viewers tuned in, they saw a three-and-a-half-hour extravaganza of spectacle and sport: The league's star athletes were on display in a live broadcast beamed worldwide; internationally known artists like Usher, Shakira, and Alicia Keys performed before the game and at halftime. In the days before the contest, the NBA staged a series of high-profile athletic exhibitions throughout the Dallas area and recruited more than 115 current and retired players to make 419 personal appearances.
Rosenzweig and his staff had been planning all of these activities for months, but suddenly there were unexpected glitches and backstage calamities that could have marred the event. While a global audience was pulling up chairs for the NBA's big weekend, Rosenzweig was busy putting out fires. "This year was particularly fragile for us," says the veteran attorney, who joined the league in 1990. "I'd have to say we faced tougher challenges this year than we normally do."
It all began with the weather. Dallas was unexpectedly socked by a major winter storm and got seven inches of snow, just as All-Star week began. Meanwhile, a nor'easter was working its way up the Eastern Seaboard, jeopardizing plans to fly hundreds of current and former players to Dallas, although all eventually arrived. But Keys's band, which had been set to arrive on Thursday, was snowed in and couldn't join her, a challenge that bedeviled other talent throughout the weekend. As nerves began to fray, the pop group One Republic offered to step in and accompany her. It was shaping up as a logistical nightmare, but Keys's bandmates finally made it into town a day before the game.
Rosenzweig wasn't so lucky with the popular Skills Challenge held on Saturday night before the All-Star Game. The competition, where point guards compete in an arduous obstacle course, traditionally begins with four contestants. But it was thrown into disarray when the NBA executive got a 1:00 a.m. call on the day of the competition and learned that last year's winner, Derrick Rose of the Chicago Bulls, had a bruised tailbone and couldn't participate. A replacement had to be found immediately, so Rosenzweig began working the phones, calling agents and team officials. At 2:30 a.m. he finally got his man—Russell Westbrook of the Oklahoma City Thunder—and the contest went on.
"I felt as if I were the general manager of a team closing a player trade in the middle of the night," said Rosenzweig, wincing at the memory. "There was no time to waste. The event, Skills Challenge, was later that night and, as they say, the show must go on."
This steely resolve might well be the mantra for his career. Rosenzweig has won scores of admirers within the NBA, whether he's promoting players, booking entertainment for glittering events, or forming corporate partnerships to boost the league. But it's not just because of his impressive skills, colleagues say. He also has a human touch, an ability to shed office protocol and treat people with kindness that stands out in a fast-paced, often unsentimental business. At a time when the NBA has dramatically expanded its reach, winning millions of new fans and opening new markets in Europe and Asia, the man who makes the trains run on time has also made lasting friends.
"He's such a great manager and a creative thinker," says Wilkins. "But the best thing is that he's a straight-up guy, a real friend, and that's hard to come by. It explains why he's lasted so long in the NBA."
Bill Russell, the former Boston Celtics great, is notorious for being challenging with reporters and shunning interviews. But he was happy to talk about Rosenzweig, whom he calls "one of the most genuinely decent persons in the NBA, somebody I trust and have great respect for. If it was anybody else," he joked, "I wouldn't be talking to you."
A key reason for Rosenzweig's popularity is that he remains a down-to-earth person, said NBA great and TV commentator Bill Walton. "With Charlie, it's never about him. It's always about us, the team, and the NBA. He's made a difference in our lives." Walton predicted that Rosenzweig would be embarrassed by such effusive praise. "But that's okay," he said with a chuckle. "I love the man. He's indispensable."
As he watched over the event promoting Panini America's new collector card game in the NBA store, Rosenzweig blushed briefly when told of Walton's comments. During several interviews, he stressed that he's been blessed with a highly focused staff and other colleagues who work hard to keep the NBA at the top of its game. Above all, he praised his boss, NBA Commissioner David Stern, as the prime reason for the league's remarkable success. "I truly believe there is nobody more intelligent than David Stern," he said. "Having a boss like him makes everybody in the organization smarter and helps them perform their duties at the highest level."
Still, it's hard to imagine the modern NBA without Rosenzweig's considerable talents. His broad responsibilities have mirrored the league's growing clout in the sports and entertainment worlds.
On the one hand, he oversees the worldwide marketing and promotion of star athletes past and present. It's good business for the league and a lifesaver for former athletes who have been able to reconnect with professional basketball long after they stopped playing. Rosenzweig prides himself on keeping in touch with them and has kept many in the game, if not on the court. He's also put together some of the NBA's most successful economic partnerships, guiding star players into national ad campaigns for Pepperidge Farm (Dwayne Wade) and Right Guard (Chris Paul), to name a couple.
Rosenzweig also is one of the senior executives heading up NBA Entertainment, a sprawling division with six hundred employees that has grown into one of the world's largest TV and Internet sports production companies. The unit generates a wide range of products and services for both the NBA and the wNBA, producing weekly shows including NBA Inside Stuff, NBA Access with Ahmad Rashad, and NBA Jam. It develops content for the league's TV channel, NBA TV; NBA.com; and other sports outlets that are sent to 215 countries around the world. With more than three million still photos and decades' worth of game videos in its archives, it's an official repository of league history. The division has shrewdly exploited this asset, licensing these copyrighted materials to publishers, filmmakers, TV production companies, and other media companies.
These days the NBA is as much about glamour and cutting-edge cool as athletic prowess, and nothing illustrates this better than its tight relationship with the music world. Given its youthful demographic, the league has built bridges to some of the entertainment world's hottest young stars. Rosenzweig is the man to see when it comes to booking talent for the All-Star Games and other venues; he's equally at home negotiating contracts with music industry VIPs as he is talking with players and top league officials. His Rolodex is legendary.
"Charlie's knowledge of the sport and also of the entertainment industry is truly extensive, it's unmatched," says Michael Levine, senior director of entertainment and player marketing, who has worked with Rosenzweig since 1997. "He's an understanding person, yes, but he also expects a lot from the people who work for him. I've been here long enough to know that there just aren't a lot of people like him."
Not bad for a kid who grew up following baseball and hockey, and never dreamed that he'd become a major player in the NBA's elite corporate world. While others settled on their career paths early, he never set his sights on being a sports and entertainment lawyer. His path to the National Basketball Association was anything but linear.
Born on Long Island, Charlie was the youngest of three kids. His father was a sales rep for men's and boys' clothing companies; his mother was a homemaker. A bright student, Rosenzweig chose Emory following his older brother, Lawrence Rosenzweig 77C 83D, now a dentist on Long Island. Although he took a wide range of courses in modern history and political science, Rosenzweig grew close to Professor Kenneth Stein, an expert in Middle Eastern studies and the Arab-Israeli conflict, who continues to be one of Emory's most respected scholars.
"I'm very friendly with him, and I've stayed in regular contact over the years," says Rosenzweig. "I'm also proud that my youngest daughter, Jacki [Rosenzweig 12C], took a freshman seminar with him. He got the second generation of Rosenzweigs." (His oldest daughter, Alex, recently graduated from the University of Miami and works in public relations and marketing in New York City.)
For his part, Stein calls Rosenzweig one of the most outstanding students he's ever had and has kept in touch through the years. "My feeling about him is more than just as a college faculty member," Stein says. "I have an enormous affection for him and his family. If I had to pick a group of people with whom I'd live on a cul-de-sac, they'd be at the very top of the list."
Rosenzweig's roots at Emory are strong, but the most important person he met there was his wife, Jodi Sydell Rosenzweig 80C. They began dating and both attended law school at Georgetown, getting married between their second and third years. The couple both clerked for judges in Washington, D.C., and when they started looking for jobs Rosenzweig had no clue he was destined for entertainment law.
"I thought I'd end up as a litigator," he said. "The only specialty I really ever considered, although not seriously, was actually maritime law, because during my childhood, my family was involved in boating and we spent a lot of time during the summers on the water."
When they returned to New Jersey, where Jodi's family lived, Rosenzweig was hired as a lawyer at a firm that just happened to specialize in entertainment clients. He got a taste of this work when he worked on a long-running copyright infringement case involving the pop song Feelings. When he later worked on litigation involving the comic strip Heathcliff, the entertainment bug bit. But basketball was still the farthest thing from his mind.
Rosenzweig wanted to work in a smaller firm, and began sending out resumes. When he suddenly got a call in 1990 asking him to come down and discuss a job at the NBA, he was mystified. He didn't initially get what the initials "NBA" meant when a secretary answered the phone, because he hadn't applied there. The link only became clear when he had his first interview for a position with the rapidly expanding NBA Entertainment division: A lawyer to whom he had sent a resume had lunch one day with an NBA attorney, and the rest is history.
"That's how random things can be," Rosenzweig said. "I tell students today that you need to work hard to find a job in the entertainment field. Sure, you must network and make contacts, but you also need to work hard, do the little extra things like sending out targeted resumes, personalized letters, and other materials. You never know who's out there, what will attract attention and what can happen."
He joined the NBA soon after it had signed a pathbreaking TV contract with NBC; the deal allowed real-time broadcasts of playoff games and paved the way for the league's later growth. The future grew even brighter two years later when the American "Dream Team," featuring the league's biggest stars, won a gold medal at the Barcelona Olympics and captured the world's imagination. International markets in Europe and Asia began to open, driven by the NBA's increasing number of foreign-born players.
Rosenzweig, who now lives in Warren, New Jersey, has been in the mix for twenty years. But it hasn't stopped him from maintaining ties to Emory; he and Jodi, who practices mass tort and product defense litigation at the New Jersey office of Drinker, Biddle, and Reath, helped launch Emory College's Alumni Advisory Board, which didn't exist four years ago. They've opened their home to student parties, offering career guidance and mentoring Emory graduates. They've also helped their alma mater build new bridges to the business world.
Looking back, Rosenzweig doesn't offer a rose-colored view of his job. The hours are long and demanding; the unexpected crises are not exactly welcome when you're trying to raise a family. The responsibility requires compassion as well as toughness and discipline. But at the end of the day, he couldn't imagine doing anything else.
"I've been lucky to work with some of the most talented and intelligent people in the industry on a day-to-day basis," he said. "I have been exposed to so much, I've grown professionally, I've traveled all over the world. Still, every day is fresh and brings new challenges. I guess that's why I'm still very happy in my career."
And a good thing, too. Less than two weeks after the 2010 All-Star Game, Rosenzweig was already making plans for next year's game at the Staples Center in Los Angeles. If the Dallas game posed logistical challenges, Los Angeles was another planet entirely. The on-site preparation time will be shorter, he noted, because the Grammy Awards will be held at the Staples Center a week before the NBA contest. And the eyes of the entertainment world will be on the league—because it will be in the heart of Hollywood.
"At this point we know that we're going to be in L.A.," Rosenzweig says with a smile. "And right now, that's all we know. But we'll be up to the challenge, no matter what it happens to be."
Josh Getlin is a former Los Angeles Times bureau chief and a freelance writer in New York City.