Winter 2008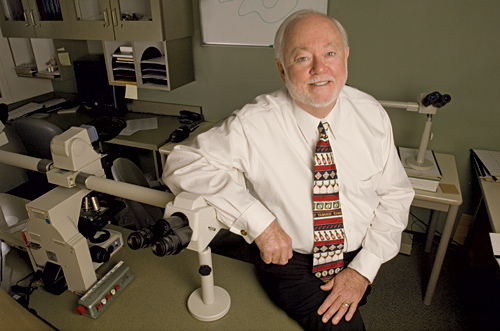 Ann Borden
Dwight "Ronnie" R. Weathers 60C 62D 66D
Emory Medalist 2007
By Eric Rangus
Ronnie Weathers, vice chair for oral pathology and director of the Office of Dental Programs in the School of Medicine, gives back to his alma mater every day. He educates Emory medical students, takes care of Emory patients, mentors his fellow physicians, and serves as a leader in the wider health care community. And he has done so for more than fifty years. "If your residents are only as good as you are, you'll make no strides," said Weathers, who has taught more than his fair share. "But those who go beyond what you've done—that's the exciting part."
A native of Milledgeville, Weathers graduated from Georgia Military College High School in 1956. That was the last degree Weathers would earn that did not say "Emory."
"I remember when my mother and dad dropped me off at Emory and drove away," said Weathers, his voice retaining the smooth Southern accent of his upbringing. "I was lost. I didn't know what I was going to do. I was thinking, 'Here I am in the middle of this big city. I don't know anybody.' "
But he learned quickly. By his own admission, things didn't come easy for Weathers, but he worked hard and graduated from Emory College in 1960. He earned a dentistry degree from the School of Dentistry in 1962 and a master's of science in dentistry from Emory in 1966. In between his dental degrees, Weathers served as a captain in the U.S. Air Force.
Weathers joined the Emory faculty just a few months after earning his master's degree as an assistant professor of oral pathology. Oral pathologists study and treat diseases of the oral cavity, and they are not a common lot. Weathers said there are only about four hundred in the discipline.
Weathers climbed the professional ladder to full professor and collected a variety of other administrative appointments both at Emory and within his profession. In 1985, Weathers's hard work paid off with his appointment as dean of the School of Dentistry. That was the good news.
"Two of the things I often pray for are challenges and the ability to overcome them," Weathers said. Good thing, because in 1985 Weathers would face the biggest challenge of his career.
That year, Emory's Board of Trustees voted to phase out Emory's dental programs. The decision was met with protests on the Quadrangle and outcry from many sectors of the Emory community.
"The faculty was obviously very disappointed," Weathers said. "The alumni were devastated. This was their school, and they were very proud of it."
Weathers's last year as dean, 1992, was the School of Dentistry's last year as well. But despite the difficult circumstances, Weathers persevered, even flourished. He worked tirelessly with dental school alumni, keeping them connected to Emory. To this day, Weathers's work is visible in Emory's alumni community.
Flipping though Emory Magazine or other University publications, it's not uncommon to encounter a "D" after a graduate's name. That so many dental school alumni have chosen to remain part of the Emory community is testimony to the tireless work of Dean Weathers to keep his alumni connected.
When the dental school's doors closed for the last time, Weathers found other challenges to tackle. Emory's dental training moved to the School of Medicine, and Weathers went with it as director of dental programs and vice chair of oral pathology. Weathers's accomplishments spill onto multiple resume pages. He also has brought in some $1 million in grants and donations.
Weathers's awards, accolades, and leadership positions are too numerous to name. His most recent professional honor was being named to the Who's Who in Dentistry list.
After more than forty years on the Emory faculty, Weathers has hardly slowed down. He can still be found in his lab most mornings at 7:00.
"I still enjoy what I do immensely," he said. "I still feel like I contribute and I have things to offer. Having been around Emory so long, you would be surprised at the calls I get from people wanting to know things about this place."—Eric Rangus