Spring 2008: The Creative Campus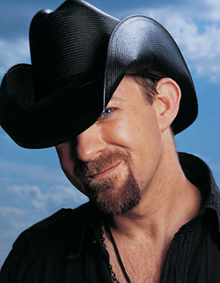 Marc Baptiste/Special
Down in Sugarland
Kristian Bush 92C is on a roller coaster to country music fame—and he's clearly enjoying the ride
By Paige P. Parvin 96G
Growing up in the mountains of Tennessee, Kristian Bush 92C had plenty of exposure to country music. So maybe it's not surprising that after exploring the classical, alternative, and folk-rock genres, country is the platform that has vaulted him to international stardom and success.
For non-country fans, Bush and Atlanta's Jennifer Nettles are Sugarland, the band that broke into the country scene in 2004 with its debut album, Twice the Speed of Life, and hasn't slowed down since. Their sophomore effort, Enjoy the Ride, has sold more than 2 million copies, with three hits that made it to No. 1 on the country charts. Their numerous accolades include the 2006 Academy of Country Music Award for New Duo/Group of the Year and the 2007 Country Music Association Award for Vocal Duo of the Year. And their single "Everyday America" is the new theme song for TV's Good Morning America.
Now based in Atlanta, Bush recently found time during the twenty-plus-hour plane ride to tour in Australia and New Zealand to answer, via email, a few questions for Emory Magazine.
I read that you were born in Knoxville, Tennessee, and began playing music as a kid. Can you tell me a little more about your early musical development?
I was born in Knoxville but actually raised in Sevierville, Tennessee, a town at the base of the Smoky Mountains. I was first exposed to instruments at around three years old. My mother enrolled me in classes from an experimental teaching movement called the Suzuki Method at the University of Tennessee. It's fair to say that I do not have a memory of a time before I knew how to play music.
You have a Southern upbringing, yet you also were exposed to other influences at places like Avon Old Farms and Emory. What other kinds of music and artists were formative for you?
When I was growing up, the only radio station you could really pick up in the mountains was a country station, so I only knew two kinds of music: classical and country. I distinctly remember my first exposure to early eighties college radio and hearing REM for the first time. I just didn't know that music could sound like that. It was a freeing realization.
Tell me about your experience at Emory. How were you involved and growing musically? What did you major in, and how did your education influence your music and songwriting? Did you have favorite professors and classes?
When I arrived at Emory in 1988, the timing couldn't have been better for a starry-eyed songwriter and musician to witness a music scene. Atlanta was supporting some amazing new bands and seeing others come to maturity artistically and commercially. I ended up begging my way into the local clubs to see Drivin' n' Cryin', Michelle Malone, REM, the Indigo Girls. It was this growing scene where I really got to witness firsthand that an acoustic guitar could be treated as a rock instrument and that good songs connected with audiences.
I believe that I was in the first class of creative writing majors to graduate from Emory. I had some amazing teachers who really opened my eyes to the way we tell our stories as human beings. I actually had a directed study class my final year where I worked on the lyrics to my songs that I was writing at the time. Interestingly enough, those songs were the songs that, six months after graduating, landed me my first recording contract with Atlantic Records.
You were part of the band Billy Pilgrim (I was a big fan) for a few years—how did that shape the musician and songwriter you have become?
My experience in Billy Pilgrim was amazing. The music that I created then was real and raw and in many ways was my first introduction to performing deeply emotional music in public. I am proud that I landed a major label recording deal by the time I was twenty-two and funnily enough, probably one of the first of my graduating class of creative writing majors to be published (even though it wasn't in The New Yorker). I believe the things I learned about the music business, producing records, and being in a duo were invaluable.
You and Jennifer Nettles both have evolved from noted indie folk-rock musicians to rising country stars. Did you ever envision yourself in the country industry?
I still think it is amazing that we both have such similar indie history, no doubt born out of the scene in Atlanta, and that most of the country music community and audience is unaware of that history. I might not have imagined myself as a country music star if you had asked me in 1988 or even in 2000, but the music industry has changed a great deal in the past ten years and country music has become likely the last outpost for the American singer-songwriter. The transition from indie folk-rock to country has been effortless, without gravity and with a relative ease. Jennifer and I still write all the songs on our albums, which I believe separates us from most country acts and helps us draw a line from the songs we wrote as indie artists to songs we are writing as country artists.
You are married with two young children, and home base is Atlanta, correct? How do you balance work and family these days?
I believe that every great dream of achievement has within it the challenge of balance. I still live in Atlanta and consider my time at home as important as my time traveling playing shows. I have tried to develop a practice of being fully present in the place I find myself. If I am at home, then I am a husband and father and will not split my attention to telephone calls or emails about work. My family knows that when they see me, I am theirs. Similarly, when I am in a studio recording or on a stage performing, my focus is completely on the task at hand. It is a big idea, but with practice it becomes easier.
What are the highlights of the past few years with Sugarland?
There are so many, from playing sold-out stadiums with 70,000-plus fans, to sitting on Sesame Street singing a song with Elmo, to winning CMA awards, to having Paul McCartney stop me in a hallway to say how much he enjoyed our song. I enjoy singing every night the line from "Something More": "I've got things to do before I die."
What message or feeling do you hope Sugarland fans take from your songs and shows?
I believe we have a message that we send out to our fans: a message that celebrates our shared humanity in its greatest joy and greatest weakness. Both are equally important in realizing that we are all the same and that we are all so very different. I know that we commune with our audience when we perform. They are as much a part of the show as we are.